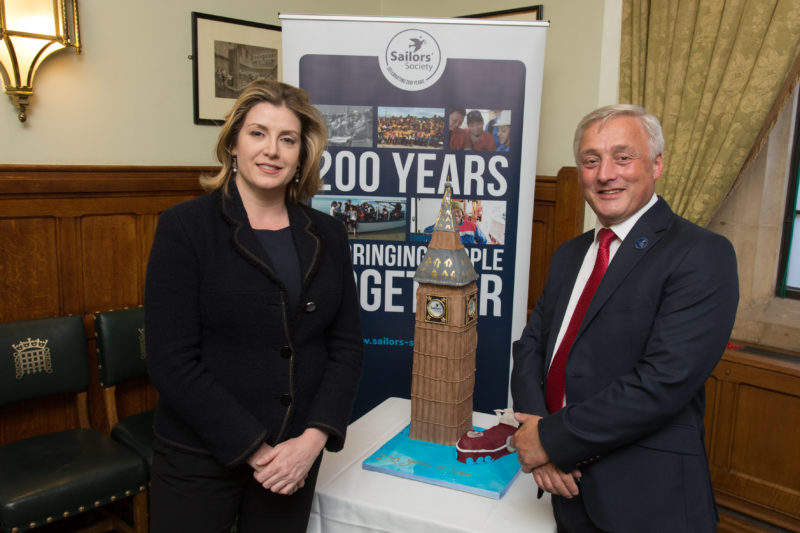 The Sailors' Society recently celebrated 200 years of service to seafarers, having been founded in 1818 to help destitute sailors on their return from the Napoleonic Wars.
From its headquarters in Southampton on the English coast, the charity says it now helps 1.6 million workers around the world, dealing with crises and emergencies as diverse as piracy, kidnapping and abandonment.
The following interview with Sailors' Society CEO Stuart Rivers has been edited for length and clarity.
Patrick Kingsland: How did you celebrate your 200th anniversary and how big a milestone is this for the organisation?
Stuart Rivers: 200 years is significant and we are celebrating it in a number of ways throughout 2018. First, we had a service in Southwark Cathedral that was attended by around 600 people including Prince Michael of Kent, the shipping minister and various other dignitaries.
We also had a world conference for our chaplains last month. They came from all over the globe and we used that as an opportunity to do some training and development work together as we mark the anniversary. Next for us is an event in parliament on 6 June, which is for MPs and Secretaries of State, and will also be used to celebrate 200 years.
Finally, we have published a book: a collection of 200 really interesting stories from the sea. They cover stories from our history, including a chaplain who was eaten by cannibals and the Beatles visiting one of our centres in Hamburg.
PK: What are some of the proudest moments the organisation has had over the past 200 years?
SR: I guess one of the most important things for us is that since the very early days we have had royal support. Right back in the 1830s we had support from Queen Victoria. Through both world wars we were also very active not just in supporting merchant seafarers but in supporting the Royal Navy. So the royal family has always been very supportive of the welfare provision that we have made available to seafarers throughout our history.
More recently, probably one of the most significant events for us is the Herald Free Enterprise [in 1987], which was a major peace-time disaster that resulted in the loss of 193 lives. Our organisation and chaplains were there to support survivors and the families who had lost people and we have continued to do that for 30 years.
Another recent event is the Chennai Six incident involving British men on-board the Seaman Guard. The crew needed a lot of support during the four years that the trial was going on. We were very active supporting their families and also visiting the men in prison to make sure they had support and supplies throughout that period.
I suppose this is typical of what we do. We step in when perhaps these stories aren't in the headlines. When everybody has forgotten about them we are there in the background working away.
PK: What are the key welfare issues facing seafarers today?
SR: Many of the issues that seafarers face today are exactly the same as they were 200 years ago. The context might be slightly different but they are still suffering from dangerous conditions in bad weather, piracy, abandonment, isolation and separation from families.
Conditions on-board ships have massively improved over that time, however, facilitated by MLC [Maritime Labour Convention] 2006 and better seafarer wages. These are positive steps that make a career at sea perhaps a little easier, but I think we have to keep pushing for change to improve the lot of the seafarer. Because in 2018, in the 21st century, we shouldn't be facing situations where seafarers are abandoned alongside the ship.
PK: Do you think there has been progress in discussions around the mental health of seafarers?
SR: I think we are at a tipping point as far as seafarer wellbeing, and particularly where mental health is concerned. Mental health is a massive challenge but I think the positive thing is that the conversation has started and is ongoing within the industry. Mental health is on the agenda but we have to keep that conversation going.
PK: How has social media changed the profession in recent years?
SR: If you speak to people in the industry they are fairly divided on this subject. Some would argue that seafarers having access to social media and communication at sea is a bad thing because it means they know about all the problems they have back home. Others would say it is a good thing because they feel that they can support their families when there is an issue at home. I sit in the second camp: we can't hold back the tide of technology.
PK: What key issues will the organisation be looking at going forward?
SR: Last week, we announced our plans to develop in China. Up until now, there has not been a maritime welfare organisation working in the country, even though it has the largest number of seafarers in the world at around 600,000, and a further 700,000 working on the internal waterways. There are 1.3 million seafarers in total but no welfare facilities that are available in ports. They have some seaman's clubs but they are more social clubs than welfare provision.
There are also foreign national seafarers visiting China, who will come into port and in most places will not understand the language or the culture and there isn't necessarily going to be a friendly face to support them. We want to be that friendly face for visiting seafarers in China and are committed to providing welfare support for Chinese workers too.