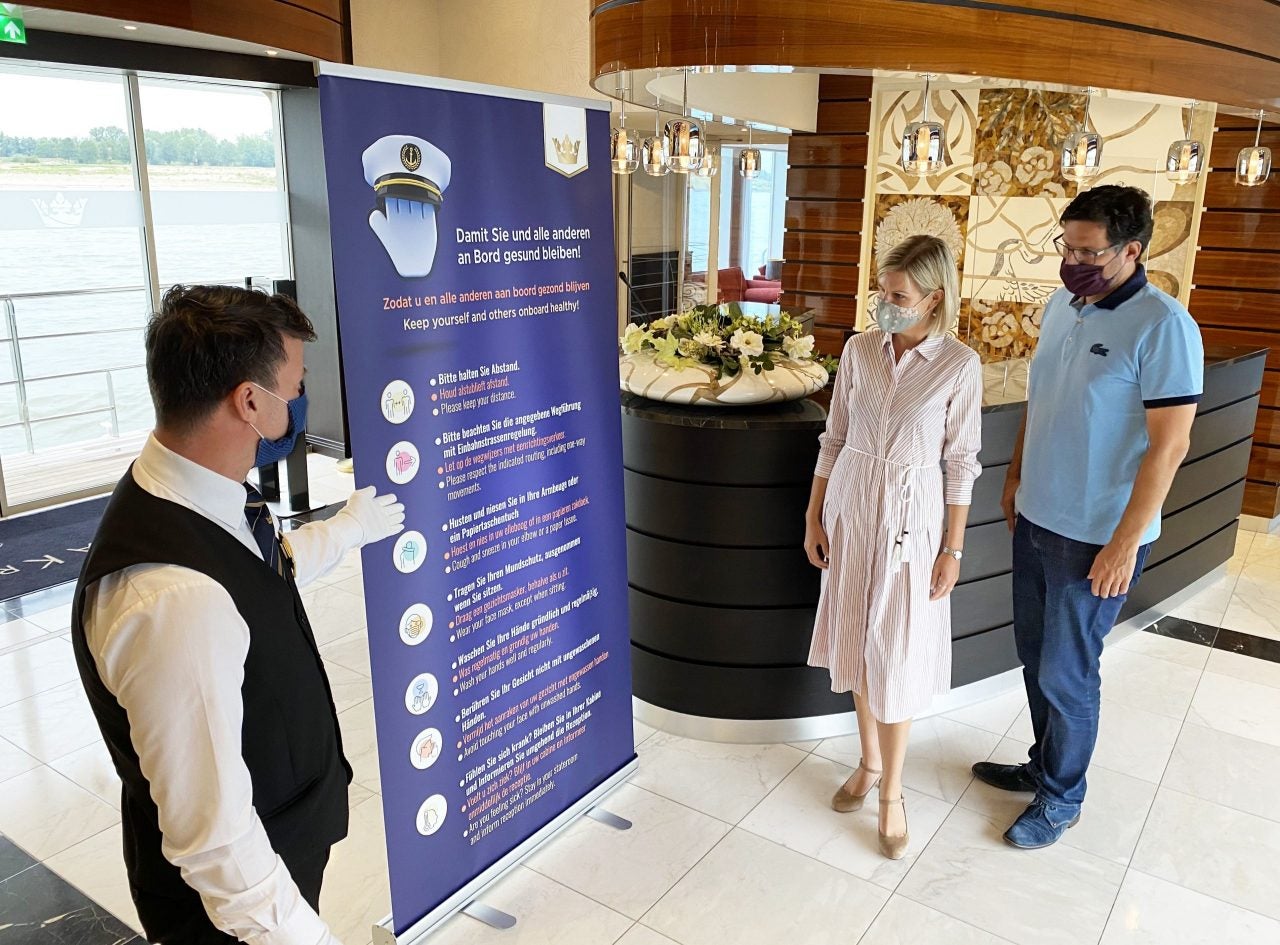 A year has passed since the Covid-19 pandemic began and the future of travel is still very uncertain. Governments and operators have been reluctant to announce when international leisure trips will resume, and what restrictions will be in place to combat any potential risks, and keep passengers and crew safe.
This unpredictability, and perhaps the now notorious images of holidaymakers and staff stranded upon the gigantic Diamond Princess liner during the first wave of the pandemic, that is steering tourists towards smaller, more nimble liners.
Adam Coulter, managing editor of Cruise Critic UK, a leading cruise review site, says they have seen a significant increase in interest in small ship cruising. In a recent survey of its readership, 20% said they will look to book their next cruise on a smaller ship.
"We're also seeing that reflected in shopping and booking data; cruisers are spending more this year compared to last year and much of that is booking on smaller ships," he explains.
Increasing demand
Interest in small ship expedition voyages had increased in popularity over the last few years anyway, says Monique Ponfoort, CEO of Aurora Expeditions , which takes small groups of travellers on voyages. She expects the pandemic to accelerate this trend.
"We see that the pandemic has changed the way people perceive travel and the experiences they are looking for. What we hear from our expeditioners is they want to visit hard to reach, bucket-list destinations that are only accessible by small ships," she says.
The new Outlook on Expedition Cruises report, which surveyed more than 750 travel advisors, revealed that fifty-three percent said they believe there is going to be at least a 10% – 25% increase in their expedition cruise sales this year. The travel advisors believe the three main factors will be wildlife experience, adventure travel and cruise itinerary.
Aurora has seen a significant response from potential passengers for its newly-launched Global and Arctic Voyages programme in 2022, on board the new purpose-built expedition ship, Dr Sylvia Earle, which it is set to take delivery of in October.
Destinations will include Baja California and the Sea of Cortez, the Aleutian Islands off the northern coast of Alaska, and Kuril Island near Japan.
The company is also planning a programme of trips for its other vessel, the Greg Mortimer, around Australia in summer 2021, followed by a voyage to the Ross Sea and Commonwealth Bay in East Antarctica at the end of the year. The company has also adapted vessels to include a full medical facility, including dedicated isolation cabins and a PCR testing lab.
Fewer passengers, more flexibility
Smaller vessels carry around 130 passengers compared to thousands on bigger ships. In the US this makes them exempt from the US Centers for Disease Control's 'Framework for Conditional Sailing order' which will guide the safe return of large liners carrying 250 or more passengers. The recent guidance issued by the centre was widely rejected by the industry.
Furthermore, fewer passengers may be particularly appealing for cruisers, whose confidence in the industry has been severely dented. The University of Western Australia survey, conducted in March of both cruisers and non-cruisers, found that 47% said they don't trust cruise lines to look after them if something goes wrong.
The study, which surveyed 600 people in the UK and Australia, revealed a further two-thirds admitted they were less willing to cruise as a result of the pandemic, while 69% said they feel less positive about cruising now.
Some smaller operators are realising their appeal and actively targeting holidaymakers who had planned a bigger cruise trip that was then cancelled. UnCruise Adventures has announced plans to run 'the first fully vaccinated cruises in Alaska', and is offering a $500 (£360) discount to those who can prove they have had a trip cancelled.
Most cruise companies are only taking bookings after May 2021, when it is hoped international and domestic travel will be.
River Cruising
Coulter says Cruise Critic is also seeing a significant pick-up in demand for river cruising, an increasingly popular form of small vessel travel.
"People are attracted to the smaller size of the ships, how close they are to land at all times, the amount of onboard outdoor space and fewer guests," he explains.
According to research by Cruise Lines International Association , the number of British travellers opting for a river cruise grew by more than 10,000 last year, taking the total to 150,300. CEO of US travel agency, Cruise Planners , told USA Today that river cruises represent 21% of all Cruise Planners departures for 2022.
"The pandemic shifted focus to health and safety concerns"
Luxury river cruise line company AmaWaterways is already taking bookings for travel in the latter half of this year, and UK managing director Jamie Loizou says they are seeing a lot of demand from extended families looking to reunite after a long period of separation.
"The pandemic has shifted focus to health and safety concerns with travellers looking for ways of spending more time in the open air away from large crowds," says Loizou.
The company offers interior, national waterways trips and docks daily in the centre of cities and towns near historical sites and hiking trails. The vessels hold on average 150 people and have 'spacious sundecks and open-air balconies.'
Reservations for its 2022 sailing season are "stronger than normal" this far in advance, says Loizou, even though the company has not yet decided on its vaccination and testing policy, which it will do closer to a confirmed restart date.
AmaWaterways is working with German tour operator e-hoi to launch one ship dedicated to a special series of cruises within Germany starting mid-May 2021. Last summer, it was the only US-based river cruise line to complete a successful four-month charter on the Rhine river, with more than 1,500 German guests and enhanced health and safety protocols in place.
Adapting to an age of uncertainty
River and expedition cruises may be seeing an easier restart than their larger counterparts but there are still challenges. These include testing crew members, the possibility that many young staff members won't be fully vaccinated come summer, and a long-term challenge of the availability of good guides, many of whom were forced to get other jobs during the pandemic.
"We will know better in the coming weeks how the situation in Europe evolves but we are optimistic that we will be sailing our regular itineraries open to all guests starting in July or August," says Loizou.
The biggest issue for operators and tourists is navigating the continued uncertainty around travel. "A significant challenge for the cruise industry is the same as it is for land-based travel: the unknown future of the virus," says Coulter.
"The varying safety protocols, guidelines and restrictions across the globe will also be something cruise lines continue to navigate – having a heavy hand in where and how they're able to travel."