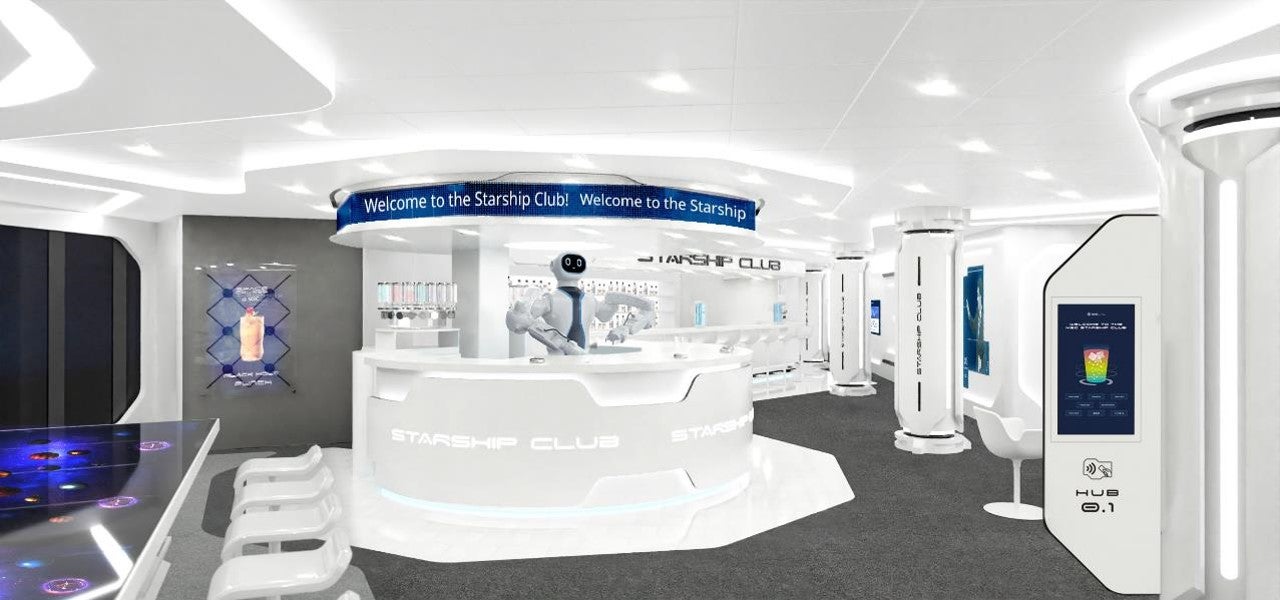 Travel giant MSC Cruises have just welcomed their newest member of staff on their latest ship, MSC Virtuosa. Luca Pronzati, the Chief Business Innovation Officer at MSC Cruises, is delighted to announce the opening of the new Starship Club, and to ensure that Rob the bartender robot was ready to start tirelessly serving passengers, before the ship starts her inaugural season in the UK.
MSC Cruises have also been able to open sales for three, four and seven-night cruises on the state-of-the-art ship. Originally the ship would have been Mediterranean bound, but with the Covid-19 pandemic ongoing and domestic travel opening in the UK, Virtuosa will join other cruise liners to offer new itineraries in the British Isles from May.
Although sister ship MSC Grandiosa – also a "Meraviglia Plus" class of ship – has been operating off the coast of Italy from Genoa, after a year of almost no sailings and uncertainty, this is clearly welcome news.
"I'm very happy that we made it and that we're ready to welcome the first guests on board," Pronzati says.
Developing a humanoid robot barman for cruise
The project to develop Rob – which is believed to be the world's first humanoid robot bartender at sea – started in 2015. A pandemic and the ensuing global shutdown was not accounted for in the project timeline, but Pronzati calls the creation of Rob his best achievement.
"This is not me, it's my team and all of us together," he says. "Being able to progress in such a hard time of our lives has been a huge challenge. It's still quite unbelievable that we were able to do it."
The journey started with Executive Chairman Pierfrancesco Vago's zeal for technology. "He's always passionate about technology and innovation as a way of elevating the customer experience," explains Pronzati, which led them to look at the potential of robotic automation as a way of offering something new and different on board.
"An express request from Mr Vago was not only to have an industrial robotic arm shaking cocktails," he explains. "He really wanted to go a step further into robotics and automation and have a humanoid which could offer a kind of humanoid to human interaction, elevating the bar experience."
As well as a voice, Rob needed to be a fully-functional barman, and show his sympathetic ear with facial expressions and a personality. For inspiration, the team started by researching the technology around Royal Caribbean's Bionic Bar, which has two mechanical arms that make drinks to order.
It was clear to them that creating a human-like operation was poles apart from an automation perspective. "It's a completely different challenge," he says.
The challenge of finding the right partners
The journey to understanding how to create a robotic barman with two arms, a body and a head led them to the Italian Institute of Technology (IIT), in Genoa.
"They have developed, I think, the most sophisticated robot on the earth today, called the iCub," says Pronzati, who himself studied robotics in Genoa.
The iCub is the size of a five-year-old child, and can sit, walk and manipulate objects. However, the team soon realised that the robot was so sophisticated that it would not work for a commercial cruise ship setting. Yet the experience provided inspiration and they learned about "the limitations and peculiarities" that had to be taken into consideration.
While researching other avenues, the team had an approach back from IIT. "They were interested to translate the complexity back down into a commercial application that could be delivered on the ship," explains Pronzati. For the next 18 months they worked together to develop a potential humanoid.
"It was very challenging, we were progressing quite significantly, but the complexity came up when we had to close the deal," he says. "Being a scientific institution and not a private company they were really struggling to be in a position to offer a service to a private company who will, for example, go over the weekend for maintenance and support."
With 2,421 staterooms and a capacity for 6,334 guests – as well as five pools, 19 decks, 11 restaurants and 20 other bars – MSC Virtuosa is an enormous operation. As one of the star attractions on the new ship, maintenance and round-the-clock support for Rob and the Starship Club is vital.
"The Italian Institute of Technology doesn't do this kind of job," Pronzati continues, "it's a completely different organisation."
Unfortunately, IIT and MSC Cruises had to part ways. "I cannot say this was negative," Pronzati says. "I think this is part of the process and of the progress we've made over the years."
Progressing with partners in a pandemic
After scouting other companies, Pronzati explains that they were able to deliver the experience by combining the expertise of several stakeholders who were involved in different areas. These included Japanese company Kawasaki Robotics, a specialist in robotic automation, and Siena-based Mainit, which develops, manufactures and installs humanoid robots.
The project was progressing well until Covid-19 arrived in Italy last February. "We were not prepared at all, it has been one of the biggest challenges," Pronzati says. "Since the first lockdown we had to immediately switch to remote working and when you're having to deal with physical objects it is not the easiest of tasks."
It was only possible to keep going due to the effort Ponzati's team made to overcome the setbacks. They were adapting and operating out of their own apartments in order to push ahead with the different activities and one team member had to set up a data centre at home so they could continue with the software development testing.
Creating Rob's human personality
Finding a human-like personality for Rob was another significant challenge, because as well as being charming and welcoming, they wanted to make him funny. While he can't reply to guests – this simply isn't possible in a loud, crowded bar environment – he can speak eight languages.
It was important to find the right tone of voice for each of the languages. They also decided to alter Rob's personality so it would change throughout the day and programmed his speech to match the expressions on his LED-screen face. The team worked with several different companies to find the right voices, expressions and interactions.
To ensure that Rob's shaking, stirring and mixing of the cocktails was carried out with the right precision, they brought in an expert barman and fitted him with sensors. "The sensors gathered thousands of pieces of data which were used when programming Rob to ensure that his shaking, shirring and mixing was done with the same force to expertly create the cocktails, just as if they had been made by hand," says Pronzati.
An immersive inter-galactic experience
In addition to Rob the humanoid robot, the experience at the Starship Club is made up of a network of digital touchpoints that are designed to immerse guests in a vision of the spaceship of the future.
These include 3D holograms projecting futuristic advertisements, an outer space weather forecast and an interactive "infinity" table where guests can explore the solar system or play arcade games.
At an ordering station, guests can request a personalised or a 'Galactic' cocktail, which is not available anywhere else on the ship, and takes Rob just two minutes to conjure. Having just experienced a couple of cocktails made by Rob for himself, Pronzati confirms that the experience is very nice and immersive.
"It is another great achievement for the team," he says, confirming that over 30 stakeholders have been involved overall to create the experience.
"At the start of the pandemic we were in shock because we didn't know how to move forward, but our different operational model has been successful – you need to have the right people and the right partners."