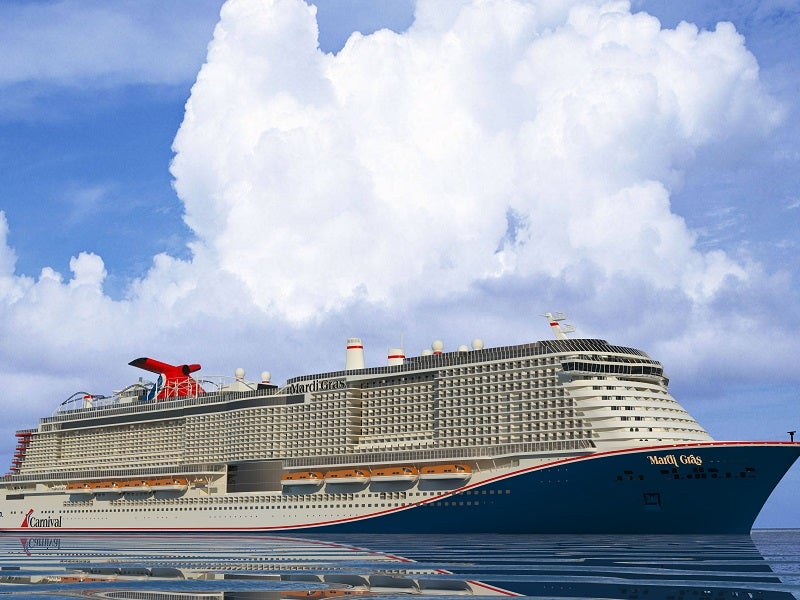 When Ted Arison formed Carnival Cruise Lines in 1972, his first purchase was a converted transatlantic ocean liner, RMS of Canada, from shipping company Canadian Pacific Lines.
The 27,000GT vessel was soon rechristened TSS Mardi Gras. With the further incorporation of outdoor pools, tiered decks and a theatre, Mardi Gras became Carnival's flagship for the following decade.
It also highlighted Arison's keen entrepreneurial eye. He recognised that the next era of cruising would not be marketed so much on exotic ports of call, but on ships as destinations in themselves.
It is therefore somewhat fitting that Carnival has chosen to bestow the same name upon its newest ship, which is set to enter service in April 2020 – a year in which the global cruise market could well exceed 30 million passengers, according to Cruise Lines International Association (CLIA ) data.
At 1,130ft and with 180,000GT, the new Mardi Gras will hold 20 decks and 5,200 rooms, making it the group's largest ship. The vessel is currently having its finishing touches applied at Finland's Meyer Turku shipyard.
Like its historical namesake, Carnival is firmly promoting the Mardi Gras as the pinnacle of entertainment on the high seas. Much of this hinges on a veritable world first: a rollercoaster onboard a cruise ship. It will also feature a restaurant run by Emeril Lagasse, marking the US celebrity chef's first foray into cruise dining.
Below, we take a closer look at some of the ship's most eye-catching features.
Bolt out of the blue
Undoubtedly the Mardi Gras' most 'out-there' property is that it will house the world's first rollercoaster onboard a cruise ship. Situated on the top of the outdoor deck, the Bolt Ultimate Sea Coaster will carry guests along its rails at speeds up to 40mph.
Climbing to 187ft above sea level, riders that board the rollercoaster's two-seater motorcycle-like vehicles can expect to enjoy 360° views of the seascape. Passengers are able to control speeds with a pedal which, if kept at full throttle, allows for ride times of just over a minute. According to Carnival, it's quiet too.
King Creole
Situated in the ship's 'French Quarter', Emeril's Bistro 1396 marks US celebrity chef Emeril Lagasse's first ever restaurant at sea.
Lagasse's menu is dominated by the same New Orleans' Creole cuisine that helped make his name on the Food Network channel, featuring the likes of fried oysters, barbecue shrimp, duck and sausage gumbo and muffuletta sandwiches.
Looking to further recreate the sights and sounds of the Big Easy, the French Quarter will also feature a jazz club and a selection of watering holes.
 La Dolce Vita
Soundtracked by roaming musicians, the chiming of Negroni tumblers and clinking of Espresso cups, guests can also expect to get a dollop of Italy in the ship's "La Piazza" zone.
Amenities include a new seafood restaurant as well as a 24-hour pizzeria serving authentic Italian fare.
Grand Central
Built around an impressive three-deck-high windowed atrium, the Grand Central zone is essentially the heart of the ship. Its cluster of dining and entertainment options includes Japanese food in the shape of Bonsai Sushi and Bonsai Teppanyaki, as well as a comedy club and piano bar.
Floor-to-ceiling windows also offer guests ocean views.
Playcation
In addition to its rollercoaster, Mardi Gras's 'Ultimate Playground' zone will include a WaterWorks aquapark – Carnival's most ambitious to date, according to a recent group press release –  comprising of three spiralling slides and splash pools.
Elsewhere, there will be a mini-golf course, basketball court and ropes course.
Stateroom design
Guests should have a wide range of options when it comes to their sleeping quarters, too.
These include Havana staterooms or suites, which promise more privacy, as well as exclusive, members-only access to an adjoining bar and pool area.
Elsewhere, guests in the Mardi Gras' Cloud 9 Spa staterooms can enjoy priority spa reservations, as well as unlimited access to thermal suites. Ocean view staterooms are also on offer.