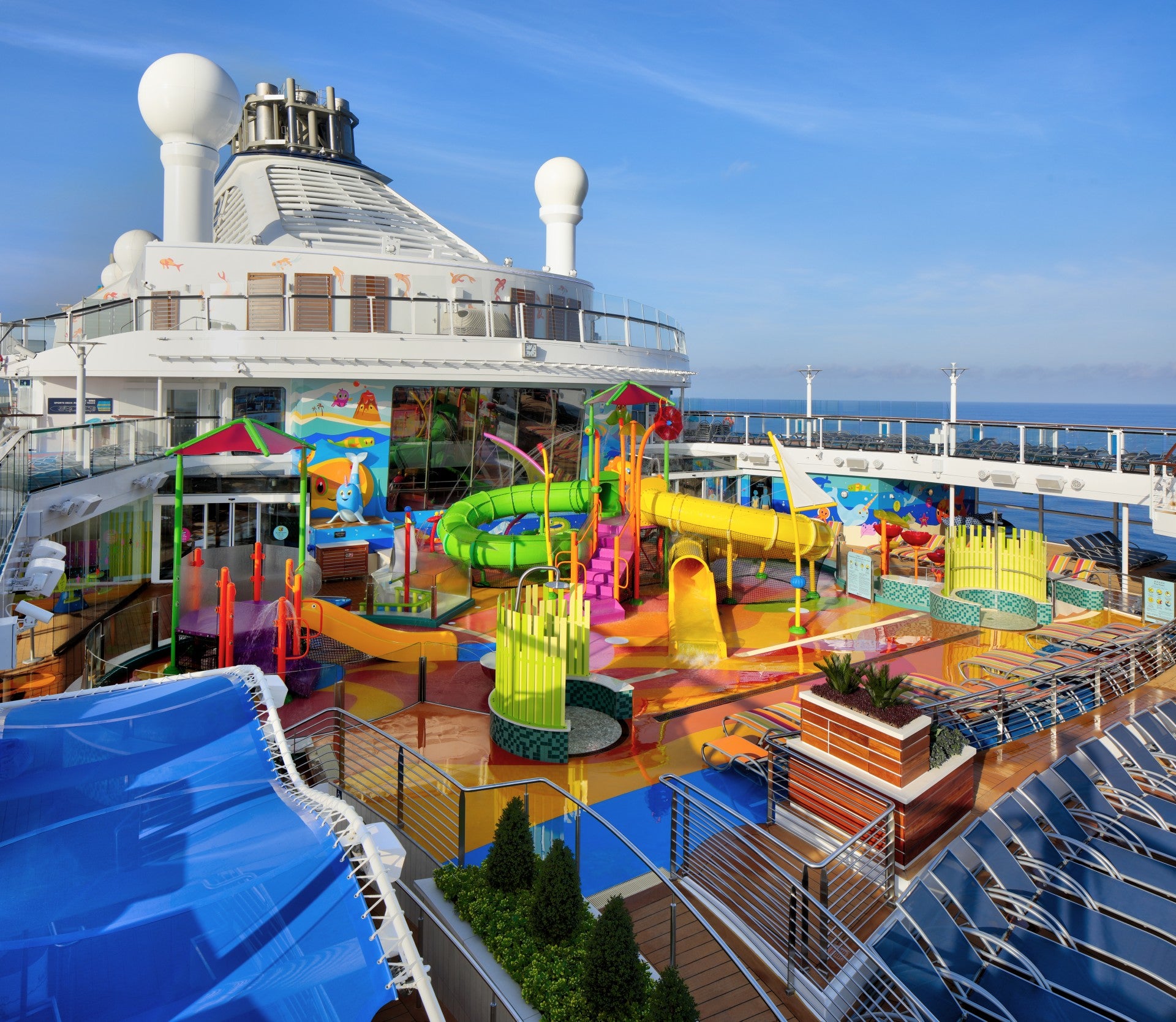 Kids clubs on cruises have transformed over the years, from starting out as something of an afterthought in the early days of cruise holidays to now becoming a large part of the appeal for the family package market. 
Not all cruise lines encourage children on board, with some even discouraging them by not including any facilities. However, lines that do want children on their voyages have dedicated a significant amount of resources to their kids clubs and related facilities. 
In fact, kids clubs have become a highly competitive area between lines such as Royal Caribbean, Norwegian Cruise Line , Princess , Carnival and Disney Cruises. All are continually investing and coming up with fresh initiatives to not only appeal to children, but also keep them enthralled when they do step on board. 
"Things started changing for the kids' clubs in the mid-90s, when the mega ships came out. But then it was the early 2000s when things really changed for the kids clubs," explains Dr Jennifer Holland – tourism lecturer at the University of Suffolk – who has 17 years' experience in cruise and tourism, having worked for Royal Caribbean and Princess Cruises . 
The increased space available on mega-ships allowed cruise lines to expand what they could offer children. Familiar sights on family cruises now include dodgems, laser tag, water slides and swimming facilities, as well as virtual reality areas. Themed escape rooms are also increasingly popular, where families can work together to solve a range of puzzles. 
"Up until about 2000, for most of the cruise lines, the kids club was more of an afterthought," adds Dr Holland. "It was usually just a basic room, maybe with some toys or board games, tucked away, out of sight, out of mind for most of the passengers. But then Royal Caribbean was really a game-changer within this. They started to develop separate rooms for ages, and really ramp-up the types of activities and entertainment. And the space became bigger, bolder and more colourful."  
Technology in kids clubs
Kids clubs have come a long way from consisting mostly of a soft play area for all age groups. These days, kids clubs are divided into different age categories, with tailored activities for everyone from nursery to teenagers. Traditional arts and crafts remain popular for younger age groups, while teenagers may be able to participate in other activities, such as indoor skydiving and surfing. 
Yet it is technology that has seen the biggest shift for kids clubs, with widespread interactivity now offered through touchscreen devices and augmented reality platforms. Cruise lines must stay at the forefront in this area, as children are less likely to engage with systems that are slower or out of date. 
"Children and teens are different digital consumers than they were 15-20 years ago."
Cruise lines need to keep children entertained with something new and innovative that they haven't seen before in order to generate excitement and create a more memorable experience, instead of just offering them something that they could already do from home. 
"Children and teens are different digital consumers than they were 15-20 years ago," explains Dr Holland. "There's a real switch now to using the media and the technology throughout, not just as a supplement, but it's sort of woven into all of the activities every day."
And if something that starts life on a cruise becomes popular, it can end up being launched to the wider public. This was the case of Royal Caribbean's immersive video game The Treasure of Barnacle Briggs, which is full of puzzle solving. The interactive quest proved such a hit with passengers that it was recently launched on Apple 's App Store, providing children with a reminder of their cruise holiday during Covid-19 restrictions. 
Princess's Camp Discovery gives kids' club attendees opportunities to learn while they play. Image: Princess Cruises.Princess's Camp Discovery gives kids' club attendees opportunities to learn while they play. Credit: Princess Cruises.
"Over the years, we have improved our technology to ensure we are offering our guests the best possible experience while on board, and this is no different with our younger guests," says Ben Bouldin, vice president for EMEA at Royal Caribbean International. "From discovering the curiosities of the Adventure Science Lab to immersing themselves in a fantastic film in our 3D cinemas, new technologies have enabled us to provide kids and teens with a truly unforgettable experience." 
Wearables have also found their way onto cruises. Worn around the wrist, Princess Cruises' OceanMedallion is about the size of an average coin. It increases the speed that wearers can board vessels and allows parents to monitor the location of their children on board via a tablet or smartphone. In addition, wearers can select their own avatar to go with their medallion, which has proven popular with children. These avatars can appear on screens around the vessel when the wearer is nearby. 
Partnerships and cross-promotion
Many cruises lines establish partnerships with brands that are well-known to children. For example, Norwegian Cruise Lines had a partnership with Nickelodeon , where cartoon characters such as SpongeBob SquarePants and Dora the Explorer, would make appearances on screens around the vessel, as well as costumed performers meeting children. Royal Caribbean had a similar deal with DreamWorks studios, home of Shrek, Madagascar and Kung Fu Panda. While MSC Cruises has a partnership with Lego , which never fails to be popular with children of all ages. 
"Disney Cruises has a significant advantage due to its unrivalled back catalogue of characters."
However, this type of cross-promotion is where Disney Cruises has a significant advantage due to its unrivalled back catalogue of characters from its animation history, as well as Pixar, Star Wars and Marvel . Some kids club rooms are based on scenes from films, with children able to train to be a Jedi and battle Darth Vader himself; they may get to meet Iron Man and Captain Marvel; or play in a giant version of Andy's room from Toy Story. 
This just in! Tropical Disney cruise dream destinations…including a return to Hawai'i…are on the horizon, Jan–May 2022. https://t.co/ELtk5D0uYi pic.twitter.com/mDx2QjkUot

— Disney Cruise Line (@DisneyCruise) October 15, 2020

"Disney's done a brilliant job with their online marketing to really target the characters and bring that experience so that the kids see that and definitely want to do that," adds Dr Holland. "That's where some brands are really strong with their marketing and using social media, YouTube videos and different types of media to attract kids." 
In addition, kids clubs often have an educational element. Many cruise lines give kids' club attendees opportunities to learn about science and nature. Royal Caribbean's Adventure Ocean Science Lab is run in partnership with High Touch High Tech, where children can learn through practical experiments and demonstrations. 
Protections for children
While kids club activities have transformed due to technological advances, so have safety procedures and record keeping. This was traditionally a paper-based trail of logs and consent forms for parents to fill in, then signing their child in and out for each session. 
With the technological advances in the last decade or so, these paper trails have been replaced by electronic record keeping. Parents have to tap in with their room key or wristband to confirm their identity when either dropping their child off or collecting them from a kids club. 
"There are lots of checks and balances in place to protect the children at all times."
"Already, children are very protected," adds Dr Holland. "Nobody can take the children out unless they have full authorisation and the staff are very protective of the children. Nobody can come into that room unless they are authorised. Most of the cruise lines even limit the parents coming into the room so that they need to wait at the door and the staff will go and get the child to really protect them. There are lots of checks and balances in place to protect the children at all times."
Escape rooms are a hit with families on cruises, where children and parents can work together to solve puzzles. Royal Caribbean's Navigator of the Seas has a nautical themed room. Credit: Royal Caribbean International.
In addition, responding to Covid-19 requires further protections. Increased rules on hygiene and social distancing present a new set of challenges for kids clubs, which the cruise industry has been working to resolve. 
"The safety of our guests is our main priority and we have measures in place across our ships to ensure they remain safe," adds Ben Bouldin from Royal Caribbean. "Currently, kids on board will still enjoy our award-winning Adventure Ocean youth programme — only with smaller room capacities to allow for physical distancing. The crew will encourage frequent handwashing for the children participating in the programme, and the room and all toys and equipment will be cleaned and sanitised after each session.
"We will also be using the findings from The Healthy Sail Panel, a group of experts assembled by Royal Caribbean Group and Norwegian Cruise Line Holdings Ltd, which has provided a 60+ page report with over 70 detailed best practices to inform future public health guidance and preventative measures relating to travel on cruise ships."