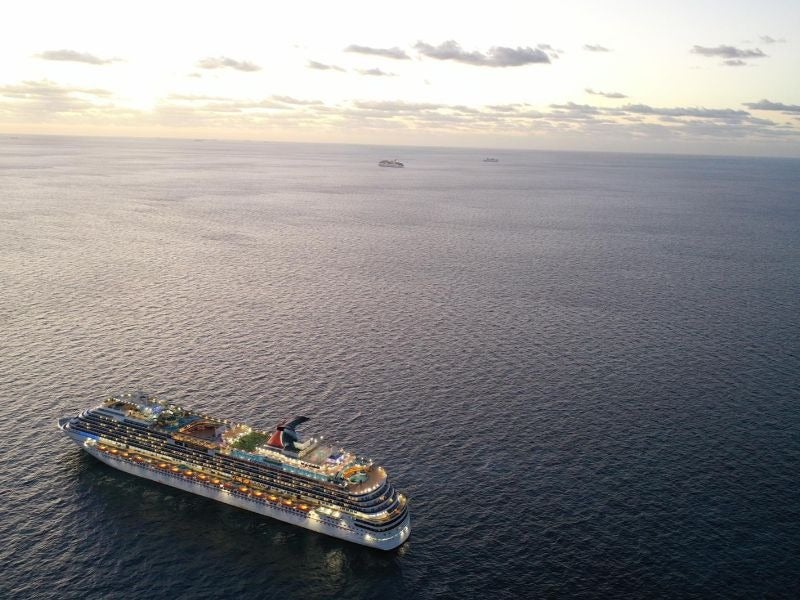 As of 22 April 2020, there were 61 cruise ships anchored at sea, all with varying levels of scaled-back operations on board. This unprecedented situation followed an industry-first halt in global cruise ship operations, a result of the rapid spread of coronavirus Covid-19. 
To date, there have been almost 3 million confirmed cases in the world and more than 200,000 deaths. It was declared as a pandemic by the World Health Organisation on 11 March 2020, and one day later Viking Cruises became the first cruise line to temporarily suspend operations across its 64 river-based fleet and six ocean ships. 
Next, the Centre for Disease Control (CDC) Director issued a 'no-sail' order for cruise ships. The nature of cruising, such as regular person-to-person contact, group and buffet dining, close quartering, frequently touched surfaces and transmission were some of the reasons behind this decision.
Shipyards froze, new ship deliveries were postponed, christenings and inaugural sailings delayed, and the industry's steady and thriving growth over a decade – from 12 million passengers in 2010 to 32 million in 2020 – was suddenly at a standstill. 
Cruise Lines International Association (CLIA) then voluntarily suspended operations for 30 days. As ports and borders closed around the world, what followed was the disembarkation of 250,000 guests from 120 ships, but under the direction of the United States Coast Guard (USCG), as no ships were allowed to disembark passengers without the organisation's approval.
While some cruise ships reported outbreaks, CLIA confirms that "due, in large part, to the aggressive measures" that were adopted "the vast majority of more than 270 cruise ships within the CLIA member fleet were not affected by this virus".
A fluid operation: cruise ship operations at anchor
At the time of writing it was possible to see on Marine Watch which ships were still anchored at sea and where, and which were in transit. 
Many of the major lines have cruise ships at anchor, such as MSC Musica and MSC Poesia at anchor off the coast of Sao Paulo, Brazil; Norwegian Breakaway, Norwegian Escape and Disney Fantasy, which were anchored by Cocoa Beach off the coastline of Florida; and Royal Caribbean's Liberty of the Seas and Enchantment of the Seas, which were at anchor off the Houston coast, along with Carnival Dream and Carnival Freedom.
"With more ships than available berths, we need to anchor ships at sea near our North American homeports," explains Carnival's spokesman Vance Gulliksen. 
"Ships are being docked at ports along the East and West Coasts [of the US] and the Gulf of Mexico."
In terms of which ships are anchored and which are docked, Gulliksen describes it as a "fluid situation".
"Ships are being docked at ports along the East and West Coasts [of the US] and the Gulf of Mexico, including Miami, Galveston (TX), Charleston (SC), Mobile (AL), Long Beach (CA), New Orleans (LA) and Tampa (FL)," he explains, adding that they "come in and out of port every few days for operational considerations".
Gulliksen says that the ships are anchored near these North American homeports as these are the "regular turnaround homeports" where the ships are based. "The ships come in and out of port every few days for provisioning and refuelling (team members do not disembark and remain onboard)," he continues. "Ships also have to leave port and head out to sea to manufacture water and other operational procedures." 
The CLIA confirmed to Future Cruise that cruise companies have been accommodating crew with free food, beverages, water and Wi-Fi, according to the ILO MLC 2006 provisions. 
"Many lines are also allowing crew to board in guest cabins," says a CLIA spokesperson. "In order to be ready for when operations resume, many cruise lines prefer to keep a good number of seafarers on board."
Retaining and repatriating crew
Peter Trombetta, assistant vice-president of cruising and lodging at financial services company Moody's, explains that cruise liners have different numbers of crew onboard during this period, depending on the circumstances. 
"When they first started cancelling cruises for 30 days, that's one level where the full crew are on board, because by the time you get everybody home, if you're able to cruise in 30 days you're going to have to turn right around and get everybody back to the ship, as the crew is from all over the world," he explains.
Once cruise lines were informed that ships were going to be anchored for longer than 30 days, it was possible to start sending people home and operating a skeleton crew.
"If a ship typically has a crew of one thousand, when it's in longer-term shutdown mode you only need 100, so still a good-size crew," says Trombetta. 
This is the case for Carnival. "We are in the process of moving toward a safe operational manning which involves about 150 crew members per ship with team members from deck and engine, housekeeping, medical, and dining remaining on board," confirmed Gulliksen, at the time of writing.
"If you have three ships docked right next to each other you might not need 300 people for those three ships."
The reason why members of the same fleet cluster together at anchor – as is visible on Marine Watch – is because they can often share crew between them.
"If you have three ships docked right next to each other you might not need 300 people for those three ships," he explains. "Some of those people can go back and forth between ships, if they are right next to each other, so this is a kind of side-effect benefit for the companies."
Although the original CDC no-sail order was due to end on 15 April, it was extended to 24 July, and cruise lines' suspension dates vary from company to company. Carnival, along with many other cruise lines, is transporting their crew home in the cruise ships by working closely with immigration authorities and implementing health and safety measures, including having their temperature taken every day.
At the time of writing, the company is sailing nine ships to "repatriate more than 10,000 healthy crew members who remain onboard due to restrictions limiting air travel to Asia, Africa, Europe, India and Latin America".
An additional 6,000 are being repatriated by air charters or three ships from Australia and Long Beach. At this point, the fleet will be down to around "3,000 crew members identified for safe operational manning".
Could reduced capacity increase short-term demand?
Carnival believes that when the industry restarts operations there will be demand for holidays, including cruises, and return strategies include operating shorter cruises that are easily accessible by car.
Trombetta says the fact that 50% of refunded passengers across the industry have opted for future cruise credits (FCCs) proves the resilience of the industry. For example, Viking and Royal Caribbean have offered FCCs at 125% of the value of the cruise, instead of a refund.
"Going into this, for example, Carnival had $4.5bn of customer deposits (which they use for CapEx, and so on) and if they had to return that money it would've been a big issue," he says. "It's similar for all the cruise lines as they all operate in similar ways. Some hold more cash than others. Viking has, relative to the amount of customer deposits it carries, a lot of cash, so that provided some comfort going into this."
Despite this, he anticipates very low prices and low capacity in Q3 of 2020, with Q4 performing a little better. 
"For things to return to normal, people need to feel comfortable travelling anywhere by any means."
"2021 is the question, so in my view for things to return to normal, people need to feel comfortable travelling anywhere by any means, so there has to be a medical answer to this virus: a vaccine or some medication," he explains. But while picking up new-to-cruise passengers might be difficult at the moment, he believes many of the hardcore customers will be cruising in August and September of this year.
Naturally, social distancing and new procedures will be introduced, and Trombetta suggests cruise lines could end up selling at 50% occupancy to accommodate spacing requirements. 
"So, if there's a ship that holds 3,000 guests they may only sell tickets for 1,500 guests, so there's not crowds, there's more space between people in restaurants and around the pool," he says. "So on the one hand, it's going to impact capacity, but on the other hand, if there's a lot of people that want to cruise and all of a sudden the number that can go is limited, it might actually increase demand," he explains. 
"The cruise companies may be able to get some higher pricing from that, so it will be interesting to see how that works out over the next year."