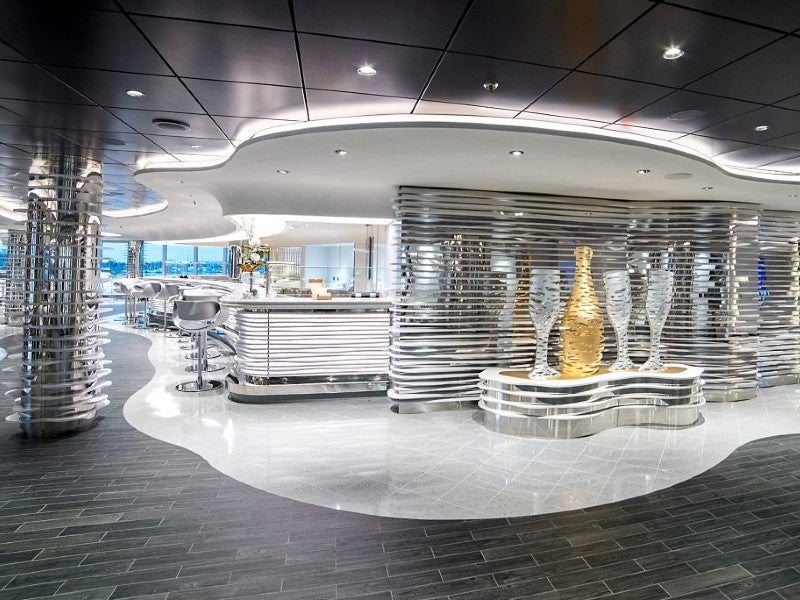 The Cruise Ship Interiors Awards were a much-needed breath of fresh air at the peak of a damning gruelling year for the cruise sector. Initially set to take place in Florida and later turned into a YouTube live event, the first edition of the awards was a welcome reminder of the industry's achievements despite the misfortunes caused by the coronavirus pandemic. 
Having collected over 5,000 votes in 19 different categories ranging from best cabin, spa and outdoor design to furniture, art and lighting, the awards were a testament to cruise's desire to get back on its feet. 
While not in person, the Cruise Ship Interiors Awards managed to raise the sector's spirits by highlighting its greatest designs, projects and achievements. Below are the six most eye-catching, inspiring awards and the story behind those who won them.
Best Public Space: Carnival Cruise Lines' Havana Bar and Pool Area
Carnival Cruise Line's Havana Bar and Pool Area. Credit: Carnival Cruise Line.
As announced during the event, Carnival Cruise Line's Havana Bar and Pool Area bagged the Best Public Space award thanks to its "intriguing design" which used "postcards and original literature as well as staple colours and tiling to transport guests to a cocktail bar in Cuba in an instant".
The area was created by Carnival's in-house team and evokes the atmosphere of Cuban bars and restaurants with artwork depicting famous landmarks, traditional cocktails and live Latin music. There is also space for outdoor seating where guests can enjoy panoramic poolside views. Around the area are also tropics-inspired staterooms and suites decorated with open-air patios, swing chairs and rainforest showers.
Best Restaurant Design: De Jorio Design International's Champagne Bar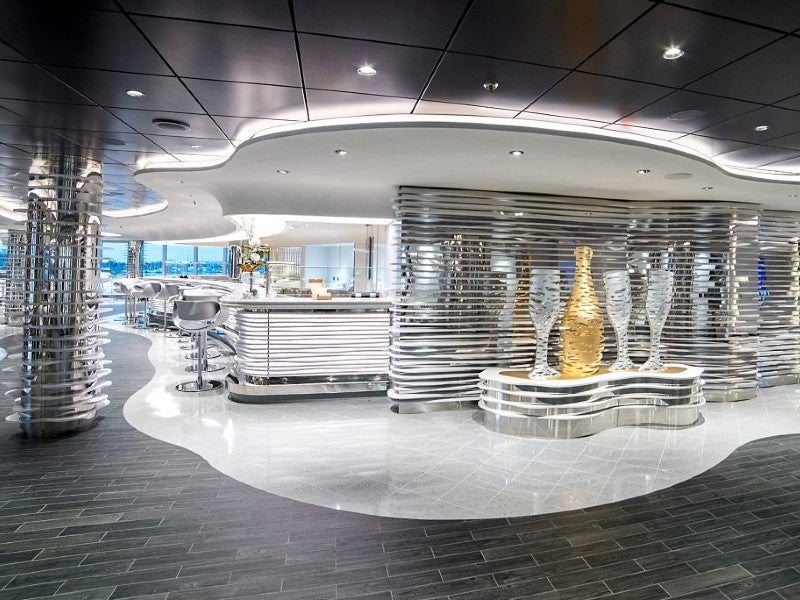 The mesmerising Champagne Bar onboard MSC Cruises' MSC Seaside. Credit: Studio De Jorio International.
Italian cruise, yacht and concept design firm Studio De Jorio International received the Best Restaurant Design award for the mesmerising Champagne Bar onboard MSC Cruises' MSC Seaside. Sitting at the heart of the ship and linked to other decks via a lavish Swarovski staircase, the bar aims to recreate that 'champagne mood' typical of stress-free holidays. 
The area features a long and curved bar counter, crush tables with stools and a sitting area with armchairs and sofas that offer panoramic views of the ocean. All elements have a colour palette, texture and design that evoke the elegance of a glass of champagne. 
"Glamour, bubbles and ice, as well as food like oysters, caviar, canapes and appetisers, are the usual images that come up to our minds when we think of champagne," the designers wrote in their pitch for the award. "To recreate such images, we chose an abstract and contemporary design to help us give the idea of an irregular and cold matter like ice, smooth and sinuous as a whole, sharp and jagged when it is broken into pieces."
Best Art: Volume Creative's 'Washed Up'
Washed Up is the 3D nautical artwork that won the awards' Best Art category. Credit: Volume Creative / Phil Hardman.
London-based design studio Volume Creative is the mind behind Washed Up, the 3D nautical artwork that won the awards' Best Art category. Welcoming guests at each stair lobby of Virgin Voyages' Scarlet Lady, the artwork uses natural objects found washed up from the ocean to give clues about the passenger's location. 
"One lift core frame is created from natural objects like corals and shells found washed up on beaches whereas the other focuses on man-made items found at the shoreline," the company's pitch reads. "Objects were carved out of clay to create a fibreglass mould, before being fixed onto a geometric framework."
Best Innovation: Interior Proman's Limartec Wood Veneer Systems
The Best Innovation prize was awarded to Interior Proman's Limartec wood veneer systems. Credit: Interior Proman.
In one of the most anticipated categories at the event, the Best Innovation prize was awarded to Interior Proman's Limartec wood veneer systems for providing "an alternative to plastic laminate and a safer, more versatile design that even has noise-cancelling qualities". 
The system is the first semi-finished product on the market to meet the International Maritime Organization's FTP Code 2010, which brought new requirements to the testing procedures for decorative panels on walls and ceilings with real wood veneer and lacquered surfaces. 
Halogen-free and made of sustainable material – real wood veneer – the product is sound–absorbing and stays below the safety limits for combustible materials, making cruise interiors safer. 
Best Sustainable Product: Magicman's sustainable repairs
The Best Sustainable Product award was given to Magicman. Credit: Magicman.
An increasingly critical award for an industry that has a lot to prove when it comes to the environment, the Best Sustainable Product award was given to Magicman, an over 25-year-old restoration service based in Brighton, England. 
The company is long established in the marine industry for repairing damaged items and rejuvenating them with new colours and finishes, creating savings on new materials and shipping costs. Having recently expanded to North America, Magicman's 2019 portfolio includes 113 marine projects for the likes of Holland America Line , Carnival's AIDAvita and Royal Caribbean's Voyager of the Seas. 
Among the reasons behind this accolade is Magicman's current push for operators to consider the environmental benefits of maintaining their vessels while in service. The company recently sent a team of technicians to help with repair works onboard Viking's Viking Sky; the crew boarded the ship while it was docked in one port and then got off, having completed restoration, at the next departure harbour. 
Best Newbuild: Virgin Voyages' Scarlet Lady
Sir Richard Branson's Scarlet Lady secured the best newbuild prize. Credit: Virgin Voyages.
Sir Richard Branson's brand-new Scarlet Lady secured one of the most coveted prizes of the night, the best newbuild. In the words of the award announcer, Trimline co-chairman Mike Oliver, this was received for creating a "boutique hotel vibe at sea, whilst not compromising on scale". He added that its "design, style and function have made cruising interactive for a whole new generation".  
Launched at the dawn of the coronavirus pandemic, the new ship was long anticipated for bringing a fresh new approach to cruising that appeals to younger generations. Among its most attention-grabbing features are nightclub space The Manor, an outdoor running track and onboard wellness programme called Vitamin Sea, and a ship-wide plastic ban.