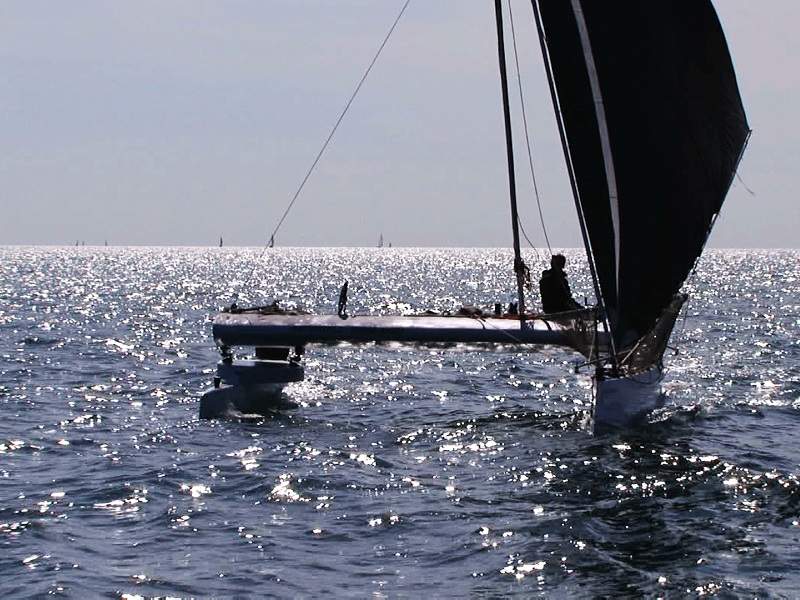 The Senegalese region of Casamance, in West Africa, is a remote coastal area that, due to its location, has been excluded from world markets for many years. The population has faced poverty and isolation but were recently given a chance of economic rebirth.
In 2007, Madadh MacLaine, a Scottish activist and entrepreneur, landed in the Casamance region with her infant daughters and saw in the area and its inhabitants a business opportunity that is slowly becoming a reality.
A ship enthusiast and loud campaigner against climate change, MacLaine chose Casamance to realise her long-held dream to combine her passions and create a trading network with little to no impact on the environment.
"What we're seeing in the activist movement is a very poor return of investment in terms of energy input," she explains. "A lot of people spend a massive amount of energy saying 'don't do this' and I have decided that I wanted to create something that instead says 'do this', where every single stage of the process was creating positive change but was also economically sustainable."
Hence the idea to found the Fair Winds Trading Company, an enterprise that aims to develop zero-emissions sail-cargo ships capable of transporting people and products without harming the planet.
The scheme, which is yet to be launched, hopes to create new trading routes for the communities living in Casamance, as well as in other remote areas affected by poverty and scarce access to the European markets.
Powering the ship with Senegal's natural resources
Despite still being in its development stages, the project, which MacLaine first thought of when working in an experimental maritime archaeology scheme in France, is now attracting the interest of investors and industry stakeholders.
"I conceived the idea in 1999 and at that point, people thought I was completely mad," she explains, though admitting that opinion has changed greatly over the past few years.
"I'm getting very positive responses today. People think it's a very good idea, talk about the project, are interested in the ship design. Even three years ago, people thought it was a weird idea and now have changed their mind. Big institutes are saying that they want to test my ships. There's now more acceptance."
"I conceived the idea in 1999 and at that point, people thought I was completely mad."
MacLaine's background in marine archaeology and her passion for shipping helped her forge business relationships with a number of experts in the field, with whom she is collaborating to plan and design her zero-emissions ship.
"In our project, the objective is to design and build ships that give access to remote coastal regions, so our market is quite specific. In Senegal, you have huge distances between land masses, no fossil fuels, plenty of wind and plenty of water," she explains. She plans to use the natural resources offered by this land to power her ship.
MacLaine and her team have already developed an initial 12m-long model capable of carrying five tonnes of cargo. If sufficiently funded, this prototype will be followed by a 24m-long model powered by hydrogen which she plans to build in two years' time.
A combination of solar, wind and hydraulic energy will power the final 60m-long version, which will be able to carry 500 tonnes of cargo and will feature a low draft enabling it to sail through Casamance's shallow rivers.
Linking Senegalese micro-entrepreneurs to Europe
Up until 2007, the Fair Winds Trading Company existed as a ship-building company, but it was after MacLaine's trip to Senegal that it acquired a new role. According to her, in order for it to be ethical, the ship has to transport supplies that benefit producers in Senegal. She explains: "I wanted to carry something of a high value in relation to its displacement, but also something that would have a positive impact on the biodiversity of the region and have a positive economic impact on the local community."
"I wanted to carry something of a high value in relation to its displacement."
At the time, MacLaine was living in a small village in Casamance when she found out about a sacred healing oil, produced by locals, capable of curing a wide range of afflictions, from a sore back to a cold and skin disorders, which both she and her daughters used when in need. It represented the ideal business opportunity she had been looking for since moving to Senegal.
Her idea quickly escalated as she went in search of producers: "I wanted to find out how we could maybe work on the production process to keep the traditional aspect of it and the production in the hands of the producers, so they would become micro-entrepreneurs, but also bring the quality of the oil up to a level where it would be accepted by the European cosmetics industry."
Despite initially holding talks with famous cosmetics brands, in the end she decided to collaborate with buyers who would be "at the same level as the producers in Senegal in order to bring the trade back down to a lateral exchange."
New sustainable transport routes
Despite receiving help from both fronts, with her micro-entrepreneurs working to produce the oil and her collaborators busy designing the 24m-long model, the amount of workload for MacLaine is all but eased. Alongside the Fair Winds Trading Company, she is involved in a range of projects that aim to improve the impact of different means of transport on the environment.
"MacLaine's other project focuses on connecting small ports in the northern regions."
One such project involves developing a sailing cargo network in the North Sea region: "We are looking for cargo and are interested in putting stuff up on cargo ships. We'll be monitoring and evaluating the project and writing reports for policymakers on what they can do to assist in the development of using sailing cargo ships for re-establishing short sea shipping routes, connecting small ports in the northern regions."