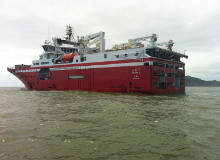 Rolls-Royce has announced that Chinese energy major Sinopec's Shanghai Offshore Petroleum Bureau has taken delivery of a new seismic research vessel built on its UT 830 CD model.
FA XIAN6 was built by Shanghai Shipyard and equipped with Rolls-Royce power and propulsion systems, as well as advanced and automated handling systems.
The vessel, the first of its type to be built in China, expands Sinopec's fleet of seismic and geophysical exploration survey vessels.
Hyundai Samho Heavy Industries (HSHI), an affiliate of South Korea-based Hyundai Heavy Industries, has launched a new LNG carrier that was built using the on-ground shipbuilding method.
The 162,000m³ vessel, which is said to be the first vessel in the world to be built using the on-ground shipbuilding technique, was constructed with an investment of $186.4m.
Ordered by Golar LNG of Norway in February 2012, the vessel is designed for delivering chilled natural gas.

Vancouver Shipyards, the shipping unit of Seaspan Marine, has secured a contract worth $3.3bn from the Canadian Coast Guard for construction of an additional ten non-combat ships.
The ships, which will be built through the government's National Shipbuilding Procurement Strategy (NSPS), include five Medium Endurance Multi-Tasked Vessels and five Offshore Patrol Vessels.
Designed for performing many coast guard programmes including deployment, recovery and maintenance of aids to navigation, the Medium Endurance Multi-Tasked Vessels measure up to 65m in length and are capable of staying at sea for around four weeks.
European Parliament has given the green light to the new EU ship recycling regulation, called for by the NGO Shipbreaking Platform, under which ships will not be dismantled on the country's beaches.
The initiative by the NGO coalition is aimed to improve shipbreaking practices globally.
The new regulation, however, is applicable only for those ships that are registered under the flag of an EU member state.

Kleven, a family-owned shipbuilding company, has signed a contract worth NOK1.4bn ($236.9m) with Østensjø Rederi of Haugesund, Norway, for construction of a large offshore construction vessel.
The vessel, which is scheduled for delivery in March 2016, will be chartered to the offshore contractor DeepOcean on a 5.5-year contract.
Additionally, the charterer has four annual options for extension of the contract.
Seabourn, a Washington-based luxury cruise line and a brand of Carnival, has signed a letter of intent (LOI) with Italian shipbuilder Fincantieri for construction of a new ultra-luxury cruise ship.
The new ship will be based on Seabourn's three newest vessels, Seabourn Odyssey, Seabourn Sojourn and Seabourn Quest.
The new vessel will replace the capacity of Seabourn Pride, Seabourn Spirit and Seabourn Legend, which will leave the Seabourn brand and will be transferred to new owners in April 2014, April 2015 and May 2015 respectively.

A new European Research Project has been launched to help improve regulation compliance in the maritime industry by facilitating tighter integration and co-operation.
The three year project, e-Compliance, is partly funded by the EU.
As part of the project, e-Compliance will align with the EU e-Maritime initiative, which allows supporting authorities and shipping operators to collaborate electronically in regulatory information management.