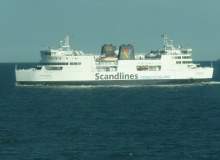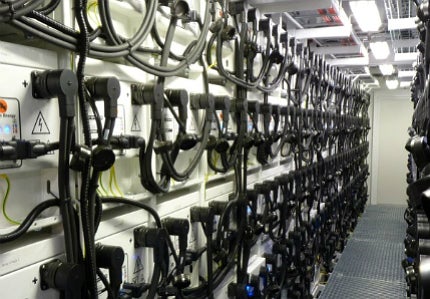 At the end of July 2013, the 124m Prinsesse Benedikte of Scandlines in Denmark – the largest hybrid vessel ever built, nicknamed the "Prius of the Sea" – is anticipated to go live with her new hybrid system on the Rødbyhavn to Puttgarden route.
Powered by Vancouver-based Corvus Energy's advanced lithium polymer battery solution, it will reduce maintenance costs, fuel consumption, greenhouse gas emissions and noise production, while increasing revenue and technical efficiency.
"Corvus has the best product on the market, and we will make energy savings and improvements in greenhouse gas emissions," said Fini Alsted Hansen, the technical superintendent of Fleet Management at Scandlines.
"We will roll out this project to the three other sister vessels on this route when we have our experience and everything has been fulfilled as expected."
A perfect match
There are several reasons why Corvus's AT6500 modules are so well suited to powering a diesel-electric hybrid vessel: they are powerful, lightweight and offer a high level of safety.
"Corvus energy storage systems are capable of delivering high peak discharge outputs, this translates to supplying the kind of tremendous amperage required for vessel and machinery starts," said Grant Brown, vice president of Global Marketing at Corvus Energy.
"The AT6500 modules, fitted to the Prinsesse Benedikte, can recharge in 30 minutes from shore power or generator power. This allows the vessel to use a greater proportion of the electricity from the shore-based electrical grid, which may be fed by green energy from renewable sources, as opposed to the diesel power from the vessel's generators."
Unlike many competitor systems, Corvus's solution does not require a cooling system, which means engineering costs are reduced, as are possible failure points. It is also highly fuel efficient, as the system has a load-levelling functionality that minimises diesel engines running at a non-optimal load. "By reducing the reliance on diesel fuel, it provides stability to ship operators in reducing operating costs," said Brown. "In many cases fuel costs account for 60% or more of the total operating expenditure."
Furthermore, the batteries are small and lightweight, but offer the most power, in the smallest volume, out of any industry-rated battery. They are also highly rugged, are sealed in aluminium cases, and can withstand 50g impacts and 8g five-axis continuous vibration.
"Beyond the load levelling ability, the Corvus system can propel the 16,000t ship for about 30 minutes without diesel fuel," said Brown. "This allows the operator to reduce air and noise pollution while in close proximity to the port, thus positively impacting the residents of the area."
It's all about the chemistry
"AT6500 modules, fitted to the Prinsesse Benedikte, can recharge in 30 minutes from shore power or generator power."
Hansen believes that Corvus's batteries can deliver the best performance to the Prinsesse Benedikte in terms of energy and power ratings. "The charge and discharge efficiency is superior compared to any other battery maker," he said. "Plus the ten years' lifetime and warranty are a very important factor."
As they are guaranteed to last more than ten years, Corvus's modules are a reliable, cost-effective alternative for hybrid ferries. The life of the diesel drivelines are also almost tripled as the vessel can now operate on full electric propulsion while in the harbour.
"The lifespan of the powerful battery packs delivers a rapid return on investment by multiples and a system payback that is less than five years," said Brown.
Corvus's battery solution is more durable than many on the market due to electrolytes in the battery being lithium polymer, and therefore in a solid state, rather than a liquid or gel electrolyte like most batteries. This creates a highly durable product.
Brown explains that Corvus uses a "lithium polymer NMC technology" with NMC referring to "nickel manganese cobalt" and is the chemistry associated with the anode construction.
"Nickel is known for its high specific energy but low stability and manganese has the benefit of achieving very low internal resistance and offers a low specific energy," he said. "Combining the metals brings out the best in each."
He added: "The chemistry in the Corvus battery has about 25% more energy density than the most powerful competing lithium phosphate battery. It is a highly stable nickel-manganese-cobalt-based Dow Kokam cell and designed for the needs of heavy industry, specifically the commercial marine environment."
To the marine market and beyond
The original idea for the battery came from a market demand for hybrid commercial vessels by Corvus's CEO Brent Perry, a boat builder. A search for the "right" kind of batteries followed with the two leading finds, lead acid batteries and existing lithium-ion technology, falling short of all the requirements. The former are heavy and lack performance and the latter, although lightweight, lacked reliability and therefore questionable safety issues, such as failure and fires, were an issue.
"Corvus's solution does not require a cooling system, which means engineering costs are reduced, as are possible failure points."
Around this time Corvus became aware of Korea-based Kokam Industries – which was purchased by Dow Chemical and subsequently re-located to the US – which produced a US patent-protected, high performance lithium cell with a unique design.
"This cell had all the characteristics required for use in a high performance battery and was manufactured to a standard far superior to anything else that was available then, and still leads the industry," said Brown. "Corvus quickly secured exclusive distribution rights and began designing the revolutionary AT6500."
Once the battery hit the market in July 2010 – when the first AT6500 Corvus battery was produced – it was in demand by the marine market and beyond.
"Anywhere there is a need for fuel cost reduction in a heavy industrial application, Corvus Energy AT6500 batteries are capable of enabling a hybrid system that not only pays for itself quickly, but also provides significant long-term environmental benefits as well," said Brown.
Strong business case
"The batteries are flame and combat proof and are built to handle the world's most hazardous ocean conditions."
The design of the AT6500 has always been about safety, power output and duration, so it provides return on income. According to Brown the lithium polymer NMC batteries are up to ten times more powerful than lead-acid batteries and are at least 22% more powerful than lithium-phosphate competitors.
Compared with competitors using lead acid, some advantages include: the lifespan, the fact that they are maintenance free, cycle length and the ability to tolerate greater temperatures.
"The batteries are flame and combat proof and are built to handle the world's most hazardous ocean conditions," said Brown. "Fully waterproof to one atmosphere, they can operate from -40°C to 60°C. Corvus Energy's unique nickel magnesium chemistry is stable, reliable and safe, and is capable of providing years of consistent, quality power."
He added: "The batteries will extend the life of diesel power drivelines by providing ample power to replace diesel drivelines for specific functions without compromise."
Easy upgrade
Another factor that contributes to the ease of The Prinsesse Benedikte's transformation into "The Prius of the Sea", is that no change to the management of the vessel is required now she is a hybrid compared to how she was originally powered.
"Normally she is running with two 3.5MW gensets, in the future she will run with one genset and one artificial generator (the battery pack)," said Hansen.
With the battery system now complete, the Siemens Marine Group is working on the integration of the battery to the vessel and the Siemens Blue Drive C propulsion system.
Sea trials are expected to commence in July with full passenger operation – the ship will be carrying 900 passengers and 300 vehicles – starting by September 2013.
---
Related content
---
Globally, around 1,000 large ships a year are broken up and recycled. While it means that their steel and other valuable scrap can be reclaimed and their equipment reused, the process itself has largely become the preserve of developing nations – often 'beaching' operations with relatively lax health and safety rules and few environmental safeguards.
Researchers at Duke University have developed an innovative material that can dislodge bacteria from ships' hulls by wrinkling.
---