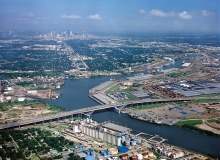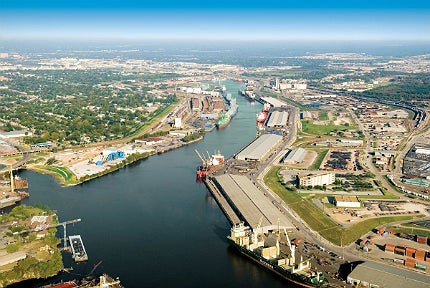 The Houston Ship Channel is a titan of American industry. The Texan channel's 52 miles of waterways host the Port of Houston, the busiest port in the US by foreign tonnage, as well as the world's second largest petrochemical complex. Collective operations in this enormous industrial zone sustain more than a million jobs throughout Texas, and generate an estimated $178bn in statewide economic impact. The port and surrounding areas contribute more than $4.5bn in local and state tax revenues, and achieved exports totalling $265bn in 2012.
Of course, the Houston Ship Channel's size and importance to the US economy make it a tempting target for terrorism and criminality. As well as human threats, the abundance of petrochemical products being stored and moved along the channel creates the need for constant vigilance against spills and other environmental disasters, a task made more challenging by the annual hurricane season.
Tasked with the daunting job of securing the channel is the Houston Ship Channel Security District, a public-private partnership that brings together the region's industry stakeholders and public organisations to improve the security and safety of its facilities, employees and surrounding communities. Public partners of the security district include The Port of Houston Authority, the Harris County Sheriff's Office, the US Coast Guard and the Harris County Office of Homeland Security and Emergency Management.
Given the size of the area needing to be secured and the many stakeholders involved in security operations, the Houston Ship Channel recently completed an upgrade with Israel-based NICE Systems, which had previously carried out security upgrades at the ports of New Orleans, Virginia and Corpus Christi. The upgrade was intended to integrate different security centres and provide a unified information management system across the region.
In late August 2013, NICE announced the successful deployment of the NICE Situator, a physical security information management (PSIM) system, in conjunction with hybrid/IP video surveillance system NiceVision Net.
We spoke to NICE Security's regional vice president John Rennie to discuss the challenges of securing a massive marine environment such as the Houston Ship Channel, as well as the benefits of a high-tech approach to security data management for ports and other marine hubs.
Chris Lo: What security issues were the channel's security operators looking to address with the new technology?
"It's one of the largest petrochemical areas in the world; an attack could be devastating."
John Rennie: It's a post-9/11 environment, so terrorism is obviously seen as a major threat. The ship channel in the Houston area has something like 40% of US chemical refining, significant amounts of fuel and jet fuel, and literally billions of dollars of annual business coming through. It's a critical part of the economic infrastructure. Plus, of course, with all that petrochemical – it's one of the largest petrochemical areas in the world – an attack on it could be devastating.
In addition to that, there are all the more day-to-day threats and concerns – obviously with all those petrochemicals there are concerns about spills. It's a hurricane area; that's another threat that comes into play. And it's a large physical area, so it's not something that you can just position people around the edge and provide a more traditional, basic level of security. [The stakeholders] were looking to bring different centres together, integrate them, manage them and have a common operating picture across the whole of the port region.
CL: What are the biggest challenges involved in securing a region as large as the Houston Ship Channel?
JR: Size is clearly one of the biggest. It's one of those things that you need to keep secure without impacting legitimate trade and traffic. So there are a lot of no-go areas, for example on radar, where if the vessels are going up and down the Houston Ship Channel in their normal process that's all fine, but if anything starts straying into no-go areas or if small boats are appearing where they shouldn't be, those are all alerts and threats, the type of security they're looking to bring in.
The area has everything from major bridges through to the ship channel itself – it's the size; it's the number of stakeholders; it's the individual interests of those stakeholders.
CL: How does the NICE Situator improve operations and bring security information together in a more accessible way?
JR: A couple of examples: one is on the radar side, where they've had boats enter areas where they should not be. They can immediately have the response plan for that appear in front of them. The operators can notify the people in the field, send them information about the vessel they're looking for, and then those people can approach and determine whether it's a mistake or a more serious issue.
A similar example is where they've had reported chemical leaks – the faster they respond, the smaller the containment. They actually had one where Situator helped them respond to a particular leak, and they could cut it off and stop it hitting the main waterway. It was still a reasonably bad pollution issue, but it was restricted to just a side channel, whereas once it hits the main waterway it's obviously ten or 100 times bigger and more expensive as a recovery operation.
CL: How has the NiceVision Net video surveillance system been integrated into the ship channel's infrastructure?
JR: This is really NICE's key area – we work with the highest performance video management systems for reliability, resiliency and availability. For the ship channel, it was a real foundation to enable them to start moving towards things like IP cameras, megapixel, some of the specialist long-distance cameras and have the video management underneath that was going to be reliable and scalable, and always be there for their stakeholders.
The NiceVision has a lot of resiliency features that Harris County and the Houston Ship Channel Security District are taking advantage of. It gives them that confidence that they will have a system that will be there, even though obviously physical failures of equipment happen, there are network issues, all sorts of things – it will provide the security continually. It's a 24/7 available system.
CL: Does NICE Situator manage the data coming in and flag potential security risks?
JR: It's a combination. With all security, if there was a single panacea people would have found it by now. It's a combination of all levels – there's patrol, there are people calling in information, there's the Situator managing and integrating the systems that are there, so there can be alerts based on the radar. They're looking towards, for the future, things like video analytics to stop intrusions from a camera-based approach, as well as radar and other methods.
Situator has two roles; one is helping [security operators] spot alerts in the first place. The other is, because no system will spot every alert just as no human eyes would spot every alert, when they do get alerts from whatever source, it's to manage it in the most effective way possible, get the right resources involved, notify the appropriate people and minimise the impact of any incident. So it's prevention – seeing what you can and trying to focus on the areas that are important – but also mitigation. You have roughly $120bn a year going through the ship channel in terms of its impact on the economy, which is something like $10m an hour. So if you need to start closing the ship channel or having other issues, it's huge. So anything that can be done to either avoid that having to happen at all, or mitigate the downtime and decrease the recovery time, is critical, financially and from a safety point of view. So Situator is helping them both see incidents and manage incidents.
CL: NICE Situator automates response plans – could you give some more detail about this?
JR: In one way, you can think of it as taking the procedures that many places may have, that they have on a shelf in paper form and making those automated where possible, but also putting them in front of the operators, so they're not either having to remember procedures or go look them up in a book when it's a critical information point.
"With all security, if there was a single panacea people would have found it by now."
But it's much smarter than that as well. Procedures can be varied depending on everything that's coming in. For example, and this is very relevant in the Houston area, there's a significant amount of rainfall that can come in and influence flooding and the like; there's hurricane risk – you may take a different response and alert based on the weather and hurricane threat compared to a day-to-day operation when there's no real weather issue.
So the whole management plan, it takes the incoming data, it correlates it with other incoming data, other events, you can geographically relate things, so for example if you have a video analytic alarm that goes off, you may treat it as a level three alert, so you just look at the video and investigate. If it goes off at the same time as a radar alarm in the same geographical area, that's much more likely a positive threat, so you'd raise that to a level two or even level one alert.
It can then automatically notify field responders, commanders and any interested stakeholder for an incident in that location. So if it's in a particular company's area, it can notify that company. So there are all sorts of rules and principles, which guide a workflow that will support the operator to handle the situation in front of them.
CL: How does the NICE system make it easier for all the channel's different stakeholders to work together?
"Networks are starting to be able to support a richer data feed for people in the field."
JR: From a technical viewpoint, it gives them a point that everything comes into and then everything can go out of. That means that they're not trying to set up, from the management of the system, access for all different parties for all different sub-systems, which they would otherwise have to do. They'd have this horrible matrix of who can see what and connect to what particular thing – it's unmanageable.
From the operational side, everyone gets the same common operating picture, from which everyone, assuming they have permission, can see the same information that is correlated, telling them what incidents are being managed, how they're being managed, what stage they're at. It will also generate reports for post-event briefings and the like. We can actually show it on a timeline that says this action took place here, this is the video of that time, and then as the actions progress you can recreate the whole incident and look through it.
CL: The NICE Situator has mobile client software for first responders – do you think it's becoming more important to include mobile devices in security systems?
JR: Yes, not just with the Houston Ship Channel Security District; we're seeing that as a common trend across all of our customers. The networks are starting to be there that can support this richer data feed for people in the field, and everyone sees the value, as long as you give them the right information. Flooding people with useless or less relevant information when they're at a field incident is a distraction, but getting the right information to them is key. And everyone is moving in that direction – we see it in the public safety first responder space, we see it in private security, and of course in these sort of hybrid public-private initiatives.
CL: Have you been seeing an increasing number of ports and waterway networks looking to upgrade their security systems?
JR: Yes. And to that point, there's an increased awareness after 9/11 and other events made people realise that we can't take security and safety for granted in the way it maybe was. It used to be that you never had the information; it's now that you can get the information, but you need to act intelligently upon it and do useful things with it. There are so many things which you'll have seen in the news, major events, where it's generally not a lack of information that prevented us stopping things happening. It's a lack of access to the right information in the right place at the right time. So yes, it's significantly increased in interest, and in recognising that their capabilities have to increase.
---
Related content
---
Emissions from auxiliary engines running while ships are at berth is a substantial source of pollution.
Seven of the 10 biggest ports in the world by cargo volume are in China.
---