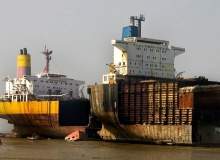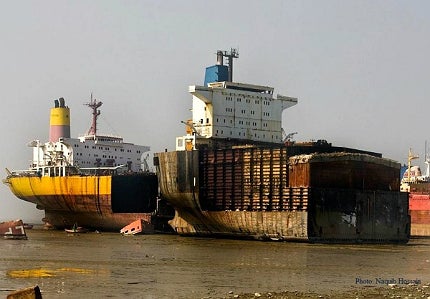 In 2012 alone, one European ship a day was consigned to such sub-standard beaching yards in South Asia, according to Patrizia Heidegger, executive director of the NGO Shipbreaking Platform, a coalition of environmental, human and labour rights organisations.
With older ships often containing a range of hazardous materials – including asbestos, PCBs and tributyl tin – and workers not always provided with adequate protective equipment, it is an industry enveloped in high accident rates, huge potential health risks and significant coastal pollution.
There is, nevertheless, a steadily growing chorus of voices calling for change, and in April, many eyes were on the European Parliament, as it debated new measures to tighten the rules within the EU.
EU regulations on ship recycling – a significant milestone?
"It is an industry enveloped in high accident rates, huge potential health risks and significant coastal pollution."
In the end, whether the outcome of that session should count as a significant milestone in cleaning up the sector, or something of a climb-down – and it has effectively been described as both – largely depends on your point of view.
On the one hand, a draft regulation to mitigate the harm done by careless ship breaking was resoundingly supported, which will see EU-registered vessels having to be sent to EU-approved facilities for recycling. To back it up, there are penalties proposed both for direct non-compliance and for deliberate attempts to circumvent the law by selling-on a ship for a non-EU third party to scrap.
On the other hand, however, a plan to fund the scheme by imposing a recycling levy on any vessel using EU ports was narrowly rejected, though an amendment calling on the European Commission to table a proposal "for an incentive based system" by the end of 2015 was adopted.
Harsh words flowed in the aftermath. NGO's Heidegger condemned the delay, saying "the Parliament failed to uphold its own principles and to deliver as promised," and Carl Schlyter, the Swedish MEP who proposed the levy, spoke of his frustration that "a narrow majority succumbed to highly misleading lobbying by the maritime sector, seeking to shirk its responsibilities."
Think global say ship-owners
It is a damning criticism of shipowners – and one which, understandably, they are quick to refute. Their opposition, they say, simply stems from a desire to see a truly global solution to the problem – not a regional one.
David Balston, UK Chamber of Shipping's director of Safety and Environment, explains that they are "firmly supportive" of efforts to speed up the full implementation of the Hong Kong Convention (Hkc) – a comprehensive International Maritime Organisation (IMO) mandated approach to the issue.
"What we do not wish to see is European regulation that deters investment or support to the ship recycling yards that are most in need of help, mainly in the Far East, by setting up a protectionist regime that effectively turns its back to the plight of others and does nothing to support early entry into force of the HKC," he says.
His sentiments echo what European Community Shipowners Associations' (ECSA) secretary general, Alfons Guinier, said back in April, when the draft levy was rejected. He suggested that imposing such a "regional measure" would have resulted to the non-ratification of the HKC by the key state players in the game – China, India, Bangladesh and Pakistan. It would, he said, "have delayed the intentions to improve recycling conditions globally."
Slow progress for Hong Kong International Convention
Much is clearly riding on the Hong Kong Convention for the Safe and Environmentally Sound Recycling of Ships, but as IMO secretary general, Koji Sekimizu, pointed out in his opening address to the Marine Environment Protection Committee in May, progress has been slow.
"Their opposition, they say, simply stems from a desire to see a truly global solution to the problem – not a regional one."
"Having been adopted almost four years ago, on 15 May 2009, the Convention has yet to attract even its first accession or ratification."
It is an unfortunate impasse. As the culmination of nearly ten years of discussions – the text alone taking three-and-a-half years to craft – the convention promises to be a real game-changer. It will impose new cradle-to-grave requirements on ships and shipowners, including the need to keep hazardous material inventories, and only allows end-of-life vessels to be recycled at properly approved facilities, which are recognised by their own Flag state and meet IMO standards.
The shipping industry itself has largely embraced it – something which the Secretary-General also alluded to in his speech – and is actively preparing to meet its new obligations.
Co-ordinated by the International Chamber of Shipping, the Industry Working Group on Ship Recycling has produced its 'Transitional Measures for Shipowners Selling Ships for Recycling' – which enjoys the support of the national shipowners' associations of more than 30 maritime nations.
Ultimate responsibility
However, as this document makes clear, while the shipping industry intends to shoulder its responsibilities ahead of the Convention coming into force, the "ultimate responsibility for conditions in ship recycling facilities must rest with the authorities in those countries where they are situated."
It is a point which Koji Sekimizu made too: "I particularly request ship recycling countries, including Bangladesh, China, India, Pakistan and Turkey, to accelerate the process of ratification."
He went on to urge all other member governments to support the ratification and early implementation of the Convention too, warning of the serious potential consequences of delay – and of the damage that go-it-alone, regional initiatives might do, no matter how well intentioned.
"A slow pace of ratification and a prolonged state of non-fulfilment of the entry into force conditions only risk creating a situation that may compel some authorities to take action to try to enforce measures that would go beyond IMO regulations or impose additional requirements, even before such IMO regulations enter into force.
"This is against the spirit of co-operation at IMO and damages the credibility of the Organization. Therefore, anything related to the implementation of the Hong Kong Convention should be discussed here at IMO and not elsewhere."
A toxic issue
"It will impose new cradle-to-grave requirements on ships and shipowners, including the need to keep hazardous material inventories."
This is not just about Europe's moves; others have spoken of alternatives too. At the 2011 Conference of the Parties to the Basel Convention – the international treaty designed to reduce the transboundary movement of hazardous waste – a number of delegates called for the Convention to play a much stronger role in respect of redundant ships.
Although the HKC mandates a hazardous materials inventory, it does not expressly do anything to stop them being transferred from industrial nations to developing countries.
Exercising the Basel Convention's competency over end-of-life ships, they argue, is the only real way sensitive environments and some of the poorest and most vulnerable workers in Bangladesh, India and Pakistan – one in five of whom is under 15 – can be protected.
With everyone seemingly wanting the same general goal – but divided over how to achieve it – can all the stakeholders finally be brought together to put an end to worker exploitation and environmental damage in the industry, once and for all?
Eventually, probably yes, but it is unlikely to happen quickly; the controversy – and the arguments – seem set to continue for some time.
---
Related content
---
AIS data is part of the geo-positioning web that tracks vessels and keeps them safe from collision, but the data is publically available.
The maritime industry may be currently going through its biggest crisis for decades, but looking ahead to 2030 the future for shipping and seaborne trade looks much more promising.
---