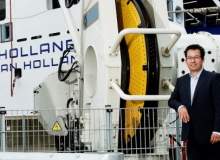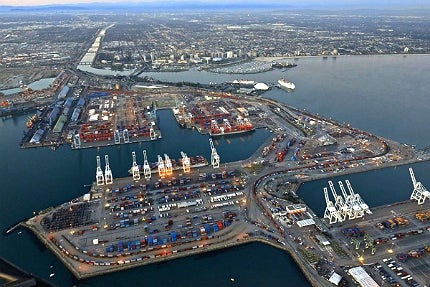 The Port of Los Angeles and the Port of Long Beach are the two busiest ports in the US and together they share San Pedro Bay.
Approximately 32% of all US containerised trade flows through them, meaning that they also form the fifth-busiest port facility in the world behind Shanghai, Singapore, Hong Kong and Shenzhen.
The Port of Los Angeles has an annual revenue of $370m and handles around $190bn worth of cargo and 170 million tonnes of cargo each year.
It was also the first port to in the world to use AMP (alternative maritime power – a term which it has trademarked), which is also globally known as shore power, cold ironing or OPS (on-shore power supply).
World firsts
"Port of Los Angeles has an annual revenue of $370m and handles around $190bn worth of cargo and 170 million tonnes of cargo."
Approximately ten years ago, the Port of Los Angeles was looking for ways to reduce mounting air emissions and to subside the concerns of local residents and environmentalists.
On 21 June 2004, the first container terminal in the world to use AMP opened at Berth 100 in the West Basin Container Terminal.
Less than two months later, on 9 August, it welcomed the world's first container vessel to be built with AMP specifications already in mind, shipping line NYK's NYK Atlas.
"Presently, the Port of Los Angeles has 11 berths with shore power capability," said Phillip Sanfield, spokesperson for the Port of Los Angeles.
"By January 2014, that number will jump to 26 berths, as the port moves forward with plans to equip every container terminal with AMP."
Back in November 2006, the San Pedro Bay Ports adopted the joint San Pedro Bay Ports Clean Air Action Plan (CAAP), in which AMP plays a vital role.
The port has become a recognised world leader in port pollution control and won the Lloyd's List environmental award in 2012, for reducing emissions by up to 75% since 2005.
International standards
One of the port's biggest challenges has been to develop international power standards to make AMP more commercially viable around the world, explained Sanfield.
"The port has become a recognised world leader in port pollution control and won the Lloyd's List environmental award in 2012."
"Fundamental challenges included developing standards for a world that does not operate on the same electrical system frequency and a global fleet that does not run on a common voltage," he said.
However, the International Organization for Standardization (ISO), the International Electrotechnical Commission (IEC) and the Institute of Electrical and Electronics Engineers (IEEE) developed a joint working group – after working with ports, ocean carriers and engineers – to eventually publish the standard in July 2012 that would make lights, heating, refrigeration and other on-board systems run on shore power.
"Today, shipping lines, manufacturers, engineers and ports have a standard for high voltage shore connections systems (HVSC): ISO/IEC/IEEE 80005-1:2012," said Sanfield.
In 2011, the Port of Los Angeles also became the first port worldwide to provide AMP to three separate cruise lines: Disney Cruise Line, Princess Cruises and Norwegian Cruise Line.
While cruise ships generally require eight to 13 megawatts of power, the AMP system for these vessels can deliver up to 40MW of power – 20MW to each of the two ships simultaneously.
The environmental benefits of AMP are clear, says Sanfield. "Ships can be modified to reduce pollution, but to totally eliminate local engine emissions, shore power is the best option," he said.
"The operational benefits are also clear. When ships at berth plug in, maintenance and repairs can be done on equipment not in operation, vessels conserve fuel, and the cost of running on board systems is lower. Noise pollution from the engines is also eliminated."
The Port of Long Beach
The Port of Long Beach handles around $155bn worth of cargo and 154 million tonnes of cargo each year and, according to its 2012 inventory of air emissions from port-related sources, has reduced diesel particulate matter by 81% since 2005.
Shore power is a key contributor to less pollution at the port, but cleaner locomotives, trucks and its technology advancement programme are also significant factors.
It was in 2008, at the Pier G container terminal, that the Port of Long Beach's first shore power-equipped berth first opened. The port invested $8m to install the equipment, which made up part of a $21m berth improvement programme.
"The Port of Long Beach is busily completing shore power connections at all of its container terminals, and is spending about $100m to complete that effort," said Lee Peterson, spokesperson for the Port of Long Beach.
"Shore power reduces 95% of the emissions from ships at berth. So anyone who breathes air benefits, from the people working right on the berthed ship and docks to the residents far inland where air pollution can travel."
The state of California has now put a number of targets in place to ensure the ports continue to cut pollution at the ports.
"The California Air Resources Board (CARB) adopted a regulation in December 2007 to reduce emissions from diesel auxiliary engines on ships while at-berth for container, cruise and reefer vessels," said Peterson. "The regulation requires that auxiliary diesel engines be shut down for specified percentages of fleet visits."
By 1 January 2014, vessels using shore power will be required to shut down their auxiliary engines at-berth for 50% of the time and reduce on-board auxiliary engine power generation by 50%. These percentages are set to increase to 70% in 2017 and 80% in 2020.
Port of Rotterdam
For decades the Port of Rotterdam, in the Netherlands, has been Europe's leading port – and from 1962 until 2002 it was the world's busiest, until it was taken over first by Singapore and then by Shanghai. It handles around 430 million tonnes of cargo each year and has an annual revenue of more than €500m.
Currently at the Port of Rotterdam the on-shore power supply (OPS) at the Stena Line Terminal in Hoek van Holland is the world's biggest running shore-to-ship power installation using frequency converters.
Electricity conversion
"In 2011, the Port of Los Angeles also became the first port worldwide to provide AMP to three separate cruise lines."
"As the electricity grid in Europe is 50Hz and the on-board ship systems are mostly 60Hz, a huge extra investment is needed before the electricity may be brought into the vessels," said Maurits Prinssen, the project manager for sustainable maritime development at the Port of Rotterdam. "The average extra investment for this is 50% for the shore infrastructure."
Forming part of a wider plan to reduce its fleet's fuel consumption, Stena Line invested in the infrastructure needed to power two vessels at the same time from the local grid while berthed in the port.
"The investment for the shore infrastructure has been €2.7m and equipping the vessels required a similar amount," added Prinssen.
Ferries often remain in a port for an average of six hours and during this time electricity is necessary to run on-board systems, such as heating and galley equipment. Once underway the project was quickly realised and commenced operation in June 2012.
Previously local residents have had to put up with polluting emissions, noise and unpleasant odours, but this new system has allowed emissions to be drastically reduced as the ferries can now switch off their engines while docked.
"By using the OPS system for a minimum of 80% of the port time, the NOx, SOx, PM (dust) and CO2 are reduced by 80%," said Prinssen.
As a result of the environmental impact of this OPS installation, Stena Line was awarded the KNVR (The Royal Association of Netherlands Shipowners) Shipping Award in 2012.
A shore bet
Significantly improving pollution levels is not the only reason for ports and ship owners to consider the implementation of shore-side electrical power.
A move towards cold-ironing will also reduce fuel costs and vessel pollution, improve air quality, reduce noise and improve maintenance and repair processes.
With so many benefits and the threat that emissions from the seas surrounding Europe could increase by 50% by 2020, shore power is one of several ways to positively impact both the industry and the environment.
---
Related content
---
By September 2013, the largest hybrid vessel ever built, The Prinsesse Benedikte, will transport passengers and vehicles with a new lithium polymer battery system, that will improve Scandlines' bottom line and its environmental impact.
Fulfilling requirements set down by international and national environmental monitors has become a core strategic interest for the shipping industry, as a new era of emissions monitoring legislation sails into view.
---