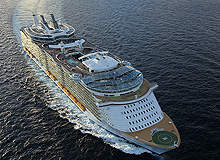 Allure of the Seas is the most expensive cruise ship in operation. It is the latest cruise ship in the Oasis class, owned by Royal Caribbean International. About $1.4bn was incurred in the building of this world-class cruise ship.
Allure of the Seas is the largest passenger ship ever constructed, stretching just two inches longer than its sister ship Oasis of the Seas.
Allure of the Seas accommodates 6,296 guests as well as 2,384 crew members and is loaded with features such as the first on-board Starbucks, a 1,380-seat theatre and ice skating rink.
The Oasis of the Seas of Royal Caribbean is the second costliest ship. The vessel entered service in December 2009. It was built by STX Europe (formerly Aker Yards) in Turku, Finland, at a cost of about $1.24bn.
The Oasis of the Seas cruises Caribbean from its home port of Port Everglades in Florida. The ship offers an array of passenger features such as luxurious staterooms, a zip-line, a casino, a miniature golf course, night clubs, bars and lounges, Pool and Sports Zone, Entertainment Place and theme parks.
Norwegian Cruise Lines (NCL) spent approximately $1.2bn on its new cruise ship Norwegian Epic. The cruise ship truly represents the 'freestyle cruising' concept introduced by NCL. The Epic accommodates 4,100 passengers served by 1,753 crew.
The Norwegian Epic sails to the destinations in Caribbean and Europe. It offers more than 20 dining options, studio rooms for solo travellers and world-class live entertainment, fitness and sports facilities, aqua park, pools and hot tubs.
Disney Fantasy is the fourth cruise ship in the expanding fleet of Disney Cruise Line. The ship was constructed at an estimated cost of $940m by MEYER WERFT shipyards in Papenburg, Germany.
The on-board facilities were exclusively designed to cater to families. The ship cruises on seven-night Eastern and Western Caribbean voyages.
The 1,250 staterooms spread across the 14-deck vessel accommodate 4,000 passengers and more than 1,450 cast and crew members. The cruise ship features a magnificent three-deck atrium lobby, sweeping grand staircase, marble and stone inlay floor, fluted columns, lavish decorative murals and paintings.
Disney Dream owned by Disney Cruise Line cost nearly $900m to build. The cruise ship was put into service in 2011 and now sails to the Bahamas. It offers 1,250 staterooms accommodating 4,000 guests and more than 1,458 crew.
The cruise ship gives a glimpse of early 20th-century design as well as cruise-industry first features such as the AquaDuck, the first water coaster at sea.
Disney Dream boasts of being a true family cruise liner offering one-of-a-kind venues and experiences for each member in the family.
Queen Mary 2 (QM2) is a flagship and transatlantic ocean liner of Cunard Line. Built at a cost of more than $880m (£550m), QM2 is Cunard's only transatlantic ocean liner operating between Southampton and New York, after the retirement of Queen Elizabeth 2 in 2008.
Queen Mary 2 also sails on an annual world cruise. The transatlantic ocean liner carries 2,620 passengers and 1,238 crew members. It features 1,347-seat Britannia Restaurant, 200-seat Queen's Grill, Royal Court Theatre, Winter Garden, 14 bars and clubs and health and fitness facilities.
The Norwegian Breakaway, launched in 2013, is a large and more innovative cruise ship owned by Norwegian Cruise Lines. Built under Project Breakaway by Meyer Werft shipyard at an estimated cost of $840m, it is the biggest cruise ship ever to home port in New York.
The cruise ship has the capacity to carry 4,000 passengers and 1,595 crew. It offers an industry-first open-air space, fitness centre, mini golf, sports court, aqua park, pools and hot tubs.
The Breakaway sails on seven-night cruises to Bermuda, Caribbean and the Bahamas and Florida.
Independence of the Seas, owned by Royal Caribbean, is the third Freedom-class cruise ship introduced in April 2008. The $828m ship was built by Aker Finnyards in Turku, Finland. The 15-deck ship can carry 4,370 passengers and 1,360 crew.
The ship carries the Freedom-class features such as FlowRider® surf simulator, a rock climbing wall, ice-skating rink, cantilevered whirlpools, Royal Promenade and mini golf course.
Freedom of the Seas is a Freedom-class cruise ship owned by Royal Caribbean International. The 18-deck vessel was built by Kvaerner Masa-YardsIt at a cost of about $800m. The ship has the capacity to carry 4,375 guests and 1,360 crew.
Freedom of the Seas operates on 7-night itineraries to western Caribbean locations. The passengers onboard can experience Royal Caribbean's unique features such as surf simulator, H2O Zone water park and cantilevered whirlpools.
Liberty of the Seas is another $800m Freedom class cruise ship built at Kvaerner Masa-Yards, in Turku, Finland. The cruise ship sailed on her maiden voyage in May 2007. The ship has 15 passenger decks carrying 4,375 guests served by 1,360 crew.
Liberty of the Seas has the Freedom-class ship features including 2,101-seat main dining room, Platinum Theatre, Vitality Spa & Fitness Centre, six Whirlpools and three pools, surf simulator and Ice Skating Rink.