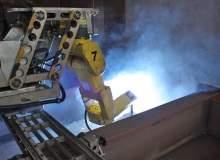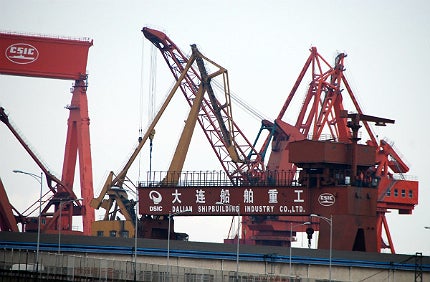 Traditionally, the shipbuilding industry has relied on the labour of a large pool of skilled workers, who faced the prospect of long hours and demanding tasks such as welding, cutting and painting to get large vessels launched. Major shipbuilders have risen to prominence on the backs of these workers, whether in the ageing historic shipyards of Europe or their highly efficient rivals in South Korea, Japan and China.
But the industry's workforce has been dwindling in the face of the global downturn and the declining prevalence of shipbuilding in many markets.
Last year, marine recruitment expert Natalie Desty told Ship Technology that industries like nuclear, construction and oil and gas are attracting a growing number of marine-qualified personnel. "We are losing a lot of people who are trained for the marine sector to other industries," she said.
Robotics: plugging the labour gap
"Geoje shipyard's efficiency is partly down to its world-leading automation rate."
As labour pools continue to dry up and shipyards struggle for efficiency gains in an intensely competitive global market, shipbuilders are increasingly relying on greater levels of automation to keep up with their order books.
It's the same story in almost every corner of heavy industry – regardless of labour shortages or economic austerity, employers are recognising the value of robotics as a driver of efficiency and a method of sparing human workers from monotonous or dangerous tasks.
And, while robots continue to help plug the labour gap in all manner of heavy industry sectors, the rise in their use is becoming a significant job creator elsewhere. A February 2013 study by research firm Metra Martech found that the one million or so industrial robots currently in use have created nearly three million jobs, with another million due in the next five years.
This growth is partly driven by the rapid adoption of advanced automation technologies in industrialising nations such as China and Brazil, and shipyards are playing a considerable role in this trend. Shipyards in Brazil, for example, are quickly automating to meet marine and offshore industry production demand, and to address skills shortages of their own.
The Brazilian automation charge is being led by the Estaleiro Atlantico Sul (EAS) shipyard, the country's largest shipbuilding complex, which has formed a technical partnership with South Korean giant Samsung Heavy Industries (SHI) and introduced four automated plasma cutting machines and one of the largest flat panel production lines in the industry, capable of producing six flat panels a day.
Geoje shipyard: the automation leader
There's a reason EAS shipyard wanted to tap into Samsung Heavy Industries' technical expertise when ramping up its own automation processes. SHI is one of the world's most advanced and efficient shipbuilders, operating with a high level of automation to crank out LNG carriers, FPSOs, ultra-large container ships and others.
Geoje shipyard is the company's largest shipbuilding facility in South Korea, and boasts the world's highest dock turnover rate, launching around 30 ships a year. The shipyard's efficiency is partly down to its world-leading automation rate, with 68% of its production processes carried out by robotic systems. Intelligent systems used at the facility include inspection and pipe-cleaning robots, as well as units for welding, one of the first shipbuilding operations to be automated.
Perhaps the most innovative of Geoje's automated systems is its so-called 'spider robot', which autonomously crawls over the surface of a vessel, blasting off rust and other contaminants before it can be painted. In an interview in May, Jae-Hoon Kim, executive vice president of SHI's Institute of Industrial Technology and inventor of the spider robot, explained that the robot was originally designed for welding.
"We came up with an autonomous navigating robot equipped with the 3D camera sensor and SoC [System-on-Chip] technology. The robot itself identifies where to link and welds automatically," Kim said. "As a result, we were able to reach the highest level of automation in the industry at 68%, and productivity and quality innovation came naturally with it.
"Welding the internal surface of a ship transporting liquefied natural gas – which needs to be preserved at the temperature as low as minus 163 degrees Celsius – was the most challenging project. The accepted range of error was as narrow as 0.5 millimetres. We accomplished this hard task with the help of IT integration. We invented an algorithm system which not only calculates accurately but also predicts the change in form after the welding process. And by combining Indoor GPS to this system, a robot was born which can move and weld accurately at the same time."
Technology transfer
As the use of robotics in shipbuilding expands and technology such as sensor systems and artificial intelligence becomes more complex, the industry is gradually (in an industry like shipbuilding, all change is gradual) customising automation tech to optimise its use for shipyard operations.
"The operator only needs three to four keystrokes in order to operate the robot."
On the most fundamental level, global collaboration and technology transfer is a major trend for rapidly digitising shipyards, with automation experts like SHI partnering with developing companies to broaden the use of advanced robotic systems around the world.
Earlier this summer, US technology powerhouse General Electric (GE) announced it would be providing a drive and automation system to Dalian shipyard in China for the management of a new Goliath crane system, bringing a number of efficiency and energy conservation benefits, especially with its automatic skew control system (ASCS), which allows two 200m gantry sides to safely operate at the same time.
"GE's technology enables two of these 600t cranes to work simultaneously, enabling the handling of higher loads required for building larger vessels," Dalian Shipbuilding Industry Equipment Manufacturing Company project manager Gao Guo Chun. "At the same time, GE's drive system technology saves significant amounts of energy. Working together with GE helps us continually push the boundaries of shipbuilding."
The general advancement of global robotics technology is also leading to design and interface improvements so automated systems can be safely operated with little to no expertise, further encouraging the spread of robots to shipyards of various sizes and levels.
Danish robotics specialist Inrotech has worked to produce a shipyard welding robot that can perform its task 40% faster than a manual welder, with an interface that the company believes is the simplest in the industry. "The programming offers a simple user interface which means that the operator only needs three to four keystrokes in order to operate the robot," said Inrotech CEO Flemming Jørgensen in late 2012.
"There are no complicated programming codes, and the operator does not need to assign tasks to the robot manually nor monitor it. Therefore, the operator can control up to six robots at once. In case of failure or a need for service, our robot is able to pose itself in a service position, whereupon it returns and restarts where it was interrupted. This means that our customers can save a lot of expenditure on staff training in relation to the control and monitoring of the robot."
Miniaturisation and wearable robotics
"When a worker wearing the robot lifts an object weighing 30kg, he will feel only 5kg of the weight."
Shipbuilding might broadly lean towards massive industrial systems such as the Goliath crane, but industry research is also pushing for smaller, smarter robots that can make human workers' jobs easier and safer by accessing hazardous, hard-to-reach areas.
South Korea's Hyundai Heavy Industries (HHI), the world's largest shipbuilder and a major robotics manufacturer, is in introducing mini welding robots to its shipyards from the second half of 2013. The robot, which measures 50cm by 50cm by 15cm with its welding arm retracted, is able to operate in areas inaccessible to humans, and HHI believes its six joints can handle almost all welding jobs at a speed comparable to its human counterparts. The robot's magnetised body allows it to stick to panels and ceilings, with a single human operator able to control three of the systems at once to triple productivity. HHI is also working on software for steel cutting, blasting and painting to expand the new robot's capabilities.
As well as remote controlled systems, the miniaturisation of robotic systems is also opening the door to wearable systems that can enhance the user's strength and stamina. The technology, which is also beginning to emerge in the defence sector, is being trialled by HHI's close competitor Daewoo Shipbuilding & Marine Engineering (DSME) with its 'Iron Man' wearable robot, which is intended to improve worker productivity and reduce the incidence of the musculoskeletal disorders that routinely affect shipyard workers involved in heavy lifting.
"Even when a worker wearing the robot lifts an object weighing 30kg, he will feel only 5kg of the weight," said a DSME official at the robot's demonstration event in April 2013. "The robots will be deployed in building offshore plants to move heavy pipes or tightening bolts with a 12kg wrench." The company hopes to increase the robot's lifting capacity to 40kg, and plans to finish its development in time to introduce the technology to its Okpo shipyard in 2014.
---
Related content
---
By September 2013, the largest hybrid vessel ever built, The Prinsesse Benedikte, will transport passengers and vehicles with a new lithium polymer battery system, that will improve Scandlines' bottom line and its environmental impact.
Globally, around 1,000 large ships a year are broken up and recycled. While it means that their steel and other valuable scrap can be reclaimed and their equipment reused, the process itself has largely become the preserve of developing nations – often 'beaching' operations with relatively lax health and safety rules and few environmental safeguards.
---