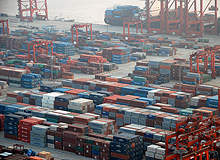 The Port of Shanghai is the biggest port in the world based on cargo throughput. The Chinese port handled 744 million tonnes of cargo in 2012, including 32.5 million twenty-foot equivalent units (TEUs) of containers.
The port is located at the mouth of the Yangtze River covering an area of 3,619km². Shanghai International Port Group (SIPG) owns the port facility. Wusongkou, Waigaoqiao and Yangshan are the three main container port areas.
The port comprises of 125 berths with a total quay length of about 20km. It serves more than 2,000 container ships on a monthly basis and accounts for a quarter of China's total foreign trade.