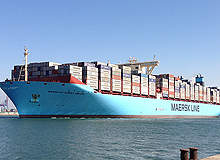 MV Maersk Mc-Kinney Møller is the world's biggest container vessel with a carrying capacity of 18,270 twenty-foot equivalent units (TEUs). It is the lead ship of Maersk's Triple E class of container vessels.
The Triple E class ships are being built by Daewoo Shipbuilding & Marine Engineering (DSME ) for the shipping company Maersk Line . Each vessel, with deadweight of 165,000t, is 400m long, 59m wide and 14.5m in draught. A total of 20 Triple E class vessels are scheduled to be delivered between 2013 and 2015.
Triple-E vessels are powered by a 'twin-skeg' propulsion system integrating two 30,000kW engines and two propellers. The waste heat recovery system aboard the ship saves about ten percent of main engine power. The class emits 20% less carbon dioxide per container when compared to Emma Maersk of the Maersk E-class ships.
Explorer Class: 16,020 TEU
CMA CGM Marco Polo is lead ship in the series of three 16,000 TEU Explorer Class container vessels. It is one of the biggest cargo container ships in the world. Built by Daewoo Shipbuilding and Marine Engineering (DSME), the ship was delivered in November 2012.
The Marco Polo entered service in November 2012, while her sister ships Alexander Von Humbolt and Jules Verne were introduced in 2013. The Explorer Class vessel has a length of 396m, width of 54m and draught of 16m.
The container ships are powered by an 80,080kW Wärtsilä 14RT Flex 96 C engine driving a fixed-pitch propeller via single shaft. The ships also incorporate the latest environmental technologies.
Maersk E Class: 14,770 TEU
Emma Maersk is the first ship in Maersk E Series large container ships. It was the world's largest container ship at the time of commissioning in 2006. Odense Steel Shipyard built a total of eight Maersk E class vessels in Denmark for its client A. P. Moller-Maersk Group during 2006-2008.
The Maersk E Class vessels have a designed deadweight of 158,200t. Each vessel measures 397.71m in length and 56.4m in breadth. Emma Maersk has capacity to carry 14,770 TEUs.
The vessel is powered by Wärtsilä 14RT-flex96C, the world's first 14-cylinder in-line engine. The engine develops a continuous power of 80,080kW at 102rpm. Service speed of the vessel is 25.2kt.
CSCL Star: 14,100 TEU
CSCL Star is the first of eight identical Ultra Large Container Ships (ULCS) operated by China Shipping Container Lines (CSCL).
CSCL Star was introduced into service in January 2011. CSCL Neptune, the last ship in the class, made its début in May 2012.
The "neo-overpanamax" vessels were built at Samsung Heavy Industries shipyard in Geoje, South Korea. The lead vessel, CSCL Star, has deadweight of 155,470t. Each vessel can carry 14,100 TEUs. The ships operate between the Far East and Europe.
The CSCL Star is powered by MAN 12K98MC-C diesel engine developing a maximum power of 72,240kW. The propulsion system enables the ship to sail at speeds up to 26kt.
APL Temasek: 14,000 TEU
APL Temasek is the first in a series of ten 14,000-TEU vessels ordered by Singapore-based NOL Group . It is the biggest container vessel registered in Singapore. The second ship MOL Quest was delivered in March 2013, while the third and fourth vessels APL Raffles and MOL Quality were delivered in mid 2013.
The container ship has deadweight of 150,936t with mono-hull. The vessel measures 368.5m in length and 51m in width. A number of innovations, such as a broader hull form and S-type long-stroke main engine with electronic fuel injection, are integrated in the ships.
The propulsion system includes HYUNDAI-MAN B&W 11S90ME-C9.2 engine driving a fixed pitch propeller. The ship delivers 33% more fuel efficiency over the standard guidelines established by the International Maritime Organization (IMO).
MSC Danit: 14,000 TEU
MSC Danit is the first in a series of four large container ships built by Daewoo Shipbuilding & Marine Engineering for its client Dordellas Finance Corp. The vessel is operated by Mediterranean Shipping Company (MSC).
The New Panamax (NPX) size container ship has a length of 365.5m, width of 51.2m and draught of 16m. Deadweight of the vessel is 165,517t. Container carrying capacity is 14,000 TEUs.
The vessel's propulsion system consists of MAN-B&W 12K98MC-C 12-cylinder diesel engine developing 72,240kW power at 104rpm. High manoeuvrability is achieved through two tunnel bow thrusters. Service speed of the vessel is about 24.1kt.
MSC Daniela is the first vessel in a series of 13,800-TEU container ships built by Samsung Heavy Industries for Mediterranean Shipping Company. It is one of the world's largest container ships in operation.
MSC Daniela was delivered in 2008. It has an overall length of 366m, beam of 51m and draught of 15m. The ship features a separate deckhouse and engine room for increased carrying capacity. Deadweight tonnage of the ship is 165,517t.
A MAN B&W 12K98MC-C diesel engine driving six-bladed Mecklenburger propeller provides propulsion to the vessel. The engine develops maximum power output of 72,240kW, enabling the vessel to sail at a maximum speed of 25.2kt.
UMM Salal: 13,500 TEU
Umm Salal is the first of nine similar container ships built by Samsung Heavy Industries for United Arab Shipping Company (UASC). It is also the first A13-class vessel deployed by UASC in the Middle East. The first and last ships in the series were delivered in April 2011 and May 2012 respectively.
Umm Salal has a maximum container capacity of 13,500 TEU. It is provided with three holds to carry hazardous cargoes. The ship measures 366m in length and 48m in width. Deadweight of the vessel is 145327.9t.
The container ship is propelled by a Doosan MAN B&W 12K98ME7 main engine providing a service speed of about 25kt.
OOCL Brussels: 13,208 TEU
OOCL Brussels is one of ten similar 13,208-TEU mega container vessels built by Samsung Heavy Industries for Orient Overseas Container Lines (OOCL). The first ship in the class was delivered in 2013, whereas the last vessel is scheduled to be delivered in early 2014.
OOCL Brussels can carry 13,208 TEU of cargo. The deadweight and gross registered tonnage of the vessel are 144,150t and 141,003grt respectively. Each Neo Panamax (NPX) vessel in the class measures 366.4m in length and 48.20m in breadth.
The vessel is equipped with a MAN B&W 12S90ME-C9.2 main engine generating power output of 54,200kW. The propulsion system allows the vessel to operate at a speed of about 23kt.
Hamburg Express: 13,200 TEU
Hamburg Express is the lead ship of ten new 13,200 TEU class container vessels built by Hyundai Heavy Industries for Hapag-Lloyd . It serves as the flagship of Hapag-Lloyd's new container vessel fleet. Deliveries of all 10 vessels are scheduled to conclude by spring 2014.
The container ship has a length of 366m, width of 48m and draught of 15.5m. Deadweight of the vessel is 142,092t, while gross registered tonnage is 142,295grt. Each ship can carry 13,169 TEU of cargo.
The Hamburg Express is powered by a MAN 11K98ME7 11-cylinder diesel engine developing a power of 52,447kW. The propulsion system provides a maximum speed of 23.6kt and range of 30,400nmi.