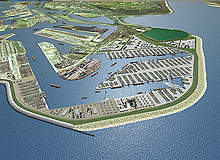 Like so many other industries, the global recession had an adverse impact on the port construction market, with new ports and terminal upgrades delayed or even scrapped due to the sudden scarcity of funds. Laing O' Rourke's dredging work on the planned London Gateway port in the UK finally began in March 2010 after two years of delays due to Dubai-based marine developer DP World's difficulties with raising the necessary investment.
As an essential facilitator of world commerce, however, the construction of new marine hubs has proved its resilience as well as its ability to bounce back. Massive development projects are now well underway or nearing completion all over the world.
Scale and sustainability: industry trends
It's not only major hubs that are beginning to thrive. In India, for example, recent data revealed that small and private commercial ports outperformed their larger rivals in fiscal year 2010-2011. World Port Development reported that cargo traffic at ports run by the Gujarat Maritime Board (operator of minor ports along the Gujarat coastline) increased 12% with 231 million tons of combined cargo handled.
Larger hubs, meanwhile, were facing static or negative results for the year, with Kandla port, the country's largest, achieving only 3% growth with just under 82 million tons handled. This performance trend may encourage an increase in smaller port construction projects alongside the often state-subsidised mega-projects, especially on the Indian subcontinent.
"With many port development projects, environmental responsibility and sustainability is being placed at the core of design and construction."
With many port development projects, environmental responsibility and sustainability is being placed at the core of design and construction. A recent example of this is the Port of Los Angeles in California, where China Shipping completed a major phase of its $47.6m terminal expansion project in April 2011. The 925ft new section of wharf, 18 further acres of backland and four new container cranes will increase cargo throughput, but the environment has not been forgotten.
Eco-friendly measures in use at the port include the use of alternative-fuelled yard tractors, electric gantry cranes and diesel particulate filters on lower-emission switcher locomotives. Alternative maritime power (AMP) is also being used to power vessels at berth, allowing ships to connect to shore-side electrical supplies and eliminating around a ton of ship emissions for every 24 hours a ship is at berth.
Los Angeles mayor Antonio Villaraigosa commended China Shipping as "a global company that has made a major financial investment in Los Angeles to significantly grow its business using the cleanest technology available". This commitment to green technology is extending to the upcoming construction of a main terminal building at the port, which will be built to meet the US Green Building Council's LEED Gold certification.
The emphasis on prioritising sustainability into port developments is driving the growth of environmental consultancy and monitoring for these large projects. Marine data specialist Partrac , for example, offers port construction projects baseline environmental surveys, dredge monitoring, sediment and water quality monitoring, and dredge plume surveys using DRL Software's Sediview processing tool, now on its third iteration.
"The completion of expansion work at Umm Qasr Naval Base in 2010 marked the end of a challenging project for design team PND Engineering."
Case study: Umm Qasr Naval Base
A number of large-scale projects around the world are going some way towards proving that the port construction market is in rude health. In Iraq, the completion of upgrade and expansion work at Umm Qasr Naval Base in 2010 marked the end of a challenging project for design team PND Engineering and an important landmark for the Iraqi Government. Designed by PND under a $44m and overseen by the US Army Corps of Engineers, the project added modern pier facilities to the base, along with a seawall and related infrastructure, including electricity, fuel and water both for drinking and for fire-fighting.
The new facility is made up of two piers. For the first, PND and fellow contractors West Construction Company and CCI made use of PND's open cell sheet pile system, vertically arranged driven flat sheet pile-composed structures that act as membranes to retain soil. The system has been employed for numerous civil construction applications, and is sold on its relatively low cost combined with its flexibility, resistance to seismic events and high load capacity. The other pier is a floating dock with a gangway.
Both piers will provide operational and maintenance support to the new patrol ships recently purchased by the Iraqi Government. In March 2011, the project was named best new international construction project by the Associated General Contractors of America (AGC). "These projects require tremendous skill, extraordinary craftsmanship and dogged determination from their contractors," commented AGC president Ted Aadland. "Frankly, they are the kind of projects many of us dread starting and all of us dream of completing."
Case study: Maasvlakte 2
In Rotterdam, Netherlands, a massive ongoing project to extend Rotterdam harbour to support increasing traffic is well underway. The first phase began in 2008 and is scheduled for completion in 2013, led by Puma , a joint venture consortium between construction companies Boskalis and Van Oord .
"To get these stones and blocks in place, PUMA had to design their own proprietary crane."
According to an October 2010 report by the Port of Rotterdam Authority , the project is on track after two years of heavy construction work. Since the beginning of the works, 170 million cubic metres of sand has been brought in by up to ten trailing hopper suction dredgers at a time. Focus on the construction has now transferred to the stone work – a 3.5km seawall and the quay wall for the first container terminal, the Rotterdam World Gateway.
A technique new to the Netherlands is being used to build the seawall. A breakwater will be formed using a stony dune with an additional dam of massive concrete blocks. To get these stones and blocks in place, PUMA had to design their own proprietary crane, dubbed the Blockbuster. This 1,200t beast can position 40t concrete blocks up to 50m from the heart of the crane with an accuracy of 15cm.
Major events in the build scheduled for 2011 include the early stages of construction on the terminal building by stevedoring company RWG, as well as infrastructure works including roads, rail, pipelines and cables to link Maasvlakte 2 with Rotterdam's existing port facilities.
Maasvlakte 2 also serves as another example of the increasing importance of environmental awareness in the industry. Since the original drafting of the project's environmental impact statements, the Port of Rotterdam Authority has signed an agreement with Friends of the Earth Netherlands (Milieudefensie) to further reduce the emission of harmful substances by 10% compared to original 2020 projections.
Methods for achieving this goal include the capability for shore-based power, as was accomplished at the Port of Los Angeles, as well as setting environmental limits on dredging work and eco-friendly terminals and Port Authority vessels. "The elaboration of the agreement shows that improving the quality of life and developing the port can go hand in hand," said Port of Rotterdam Authority CEO Hans Smits. "I'm happy with the constructive relationship we have with Friends of the Earth Netherlands."