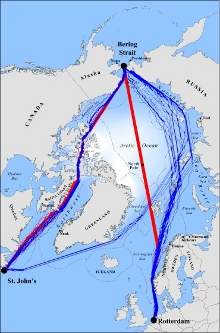 Global warming could make Arctic Ocean ice fragile enough for ordinary ships to sail in the region without any need for icebreakers by 2050, according to a study by the University of California, Los Angeles (UCLA).
The study revealed that global warming will make the frigid routes more accessible due to melting polar ice during the late summer.
UCLA lead researcher and professor of geography Laurence Smith said: "The development is both exciting from an economic development point of view and worrisome in terms of safety, both for the Arctic environment and for the ships themselves."
The number of pirate attacks worldwide decreased by 32% during 2012 to 297, a five year-low, according to a global piracy report by the International Chamber of Commerce's (ICC) International Maritime Bureau (IMB).
According to the report, the number of attacks has fallen due to a decline in Somali piracy, though East and West Africa remain the regions worst hit by pirates, with 150 attacks reported in 2012.
Globally, 174 ships were boarded by pirates in 2012; 28 were hijacked and 28 were fired upon, while 67 attempted attacks were recorded by IMB's Piracy Reporting Centre.
UK-based shipping consultant Drewry Maritime Equity Research has predicted that the global container trade will increase by 4.7% in 2013 and 5.7% in 2014, reaching 684 million teu by the end of 2014.
According to Drewry's latest forecasts, port capacity is expected reach 994 million teu by 2014, increasing at a compound annual growth rate (CAGR) of 3.9% since 2011, while average utilisation will increase to about 69% in 2014, from 67% in 2011.
The company's forecast predicts that there will be significant regional variation, which will lead to very different utilisation levels in different areas.
Singapore is planning to invest around $8bn to double its container port capacity, after being pushed into second place by Shanghai as the world's busiest harbour in 2010.
The move is part of Singapore Prime Minister Lee Hsien Loong's plan to stimulate economic revival in the country, according to Bloomberg. Mizuho Bank economist Vishnu Varathan told Bloomberg the plan may spur yearly growth of five percent and that port building costs could exceed $8bn.
The project includes shifting the port's terminals to create 1,000ha of space for the construction of a larger deepwater port at Tuas in the south-west. The government said some berths at the expanded container terminal at Tuas may be ready by 2022.
The European Parliament has tightened the ship scrapping rule under which EU-registered ships must be sent to EU-approved facilities to be scrapped.
The proposed regulation intends to minimise the adverse effects of careless scrapping of vessels outside Europe, most often in south-east Asia, in unsafe and unsanitary conditions.
Shipowners would face penalties if they send or sell vessels for recycling on a beach or in a scrapping facility not approved by the EU, including vessels sent for scrapping within 12 months of a sale.
The annual operating costs in the shipping industry fell by an average of 1.8% in 2012, compared to a 2.1% increase in costs recorded in 2011, according to a new report, OpCost 2013, by international accountant and shipping consultant Moore Stephens.
The decrease in annual operating costs during the year was mainly due to ship owners focusing on cost management.
The operating costs of all the three main tonnage sectors including bulkers, tankers and container ships were covered in the survey.
Domestic and international shipping companies are becoming more environmentally friendly, in part by constructing new modern eco-ships and retrofitting existing ships to make them more efficient, according to a market survey by HSH Nordbank.
This move by shipping companies is aimed at meeting growing challenges facing global shipping with regard to efficiency and environmental regulations.
The survey titled 'Eco-shipping' provides a picture of sentiment in the sector on the basis of a customer survey.
India's shipping and ship-repair industry has an opportunity worth more than Rs200bn ($3.3bn) as 41% of the country's fleet is more than 20 years old, according to an analysis 'Indian Shipping Fleet: Size, Capacity and Age Composition', conducted by The Associated Chambers of Commerce and Industry of India (ASSOCHAM).
The analysis found there are a total of 1,122 shipping vessels in the country and 466 (41%) of them have been operating for 20 years and more.
Considering that the average life of a vessel is 26 years and based on the rate at which India's vessel strength grew during 2000 and 2011, ASSOCHAM found that around 33 ships (7%) of the 41% vessels need to be replaced.
International Chamber of Shipping (ICS) believes the shipping industry is expected to face environmental costs of around $500bn between 2015 and 2025, representing around $50bn of additional capital and operating costs yearly during the period.
ICS attributed much of the rise in capital and operating costs to the requirement for vessels to change to low-sulphur distillate fuel.
New regulations such as the 0.5% global sulphur cap will come into force from 2020, as well as the 0.1% sulphur requirement that will be imposed in Emission Control Areas in north-west Europe and North America from 2015.
US-based engineering, construction and project management firm Bechtel unveiled a new port design concept called 'Multi-User Offshore Hub' to meet shipping challenges in Africa.
Designed for two or more users, the new concept includes an offshore, smart terminal arrangement and docking system that can house ocean-going vessels and barges.
Bechtel said it expects the design concept to open new market opportunities for African ports by increasing capacity, as well as reducing construction and operation costs.
---
Related content
---
The deceptively simple SkySails system is aiming to bring wind power back to ship propulsion as an auxiliary fuel-saver.
The Houston Ship Channel in Texas recently underwent a high-tech security IT upgrade, courtesy of Nice Systems.
---