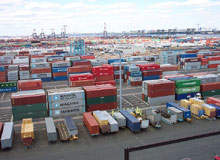 Headquartered in The Hague, The Netherlands and part of Denmark's AP Moller-Maersk Group, APM Terminals is one of the world's leading container terminal operations and management companies, with revenues of more than $3bn.
"Containerisation and ports are at the heart of our business and act as facilitators for globalisation," says CFO Christian Moller Laursen. "We have about 50 ports and container terminals in operation in 34 countries around the world and as CFO I am responsible for the finance function within that business unit. It is a global role."
Laursen looks after a finance team of 20 at head office and a further 400 worldwide. There are three levels within the organisation: the business and corporate centre at The Hague, four regions, and then 50 terminals. Each level has its own finance function. One of the regions, the US, operates a shared services model, but every other terminal has its own finance department and its own finance manager reporting to that terminal's managing director.
A global challenge
Besides the usual challenges talent management in a large organisation brings, Laursen is faced with managing the people resources in a finance function dispersed across the globe.
"Just the fact that we discuss our people – who is ready for rotation and what openings are coming up – means that we have those people on the radar when openings appear. The finance function is so spread out, over 50 terminals in 34 countries, that it is a challenge to create a finance community that cuts across this, where everybody works towards the same standards, and renders the same level of service to the organisation," says Laursen.
Forging that sense of community requires excellent communication and a degree of face-to-face contact. "Whether you bring people together in the context of training, an annual meeting, or a global project team, it doesn't matter too much, but the finance people need to be physically brought together from time to time," says Laursen. "When you do that repeatedly over a number of years, that sense of belonging to a community grows and we start reaping the benefits."
There are other issues too. It is a challenge to spot the finance talent coming into the organisation, at a distance. It is, however, something that APM Terminals needs to be very diligent about, otherwise the young talent joining the company at one of its many locations may go unnoticed.
"Now we have had to put a lid to our expansion programme ambitions and see what we could defer in terms of investments."
Managing many different cultures effectively can also be difficult. Inevitably, global organisations have very diverse teams. At APM Terminal's finance department in The Hague, for example, there are over ten nationalities represented.
"If it is done properly then diversity is the way to drive performance," says Laursen. "But it does require a level of accommodation from everybody. There could be a language barrier, for example, and sometimes we need to spend just a little bit more time on understanding where people are coming from when they express their views and make suggestions."
Besides dealing with the talent needs of the finance function, Laursen has a complex business to run, in a difficult trading environment.
"We have to respond to the change in the global economic outlook," he says. "The ports business and container business was geared towards expansion. Now we have had to put a lid to our expansion programme ambitions and see what we could defer in terms of investments. The focus is on taking costs out of the existing terminal facilities.
But even here, there is an emphasis on talent management in the finance team. The finance skills that were required for expansion projects are not necessarily the same needed to pare down costs. Laursen must constantly adapt to the people's needs of the business.
"It has been like a 180-degree change of focus," says Laursen, "for the business, but also for the finance function."
Global recruitment
Laursen describes his role as controlling the operations of the finance function, But, he says, he also needs to make sure that the finance team adds value to the business.
"We need to get involved in the important decisions at an appropriate time and at an appropriate level, so that they will be fact-based and the financial consequences can be analysed before decisions are made," he says.
Part of the challenge of a global company is finding and recruiting the best staff. There is a group-wide, uniform global recruitment process, with all potential candidates going through the same assessment process. All vacancies are posted on the intranet, encouraging competition for positions.
"We hire internally and externally, with a slight preference for internal recruitment. If we have the right candidates internally we definitely seek to give them the chance. But if we can see that we have better candidates in the external markets, then we take them in."
Graduate recruitment is global, usually taking postgraduates straight from business schools in the countries that APM Terminals operates in, but also graduates with experience.
"We will recruit into a regular job in the finance function," says Laursen. "I don't believe in creating trainee positions that do not have enough pressure from the start. Graduate recruits are given real responsibility from day one."
For more senior positions, says Laursen, in addition to the appropriate experience and technical competence, he is looking for people who can step outside the finance role and become a business partner to the local managing director of the company that the candidate is being recruited into.
"If a candidate is so ingrained in the finance and accounting profession that they do not really show a curiosity about wider business issues, then they will fall short," notes Laursen. "We expect the finance people behind the CFOs to take a very active role in the wider management of the business." Finding recruits is just part of the process. Laursen also emphasises the need to ensure that staff are apprised of finance best practice in the industry, and that the firm develops a talent pipeline for the future.
Talent magnet
With this in mind the company offers a number of training and development options for finance employees. For finance graduates that are joining the organisation there is APM Terminals' Finance Magnet programme.
"The purpose of the Finance Magnet programme is to provide some insight into the container terminals business, but also into the specific finance procedures and reporting guidelines that apply within APM Terminals," says Laursen.
About ten people graduate from the two-year programme, which consists of four modules every year. "There are two dimensions to the programme," says Laursen.
"There is a finance professional dimension, when we talk about the business, our way of running it, our procedures and so on. But there is also some personal development training; some soft skills courses, such as team building, or how you motivate within an organisation, because, typically, fresh graduates are stepping into a junior supervisory role, and often have to manage people, a team, or a project."
Further up the hierarchy, as finance staff step into general management, there is more in the way of formal training and development programmes. The in-house programme at this level is called the Magnum programme.
"It is not a specific finance programme, more like a leadership development programme within APM Terminals, where the finance managers will be trained more in people management skills, and participate in training with operations managers, HR managers and other cross-functional managers," says Laursen.
People with the potential for more senior roles are also given the development option of an expatriate position, with young talent from the terminal finance departments working in the corporate finance department in The Hague, and young finance talent cross-posted into the regional offices and other terminals around the world.
"We have about 50 ports and container terminals in operation in 34 countries around the world."
The senior finance management team also gathers together once or twice a year, in a three-day formal meeting. The group discusses business data, the finance function and priorities for the coming year.
"We also spend time going through our people in finance, who are approaching the time when they should rotate to another position, because they need to take a step up, or a sideways move, or to try something else," says Laursen. "Just the fact that we discuss our people – who is ready for rotation and what openings are coming up – means that we have those people on the radar when the openings appear, and can plan these interim moves in the right way."
Talent spotting within the organisation is largely tied in with the appraisal system. Everybody is appraised by their direct manager on an annual basis, with the information fed into a performance database allowing Laursen to quickly identify top and bottom performers.
That information then forms the basis of a people strategy meeting attended by the CFO, CEO, and HR director, which analyses performance against positions, identifies gaps and discusses how best to close these gaps. The finance talent planning goes all the way to the top, and succession planning for the CFO spot, where Laursen is already taking measures regarding his own role.
"In many situations it is difficult to be too specific on succession planning. But I think. It is important that we look at the pipeline, and identify at each level whether we have sufficient strength. Then, if something should happen at the next level up, that there will be a handful of candidates for taking over that position."
To ensure standards are maintained, skills and knowledge are benchmarked both internally and externally.
"I can benchmark very easily against other business units within the AP Moller-Maersk Group, and also against other organisations through discussions with CFOs in other companies and through what we learn from people joining the organisation from other companies," says Laursen. "I think it is quite important that we have that external comparison to how we perform. This means we don't become too complacent and maintain focus on our long-term goals."
This article first appeared in Finance Director Europe, another NRI Digital title. To see the original visit http://www.the-financedirector.com/features/feature61906/