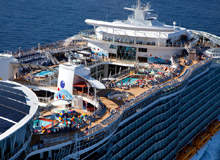 Five times bigger than the Titanic, roughly 40% larger than any other similar ship on the market and almost equal in size to three football pitches, the Oasis of the Seas will obliterate all former cruise ship records when it begins full-time operations in December.
Built at a cost of $1.5bn, the vessel is in effect a floating city that towers 16 storeys high. Owned and operated by Royal Caribbean International, which has created the world's largest passenger ship three times over, the ship has not only redefined the cruise ship rulebook in terms of size but also luxury – it homes no less than 37 bars and restaurants.
Masterplan
The Oasis of the Seas was ordered in February 2006 and the keel was laid on 12 November 2007 by STX Europe at its yards in Turku, Finland. The shipbuilding group, which is the largest in Europe and the fourth largest in the world, completed and handed over the ship to Royal Caribbean on 28 October 2009. The ship arrived at its home port of Port Everglades in Fort Lauderdale in Florida, US, on 13 November.
All hands on deck
"With a total of 2,706 staterooms, the Oasis of the Seas has a maximum guest occupancy of 6,296 but is expected to typically carry 5,400 guests,"
It is estimated that more than 3,200 workers at any given time were building the Oasis of the Seas and that the vessel was constructed out of 500,000 individual steel parts. Around 130 members of Royal Caribbean's newbuilding and fleet design team worked alongside 37 design firms, 20 architectural firms, and architects and engineers from STX Europe's Finnish shipyard to assemble the cruise ship.
Larger than Life
The ship has a gross register tonnage of 225, 282t, which is roughly 60,000t more than the world's previous heaviest cruise ship, and measures 360m in length and 65m in width. It can travel at a cruising of speed of 22.6kt using four bow thrusters which provide 7,500 horsepower each. The diameter of the ship's propellers stands at 6.1m. The vessel also required 158,503gal of paint, 3,300 miles of electrical cables and 150 miles of piping.
Special Guests
With a total of 2,706 staterooms, the Oasis of the Seas has a maximum guest occupancy of 6,296 but is expected to typically carry 5,400 guests, which is almost double the occupancy of Royal Caribbean's previously record beating Freedom of the Seas. Guests will be catered to by 2,165 crew members from over 65 countries and will be able to enjoy use of the cruise ship's 21 swimming pools and Jacuzzis, which require 2,300t of water to fill. The ship's Central Park area, which has 12,175 plants, 62 vine plants, 56 trees and bamboo, will feature boutiques, restaurants and bars. The vessel also houses two rock-climbing walls, a mini-golf course, an ice-skating rink and a handcrafted carousel.
Plans for Oasis of the Seas were first made six years ago during a boom period for the cruise ship industry. Although cruise sales have remained relatively resilient since, the past 18 months has seen prices slashed to fill ships. A seven-night cruise onboard the Oasis of the Sea starts at $1,048 per person for an inside cabin and can cost as much as $16,659 per person for the two-storey Royal Loft suite.
The ship is still not fully booked for cruises next year. Royal Caribbean International has, however, said it believes the ship will prove an exception in the current downturn and that it has received more advanced bookings than it has ever experienced before with a new ship. As the most expensive commercial vessel ever constructed, pressure is certainly mounted on the Oasis of the Seas to live up to its promise.