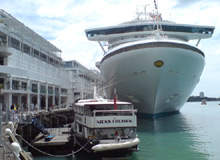 Naval vessels have long been advocates of integrated systems capable of linking up various ship components and systems – mainly defence and weapon platforms – into one control and monitoring unit, but commercial shipping has been relatively slow to tap the potential of fully integrated automation.
The integrated bridge system aside, which for over 20 years has been the focal point of the bridge for receiving data from various sensors, radars and satellites to unite a multitude of navigational, manoeuvring and positioning functions and equipment, the integration of ship systems has been largely governed by the high-costs involved, despite the reduced manning integration affords.
According to BAE Systems Surface Fleet Solutions' Stuart Brooks, a 2,200t warship with full weapons capability, for example, would usually require 146 officers and ratings, but for a ship fitted with a high degree of automation, the manning requirement falls to 86.
Complete integration
Ship automation systems permit individual and geographically diverse components to be integrated and automatic interaction to be implemented so that minor equipment and plants, such as fresh water, fuel, seawater cooling system and HAVC, can be monitored and controlled remotely.
"Costs have receded and shipowners can now integrate their entire ship systems and operations to optimise performance, safety and efficiency."
However, against a backdrop of increasing competition among electronics companies, along with growing demand for system availability and reliability, costs have receded and shipowners can now integrate their entire ship systems and operations to optimise ship performance, safety and efficiency.
Everything from a vessel's cargo operations, propulsion systems and power generation and distribution can be managed, monitored and maintained remotely from one or more consoles.
Integrated platform management systems, such as those developed by BAE Systems and Rolls-Royce, can provide a database of information at all ship locations for any ship system requirement, lowering communication time (reduced manning) and these systems can also route alarms for acceptance at specified locations.
The level of automation can also be used to link system start-up and shut-down routines, which is useful when undertaking plant maintenance. One example would be a mechanical defect on a running generator engine requiring changeover to an alternative to allow repair / investigation. This can now be done automatically at a remote screen, reducing manning levels, workload and the requirement for a more specialised crew member's attendance.
Full picture
Ostensibly, full ship control can be accessed at the bridge location; propulsion and auxiliary plants can be run from the bridge position, giving the master the full picture. Another benefit is increased safety, especially regarding fire / smoke / heat detection due to the use of sensor units and the provision of displays with access to full ship data on the bridge.
Kongsberg Maritime, Norway's leading supplier of integrated ship systems, says it believes integration can play a crucial role in the optimal operation of ships, improving fuel efficiency and reducing emissions. To this end, the company launched a range of solutions under its Full Picture principle in 2008 that takes into account both machinery as well as the way the vessel is navigated, to ensure less fuel consumption and lower emissions.
"Full ship control can be accessed at the bridge location; propulsion and auxiliary plants can be run fully from the bridge position giving the master the full picture."
The Kongsberg approach combines a holistic perspective, in line with its integrated Full Picture systems, with specific areas for improvement, including hull diagnostics and performance, engine diagnostics and performance, power performance, cargo / ballast management, route planning and speed profile optimisation. Each part contributes to a complete vessel performance picture, which can form the basis for adjustments to optimise performance by operators.
Systems under Kongsberg's Full Picture umbrella include the AutoChief C20 propulsion control and K-Chief automation system – a solution developed with Lodic, a specialist in 3D vessel modelling – to manage loading and unloading operations. The former system, which now has more than 2,000 references, is designed for both medium and low-speed diesel engines driving fixed or variable pitch propellers and builds on the K-Chief range of automation systems.
Both the K-Chief 700 and 500 units offer a distributed monitoring and control system for all important vessel functions, such as power management, auxiliary machinery control, ballast / bunker monitoring and control and cargo monitoring and control. It can also be integrated with Kongsberg's dynamic positioning (DP) and propulsion control systems and custody transfer system.
The company claims its K-Chief 700 concept allows significant reductions in cost and installation time compared with traditional solutions, resulting from reduced cabling, engineering, installation and commissioning time.
Cruise control
The Full Picture ethos gained credence with the delivery last year of Royal Caribbean International's Oasis of the Seas. The ground-breaking vessel incorporates Kongsberg's Complete Cruise Control concept, which features a complex control system to manage its propulsion and DP systems, power management, machinery automation and HVAC automation systems from the bridge.
Oasis of the Seas master mariner Captain Bill Wright said that due to the sheer size of the world's largest cruise ship, manoeuvring in and out of busy ports is a challenging operation and Kongsberg had to customise the DP software and bridge controls to suit the vessel's specific operational requirement.
"There were some functions we didn't need and others we wanted, and with Kongsberg's help, we ended up with a system that meets our requirements," said Wright. "In fact, there are elements to the DP system aboard Oasis that I am confident would be of interest to the offshore industry."
"Kongsberg had to customise the DP software and bridge controls to suit Oasis of the Seas."
Offshore vessels, like naval vessels, are accustomed to a higher level of systems integration than commercial vessels, including cruise ships, due to the multitude of seakeeping and manoeuvring functions required as part of their operational envelope.
Beier Radio's Integrated Vessel Control System (IVCS) 2000 was designed specifically to meet the demands of operators of offshore vessels that need to manoeuvre quickly on a daily basis. The operator can give commands to manoeuvre and make changes in those commands in seconds rather than hours.
According to Karl Beier, CEO of the US-based company, the system was designed so the operator can learn how to use the system in a matter of minutes; it even allows owners and captains to diagnose problems.
"All IVCS 2000 units can be remotely diagnosed, and in many cases remotely repaired by the crew or local service companies," he said. "This can help the owner reduce downtime and repair costs."
To date, Beier Radio has sold and installed over 200 systems worldwide. The company has contracts to supply its systems to 50 PSVs and AHTS units under construction by Sino Pacific Shipyard for Bourbon Offshore, and a number of offshore supply vessels at Bollinger Shipyards for Bee Marine.
Wärtsilä Norway (WANO) has also been at the forefront of the development of ship automation and has quickly established itself as a one-stop-shop integrated power and automation systems provider. The key products and core technologies in its arsenal for power applications includes a next-generation vessel automation system based on distributed architecture and a transparent integration to Wärtsilä engine control and propulsion systems along with the company's Integrated Automation System (IAS).
IAS is a flexible, user-friendly system for alarm handling, cargo control and supervision and control of utility systems, while an advanced power management system is integrated into both the IAS and WANO's novel Low Loss Concept, a development designed to provide fuel and installation cost savings, reduce the amount of space required for component installation and deliver greater redundancy by eliminating unnecessary components / equipment in the electrical propulsion system.
Totally automated
Like the aforementioned companies, Germany's Siemens believes there are significant cost savings to be had in increased vessel automation and systems integration. For example, Seimens claims that its Totally Integrated Automation and Totally Integrated Power concepts not only reduce component life-cycle costs and increase levels of system reliability and safety, but also optimise the ship design, building and systems integration phases.
"Everyone in the chain benefits since products can be sourced from a single supplier and systems can be connected with minimal interface costs."
Through SISHIP, one of many automation solutions based on TIA and TIP principles designed for commercial shipping, Siemens can optimise the vessel planning and design stage so that integrated systems can be tailor-made to suit individual requirements from the outset. The knock-on effect is that everyone in the chain – the shipowner, naval architect, system integrator and shipbuilder – benefits since products can be sourced from a single supplier and systems can be connected with minimal interface costs.
The electronics giant recently supplied an extensive twin diesel-electric, variable-speed propulsion system and a SISHIP Imac automation, monitoring and control package for two new deep-sea survey vessels due for delivery to the China Oilfield Services Limited account, in 2011.
Other references include AIDADiva, which was delivered by Germany's Meyer Werft in 2007. The ship was installed with a SISHIP PAX system, an integrated solution designed specifically for the cruise ship sector to control and monitor the vessel's drive system, power supply, power distribution, and automation, including all onboard monitoring, alarm, and inspection functions.