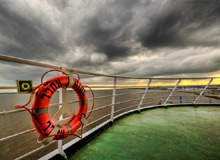 With the sheer number of ship-related research projects currently underway, tomorrow's ships are likely to be as far removed from today's as they are from the wooden-hulled, wind-powered clippers or steam-driven trampers that plied their seaborne trades in days past.
In the not too distant future, if studies being carried out across a number of European maritime institutes and universities come to anything, then the world fleet will be more operationally and environmentally effective, more secure, and given the advancements in electronics wizardry, satellite communications and simulation technologies, safer, since seafarers will be unlikely to be stressed out, enervated and susceptible to making potentially catastrophic "human errors".
The following research projects are testament to these endeavours:
Simulating real time with Horizon
This major €3.78m multipartner project, €2.84 of which will be funded through the European Commission's Framework 7-Transport programme, brings together 11 academic institutions and organisations to research the way in which fatigue affects the overall cognitive performance of ships' watchkeepers.
Led by Southampton Solent University, the 30-month study will use bridge, engine-room and cargo simulators in Sweden and the UK to produce real-time, realistic scenarios in which the impact of fatigue on decision-making and performance can be assessed.
"In future, the world fleet will be more operationally and environmentally effective, more secure and safer."
Project participants hope that by November 2011 they will have developed a "fatigue management toolkit" and software along with safe practice guidelines for shipowners and maritime regulators.
Linking man and machine with AZIPILOT
Under the University of Newcastle's direction, this €1.3m study, again part of the Framework 7-Transport programme and concluding in October 2011, is researching ways of improving the interface between man and machine. The aim is to improve the safety and security of ships by taking into account the training of maritime pilots; specifically when operating ships equipped with azimuthing control devices.
AZIPOLOT intends to gather and share knowledge through hydrodynamic modelling, marine simulation, maritime training and operational practice to deliver guidelines for a dedicated maritime training programme, and recommendations for specific regulations and criteria.
Cruising with the BESST
The EU-funded BESST (breakthrough in European ship and shipbuilding technologies) project, initiated by EUROYARDS, the European Economic Interest Group, could result in European-built passenger ships being much more competitive, safer, and environmentally friendlier than previously.
Italian shipbuilder Fincantieri will lead the consortium of European shipyards, research institutes and classification societies to find a way of securing and improving the mid to long-term competitive position of European shipyards.
The primary goal is to increase the competitiveness of European-built ships through decreased life-cycle costs and significantly reducing a vessel's environmental impact The three-and-a-half-year project will consider space optimisation and easy maintenance, improved payload and gross tonnage ratios, cost-efficient building and refurbishment processes, improved energy efficiency, and reduced emissions, noise and vibration among others. The results will be integrated into ship concepts.
Safer seas with EfficenSea
With 17 partners that include Sweden's Chalmers University of Technology and the Danish Maritime Safety Administration (DMSA), EfficienSea, or the "efficient, safe and sustainable traffic at sea project, aims to improve maritime safety and the environmental state of the Baltic Sea region through more sustainable shipping.
The €8m project, which began in late 2008 and has already been cited as a flagship project as part of the EU strategy for the Baltic Sea region, is based on a number of work packages that will explore seafarer competence and recruitment challenges, communication and information, navigation, vessel traffic data and maritime planning and risk management.
The intention is to establish a dynamic risk management system designed to respond to the projected increase in Baltic Sea traffic and deficient ship traffic monitoring systems. The study will investigate and assess electronic navigation and vessel traffic management systems and it is expected that the participants, led by the DMSA, will, among other things, deliver a "tool box" for simulating the effects of increased maritime traffic and associated risks. An AIS planning tool, to be used by AIS Authorities for improved management of AIS resources and for optimising the AIS system capacity, is also on the agenda.
Reducing risk with RISPECT
Coordinated by the University of Strathclyde in Glasgow, the risk-based expert system for through life ship structural inspection and maintenance and new-build ship structural design (RISPECT) is a €4.39m, 36-month project that has the primary objective of achieving a minimum structural reliability for ships.
"Horizon researches the way in which fatigue affects the overall cognitive performance of ships' watchkeepers."
It will take analysis of ship inspection data on coatings, corrosion, cracks and deformation a step further by incorporating the data from a large number of ships in to a central statistical database.
This is expected to combine the traditional Classification Society broad-based approach with the usual probabilistic method that is based on data from a single ship.
Secondary objectives of the project are to improve communication between shipowners, managers, inspectors and classes, and to use the results as input to new ship design concepts.
Environmentally friendly with Hercules-Beta
Following on the from the success of the initial HERCULES programme, a joint research project led by marine engine builders MAN Diesel and Wärtsilä, HERCULES-Beta will continue to look at ways of reducing CO2 emissions from maritime transport.
The primary objective of the 36-month project is to reduce fuel consumption by 10% by improving engine efficiency by more than 60%. A secondary, but nonetheless important aim is to reduce oxides of nitrogen by 70% and particulates by 50% by 2020.
With a total project cost of €26.37m, including EU funding to the tune of €15m, this large-scale study is expected to achieve its target objective through engine combustion and advanced after-treatment methods.
Dangerous goods at NMRI
Japan's National Maritime Research Institute's (NMRI) "enhancement of ship security against terrorism and other unlawful acts" (ESSTUA) project researches damage estimation methods for bulk carriers of dangerous goods and carriers of radioactive materials. NMRI has already developed a damage impact assessment programme for bulk carriers of dangerous goods in the event of large-scale spills of flammable substances as a result of a terror or pirate attack.
The research institute is also developing technologies to cope with the projected decrease in skilled seafarers. To support and simplify crew duties, NMRI is assessing e-Navigation and related technologies and developing an "encountered ships recognition support system" with a translucent display showing radar, ARPA and AIS information overlaid on seascape image from the bridge.
Optimising ships at EXACT
The €3.82m "exact geometry simulation for optimised design of vehicles and vessels" project under the leadership of Austria's University of Linz, is a 36-month study focusing on computational tools to optimise the design of ship hulls and propellers.
"NMRI is developing technologies to cope with the projected decrease in skilled seafarers."
The objective is to produce computational tools based on the exact representation of the geometry, which could lead to huge benefits for the entire chain of design, simulation, optimisation and life-cycle management.
The strategic objectives of the proposal are: to establish a new class of computational tools for fluid dynamics and solid mechanics; to achieve seamless integration of CAD and FEM; and to apply the tools to product design, simulation and optimisation of core components of vessels.
Evacuations with SAFEGUARD
With project partners including cruiselines RCCL, Minoan Lines and Color Lines, the BMT-led ship evacuation data and scenarios project aims to collect human performance data in full-scale ship trials for the calibration and validation of ship-based evacuation models. The €3.56m study, to end in March 2012, will also investigate additional benchmark scenarios to be used in certification analysis.
The results of both of these tasks will be reported to IMO for possible incorporation into future modifications of the MSC Circ 1033.