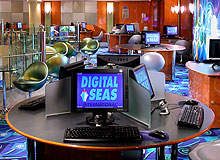 Wireless technology and digital media solutions are making big waves in the cruise industry. One of the best examples of just how sophisticated this technology has become can be found aboard Royal Caribbean International's (RCI) Oasis of the Seas cruise liner.
Ushering in a new age in wireless accessibility for cruise passengers, the world's largest cruise ship set sail from Florida at the beginning of 2010 carrying a full, state-of-the-art wireless network, designed to deliver top-class services to guests, for the first time.
Bill Martin, chief information officer for Royal Caribbean Cruises, which owns RCI, cites customer feedback as a major factor in driving this innovation: "Guests told us they desired even more activity, entertainment and dining options. On Oasis we have delivered on all three and made it seamless for the guest by leveraging technology. This has simplified things to ensure that our guests have the best experience possible," says Martin.
The foundation for this technological offering is the Cisco Unified Wireless Mobile Network, designed to allow Royal Caribbean to integrate new technologies as and when they become available.
According to Martin, this means future enhancements to the network's performance, availability and security will be straightforward. "We needed our wireless mobile network to be extraordinarily robust due to the wide array of wireless applications on offer," he explains. "The network provides everything from the crew's Wi-Fi phones to point-of-sale devices."
"We needed our wireless mobile network to be extraordinarily robust due to the wide array of wireless applications on offer."
A spokesman from Cisco Technical Services highlights a further advance aboard the Oasis of the Seas: "State-of-the-art Cisco Voice-over-Internet-Protocol (VoIP) gateways can support more than 40 simultaneous satellite phone calls. This allows guests and crew to make calls directly from their cabin phones." But that's only part of what's available, as Brent Howitz, senior vice-president of global service provider MTN, one of the chief suppliers of wireless technology to the cruise industry, explained to satellite news publication Satmagazine: "Not only is full mobile phone coverage provided, but the coverage from Wireless Maritime Services (WMS) – a joint venture between MTN Satellite Communications and AT&T Mobility – relays voice and data traffic from phones, Blackberrys and iPhones via the satellite network.
"There is also a private, secure data channel for conducting ship business."
MTN has also built and staffs onboard internet cafes, which allows the company to provide ongoing supervision and maintenance of the system.
A maintenance free wireless system
Reliable performance is critical, too, because as Martin points out, it can be tricky to get someone to fix a network problem in the middle of the Caribbean Sea. For this reason, Cisco Technical Services was tasked with installing a system that was as maintenance-free as possible. "Our network must be able to work for long periods of time without interruption and very little help from shore," says Martin.
There is also the balance sheet to consider, Martin adds: "While guest satisfaction is obviously a key factor for return on investment, the service does actually pay for itself, via revenue from the guests that access it aboard the ship – either on personal laptops or in the onboard iCafe.
"Not only this, but guests tend to shy away from higher-priced cellular technology at sea and Wi-Fi provides a cheap alternative for staying in touch, while crew satisfaction is also an important part of onboard Wi-Fi connectivity.
"We are constantly looking for ways to improve the bandwidth available to our ships for internet traffic."
VSAT: high-speed connectivity at sea
Maritime very small aperture terminal (VSAT) technology – integral to any high-speed connectivity at sea – presents unique challenges: a ship's movement on the sea creates a high level of multipath fading as radio signals reflect off the water. To counteract this, the antenna must be stabilised with reference to the horizon as well as the heading of the ship, to ensure it remains pointed at the satellite transmitting and receiving the signal.
On top of this, installing MTN's state-of-the-art VSAT satellite communications aboard the Oasis of the Seas provided further challenges, not least in terms of supplying a system that could support the unparalleled requirements of a ship this large and multifaceted.
"The Oasis of the Seas' inaugural voyage saw us supply the highest bandwidth ever used on a single ship in the history of the cruise industry."
"The inaugural voyage of the Oasis of the Seas saw us supply the highest bandwidth ever used on a single ship in the history of the cruise industry," says Horwitz. "The total bandwidth was over 26.6 Mbps, while a communications system was installed that uses two separate 2.4m stabilised C-band satellite antennas."
These dual antennas boast automatic beam switching technology supported by MTN's global shore network infrastructure. "This prevents outages from satellite blockage," explains Horwitz, "because the antennas can simultaneously track two different satellites on our global C-band network, enabling the ship to transition seamlessly from one satellite footprint to another without any disruption to the service."
The bandwidth on offer includes 10 Mbps for the internet, 1.5 Mbps for mobile phones, 2 Mbps for video streaming and 3 Mbps for voice and corporate data.
MTN, in a joint venture with ERZIA Technologies, recently opened a satellite teleport -built for the purpose of maintaining high quality communications with orbiting satellites – in the northern Spanish port of Santander that is set to become a central gateway for the provider's VSAT communications as far abroad as Asia and the Americas. According to MTN, the teleport will offer better network efficiency and reliability, thereby improving the firm's customer service offering to the cruise industry.
Clearly, customer service is driving innovation when it comes to connectivity aboard luxury cruise liners. Service providers continue to push the technical boundaries to keep the customer satisfied, while ensuring that their offerings justify themselves in terms of recouping financial outlay.