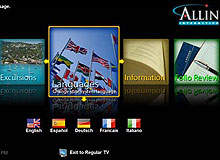 Cruise ships provide some of the most demanding environments to host complex audiovisual (AV) systems.
These floating palaces with their ice rinks, multistorey theatres and shopping arcades are creating the ultimate entertainment challenge.
TV content
Television on a ship comes from three sources; satellite broadcasts captured using satellite dishes from companies such as Vingtor (Zenitel) and Seatell (Cobham), which lock on to a geostationary satellite as the ship moves and compensate for roll and pitch at sea, pre-recorded content stored on video servers and content produced on the ship itself. Stored content includes promotional videos for events onboard, details of the next port and excursions available, announcements, news, weather and safety information.
Making all this readily available to the passengers, and off-duty crew, requires a master control room similar to that of a small TV station. To produce onboard content requires production units in the ship's theatres, hand-held cameras for live action and perhaps a small studio.
Audiovisual hardware
"Cruise ships provide some of the most demanding environments to host complex audiovisual (AV) systems."
In the last few years there has been something of a revolution in broadcast standard hardware following the switchover to digital TV, which coincided with a massive increase in computing power and speed. Digital video is just data, and data processing can be done by software, which means that bulky old analogue and early digital systems can now be replaced by smaller lighter less-power-hungry equipment, many TV stations on land are in the midst of a switchover, and something similar is happening on our ships.
On a recent cruise, a Ship Technology reader with a background in TV production persuaded the ship's entertainment manager to show him around the control room.
He was amazed by the size and complexity of the equipment in there, two aisles of server racks and other hardware in one room, and another quieter room to house the actual control desks. The output to the cabins was nothing special either, just a handful of channels showing satellite content and films on a predetermined schedule.
This is typical of older ships, and this particular one was due a refit so we won't embarrass the owners by naming it. Instead we spoke to James Billimore, ship IT support manager for Carnival Group, which owns several well-known cruise lines. Ventura, the largest ship in Carnival's UK P&O fleet, launched in 2008 and was their first with the latest generation of interactive digital TV systems on board, this was followed by the Azura launched in early 2010 with a similar TV system.
Billimore explained the features available to passengers. As before there are satellite channels and local content, but the big difference is the range of recorded content available and the fact that it is now streamed on demand rather than tied to a broadcast schedule as it is on legacy systems. With streaming video on demand available to many people in their homes and the proliferation of PVR (personal video recorder) devices that enable time shifting, pause and rewind, passengers now expect a similar service in their staterooms, and this is exactly what they get with an interactive TV (IATV) system.
Getting interactive
IATV provides several other useful features: passengers can view their onboard accounts to see what they have spent, make purchases, order room service and book excursions. P&O also produces browsable magazine-style information pages about the ship, the cruise, ports of call and excursions available, all viewable through the television system.
Despite the extra facilities offered, the hardware takes up a lot less space. Rather than aisles of kit, Azura's IATV systems fit into a half-rack containing a video server, a database server and an application server that runs the system.
"Companies from the mainstream land-based TV industry are interested in the cruise ship market."
P&O uses DigiMix IATV provided by Allin Interactive, a leader in advanced interactive television solutions for the cruise market. Allin Interactive has delivered IATV services to over 70,000 cabins on over 60 cruise vessels since 1996, and current implementations touch nearly 100,000 guests every week while completing hundreds of millions of dollars worth of transactions each year.
On 8 September 2010, Allin announced a partnership agreement with Anevia to offer a combination of DigiMix with Anevia's Toucan 500 advanced streaming server. Norwegian Cruise Lines recently selected this joint solution for its pioneering new ship, Norwegian Epic.
Allin is big, but it is not the only supplier, Mavco also offers digital TV systems and is involved in upgrading equipment on older ships as well as new builds. Director of engineering Rob Shuard wanted to tell us about its latest projects but was unable to for legal and commercial reasons. No doubt a press release will emerge soon.
Mainstream TV
Meanwhile companies from the mainstream land-based TV industry are interested in the cruise ship market. NewTek is perhaps best known in the film and video industry, as the company that created the desktop video market segment in 1990. Since then low-cost tools provided by NewTek have been adopted by major broadcasters in the US and Europe, and many smaller local and college TV stations. In the last year NewTek resellers have been in discussions with several shipbuilders in the Florida area.
NewTek's Tricaster product is widely used for producing live video on location, news reporters and sports correspondents can produce quality video from a backpack, and this has obvious appeal to ship entertainment managers who want to record events on board, or excursions ashore to show to passengers on subsequent cruises.
All this new equipment doesn't come cheap though, and, as we know, we live in uncertain financial times. Delighted though James Billimore is with the systems on Ventura and Azura, P&O has no firm plans to replace legacy systems on their other vessels. He hopes they will be able to do "opportunistically" when the ships are scheduled for other refitting work, but it could be quite a while before IATV is available throughout the cruising fleet.