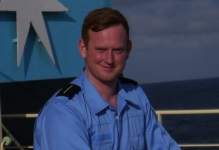 When you're working on a container ship, there's no doubt that the stakes are high. Tasked with navigating the safe passage of the ship and its high-value cargo, seafarers face daily challenges with heavy weather and hectic schedules in port – not to mention intensive training periods – for months at a time.
However, with opportunities for progression and a lucrative salary to boot, life as a seafarer is becoming an increasingly popular career choice. Maersk deck cadet Justin White, who is less than a year from qualifying as a third officer, hasn't looked back since landing a job with the shipping company in 2012.
Now less than a year away from completing a foundation degree in Marine Operations, through which he will also gain the UK Maritime and Coastguard Agency Deck Officer's Certificate of Competency, the former RNLI lifeguard supervisor tells Laura Walkinshaw what life as a seafarer is like…
Laura Walkinshaw: Tell me about your typical day.
Justin White: I'm training to become a third officer, the lowest ranked officer on the ship, who I shadow while I'm at sea. Once I've qualified my title will be 'officer of the watch', so that means I'll be qualified to take my own watch on board a ship.
When a ship is at sea, there are three different watches to be done in a day, which each last four hours, and you have to do two watches a day. When you're on watch, it's your responsibility to navigate the ship. I really enjoy it because you're using old, traditional methods that seafarers have used for hundreds of years, but then you're also using modern technology that ships are now being built with, including electronic charts and radar displays, which are becoming more and more advanced so they help you with decision making. You have a lot of responsibility because effectively you are the captain's representative – he's delegating that responsibility to you for those four hours.
---
---
Transport union RMT has warned of a growing trend of European shipping companies 'flagging out' their fleets in order to avoid paying seafarers minimum wages.
---
As well as navigating the ship, you have to respond to any alarms, communicate with the engine department and the workers on deck, implement a passage plan, and monitor all the equipment on the bridge is working as it should. You also have to ensure that safety and pollution prevention regulations are being complied with, and although it's not something that comes up on a daily basis, you need to be well prepared for emergency response. You do drills with the equipment regularly, too, so you have to take the crew through an abandon ship drill or you might simulate a fire in one of the cargo holds.
People think you work constantly, but you can have a social life on board as well. There's a gym, rooms where you can watch films, bingo and sometimes horse race betting. We even have a swimming pool where we can play volleyball. It's not a 25m pool but it's big enough to lounge in! You can be creative about how you spend your time. Some people even do courses on board – it's a chance to do the things you enjoy.
LW: Do you spend time studying while you're out as sea?
JW: Yes, the aim of the foundation degree is to do academic work alongside practical ship operations. All of the shipper operations on board have regulations behind them, which you need to know about. As well as that, there's a paperwork trail with everything you do to make sure you're doing things properly.
When I'm on ship I have to take part in mooring stations with the third officer, so when we arrive at berth we'll take the ship alongside and pass the mooring lines. After that, I'll go to my cabin and write a report because there's a lot of information you need to know to do that job safely. I will then have to show the report when I go back to college. It forms part of my portfolio when I go for my final examination.
LW: What key skills do you need to succeed in the role?
"You definitely have to be quite a confident person because you're making decisions."
JW: Ships are becoming more advanced and you have to develop as the ships develop, so you need to be willing to learn about technology and computer systems like GPS, radar, electronic navigation and all the steering systems. There's also the fact that it does involve academic work – you do need a good maths base, mostly for ship stability theory and calculations.
You definitely have to be quite a confident person because you're making decisions. Sometimes the decisions might be emergency related, or they might be to do with high-value cargo, so you have to have the confidence to present yourself and know that what you're going to do is the right thing. In shipping, safety is always the priority. Being able to identify hazards and risk is a massive part of the job when you're at sea because you can't afford to make mistakes. The environment can be harsh and you don't have the support you do ashore.
You also have to be good at communicating with people. You're filling in paperwork and you have to communicate over the radio, phone and emails. You've got to be good at team work as well – it sounds like something everyone would say but on a ship it's more pronounced. There's a team of 21 of you on board and if you're not working as a team the ship's not going to function very well.
LW: What daily challenges do you face?
JW: Communication is one of the big ones as you're working with different nationalities and although everybody should speak English on the ship because it's the working language, people's level of English will be different. When you're trying to do a job safely, it can cause a problem but you find ways to deal with it. You get to know individuals and you know that this person will understand it if I say it this way.
The other one is making sure you're properly rested on board, which there are regulations for. As an Officer of the Watch, you always have to make sure you're properly rested so you have to keep a record of what jobs you're doing and how that's going to affect your rest hours. But when you come into a port, you have less control over which jobs need to be done at what time. You can't have any rest hour violations so you have to plan ahead. If you're not rested, that's when accidents can happen and when things go wrong.
---
---
ndian shipyards have long bemoaned the lack of support offered to their industry by a succession of governments, but all that now looks to change.
---
Being at sea is a challenge in itself. If you hit heavy weather, just walking around the ship can be dangerous. You have to be aware of your surroundings constantly. When you're ashore, you don't really have to risk assess things all the time – we do think, 'shall I cross this road?' and things like that, but when you're on a ship, you have to think about it all the time. When you're at sea, because you don't have the support, you've got to make sure that you know what to do in an emergency because you've only got yourself to rely on.
LW: What advice would you give to someone considering a career in the merchant navy?
JW: My advice would be to do a lot of research online so you know what to expect. There are a lot of benefits to the job – like the travel and the long periods at home – but these don't come until you've almost earned it by doing the training. It's a very unique job and you have to be certain that you're an independent person and that you can deal with the long periods away.
Personally, I think it's a good career. You start out working at sea, but you're in the shipping industry and there are all sorts of different sectors that you can go into. You get a professional qualification but you're also getting a degree as well, which will set you up.
Whenever I tell people I work at sea, they ask the simplest of questions because it's an alien environment to them. My blog for Maersk aims to create a better awareness of what you can expect of a career at sea. My next one is going to be about the next ship I'm going on – the Maersk Triple E; it's the world's largest ship and is Maersk's flagship at the moment. I'm very excited about going on it. It's going to be massive compared to the ones I've been on before – 80,000 gross tonnes compared with 200,000 gross tonnes.