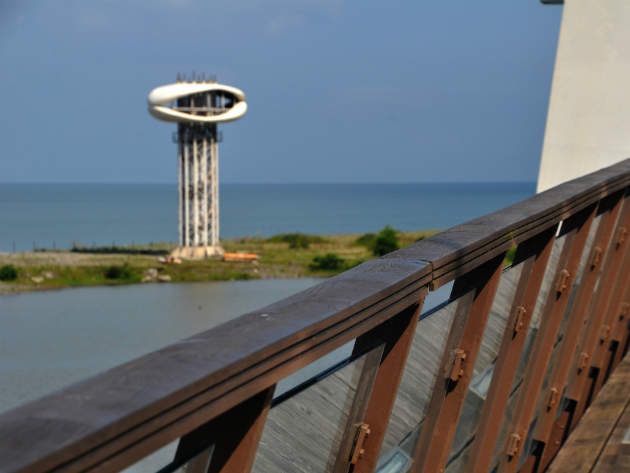 Passing through the Georgian town of Anaklia on the Black Sea coast, you'd be forgiven for not noticing what happened here just nine years ago. A strip of new luxury hotels, sandy beaches, and the constant sound of construction work gives the impression of any normal up-and-coming tourist and business destination.
Back in 2008 though, life was very different for the people living here. When a war between Russia, Georgia and Russian-backed separatists spread from South Ossetia to Abkhazia, a breakaway region right next to Anaklia, the small village found itself, not for the first time, on the frontline of a major armed conflict.
Today, while Russian troops still guard the controversial, disputed border, Georgia is determined to radically transform the area; a "response", the country's former President Mikheil Saakashvili recently said, "to occupation and destruction with construction and development".
China's new Silk Road
On top of a burgeoning tourist resort, the next major project for Anaklia is a new deep sea port to be built by 8,000 workers on roughly 400 hectares of land. The port – which has been on the cards for decades – is designed to transform Georgia into a new regional transit hub and a gateway on China's revived Silk Road. It will, according to the Anaklia Development Consortium, "breathe new life in an ancient trade route".
Georgia's place in China's plans for the new Silk Road wasn't always so evident. When the announcement was first made three years ago that China would be reinventing the famous land and sea route, Georgia wasn't even mentioned. Over the years though, the two countries have become increasingly close economically.
"There's been growing Chinese investment in Georgia," says Patrick Martens, lecturer at the Maastricht School of Management. "There is a new industrial zone near Kutaisi established by The Hualing Group – a Chinese company. There's a big development just outside Tbilisi. And there is a free trade agreement that is being proposed right now between the two countries."
According to Martens, China now recognises that Georgia's geographical position and developed infrastructure presents strong opportunities for both parties in shipping and beyond.
"Georgia was one of the fastest growing economies in the world for some years."
"Georgia is essentially a transit and logistics hub," he says. "There is an oil pipeline going through Georgia and there will be a gas pipeline too. There is also an existing rail line and a new one coming all of which strengthens Georgia as a logistics hub between the EU and China. The sea port obviously has a lot of potential to get goods between the two places and free up trade between the EU and China."
Improvements to Georgia's political and economic institutions have also played a role. Before Georgia's Rose Revolution in 2003, the country was, according to Martens, "a failing if not a failed state – highly corrupt, unsafe and awash with guns". Today, over 13 years later, he says things look very different.
"Georgia has now developed good institutions," he says. "You have property rights unlike other countries in the region, you have a good financial services industry with strong banking and regulatory authorities. And you have other institutions which are now reformed and are generally working very well. Georgia was one of the fastest growing economies in the world for some years and also it was very high up in ease of business rankings. It's very open and transparent."
A new geopolitical power-play?
Of course, with two global superpowers involved in some way or another, the new port in Anaklia is likely to have major geopolitical ramifications. For some, Georgia presents China with an opportunity to sidestep Russia on its way to Europe. While Russia is yet to comment on the project, Martens views that as unlikely, however.
"I don't think there is any concerted attempt on the part of China to circumvent Russia," he says. "Remember Georgia is still extremely vulnerable to Russia. Take the main highway that goes through the country or the rail line, oil pipeline and the gas pipeline that is now being built. What the Russians have effectively done is taken a piece of that by moving the boundary fence of South Ossetia. Anaklia is right next to Abkhazia and you've got the Russian army right there on these main infrastructure and transport routes. So obviously if you are looking for alternative routes to Russia, this isn't a very good one."
Another suggestion is that Georgia views China as a potential bulwark against further Russian aggression. Again though, Martens disagrees.
"China and Russia are not enemies," he says. "They collaborate at the United Nations, they vote together and they stand together in the BRICS. Generally they would be on the same page in dealing with the West. So I don't think there is any evidence that China would challenge Russia over Georgia. I don't think they would see it as worth their while to confront them."
Thawing Georgia's frozen conflicts
One possibility is that increased trade between Georgia, China and the EU may actually help reduce tensions in the region. "There are many examples of commercial contact as a tool for conflict resolution," said David Phillips, director of the peace building and rights program at Columbia University in a recent article in the Moscow Times.
"The Southeast Europe Economic Cooperation Initiative promoted stability after Yugoslavia's breakup. The Greek-Turkish Business Forum catalyzed bilateral agreements on trade, tourism, maritime and environmental issues. And trade between China and Taiwan has helped reduce tension across the Taiwan Strait. The private sector is well suited to taking a cooperative approach to engagement. Its priorities are market access and a stable environment for doing business."
"There are many examples of commercial contact as a tool for conflict resolution."
In the case of Abkhazia and South Ossetia, Martens says this would be an example of what theorists of international relations often call 'soft power'.
"If Georgia is doing well economically and they have visa-free travel to Europe then for people from Abkhazia and South Ossetia having a Georgian passport will become an advantage," he says. "More investments and jobs from China and growing trade between East and West including Russia, could all have an impact on these frozen conflicts."