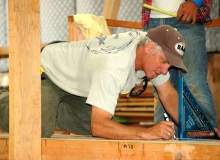 Commercial shipping today is dominated by diesel engines and massive container vessels, but around the world there are those who are keeping our nautical past alive through the construction of traditional tall ships. From topsail schooners to barques and brigantines, the craft of traditional shipbuilding has carved itself a small niche in the modern world, with tall ships still used for sail training, educational programmes and as alternatives to contemporary cruise liners.
In the San Francisco Bay Area – the heart of US Pacific trade in the late 19th century – there hasn't been a wooden tall ship construction project in more than a century. But that changed in 2013, when construction began on the Matthew Turner, a two-masted brigantine designed by tall ship specialist Tri-Coastal Marine with a deck length of 100ft and berths for 38 passengers. The $6.2m ship, which is expected to launch in 2016 and start operations in 2017, will be used to take groups of young students out on to the water to learn traditional sailing skills, as well as getting better acquainted with the Bay Area's rich maritime history and marine ecology.
The Educational Tall Ship non-profit is leading the construction project in Sausalito, which is being undertaken by a mix of full-time professionals and enthusiastic volunteers. The project's mastermind is Educational Tall Ship's founder and executive director Alan Olson. There could be few men better suited to the job: Olson has five decades of experience building and restoring sailing ships and already runs a range of educational programmes through the Call of the Sea organisation and its 82ft schooner Seaward. The Matthew Turner, however, represents by far his biggest project to date.
We spoke to Olson to get the inside line on the brigantine, its conception and the challenges involved in combining the technologies of the 19th and 21st centuries.
Chris Lo: What was behind the decision to go ahead with such a large undertaking?
Alan Olson: We were actually thinking about this back in the 80s. We made some initial attempts to see how we could go ahead with this, design work, figuring out what we wanted from the boat and the size of the boat. We wanted something about 100ft long on deck, a brigantine which would allow lots of activities for the students.
There's actually a number of them built around the country and around the world, of various sizes, with this in mind. They represent their cities, their states, their countries. We just felt that here in the Bay Area, our nautical history is really fascinating. We have a great maritime museum here, but not a tall ship that operates not only on the bay but on the ocean on expeditions. We wanted to bring that to the Bay Area, for the youth of the area.
CL: What stage of the project are you at now?
AO: Well, we've got all our structural elements on. We have the first three layers of our composite deck on, [as well as] the planking. We've laid out the interior, we've begun making some spars. So we're moving in a lot of different directions right now because to make our launch date we can't go linearly, we have to have all these things going.
---
---
The newest addition to Royal Caribbean's luxury cruise range, Anthem of the Seas promises a tech-packed, interactive voyage.
---
We're looking at the latter part of next year [as a launch date]. Once she's in the water we'll have to put the rig in; the plan is to have that made and ready to at least set in at that time, and then all the running rigging, all that stuff will have to go on. Plus, there will probably be some mechanical and electrical troubleshooting. We'll have the winter to get all that together so we'll be operating in 2017.
CL: You chose the 19th century Bay Area mariner and shipbuilder Matthew Turner as the namesake for the vessel – could you tell me a bit more about his significance for shipbuilding and maritime trade in the area at that time?
AO: In less than 40 years, [Turner] built 228 ships. He was the most prolific builder in the country at that time. His ships were very fast – they set all kinds of records [for journeys] between here and Hawaii, Tahiti and Shanghai, and a lot of trade was going on at that time with Japan.
He just built great ships, and he also was quite an interesting man. He was philanthropic and community-oriented, and we just felt that this was the shipbuilder and designer that we should emulate with our designs, and we took some drawings of one of his ships that [were] still available. We took the lines off of that and used that as the basis for our ship, although we made some changes because of the size – it was different size than what we wanted. But we used all the basic design elements that made his ships fast, and rigging that made his ships fast.
CL: Are you looking to achieve that level of performance with the Matthew Turner?
AO: Absolutely! We want it to be fast and handle well. The design team, Tri-Coastal Marine, has done many of these ships – sail training vessels, schooners, brigantines – and they have been very fast and able vessels, too. So their expertise has been added to this. We like to look at this project as taking the best technology from the 19th century and putting it together with the best technology of the 21st century.
CL: The ship is going to have two electric-drive motors as an auxiliary means of propulsion – is it difficult to integrate that kind of technology into a ship like this?
AO: Well, not at this point. We first thought of that idea a number of years ago when I thought, we need to do something green and something different. So that seemed to be an obvious direction at the time; I think it was about six or eight years ago when I made that decision. But at that time, nothing was out there that was completely ready to go. It's only recently now that large companies are taking it on, like Siemens and BAE Systems, and other large companies are designing systems, which is exactly what I was looking to do, and integrating them into a complete system to drop in, plug in and go.
CL: So it's a minimum of fuss, in that sense…
AO: Yeah, but a maximum of money [laughs]! But we are committed to having that type of system, so it can regenerate, it's a regenerative system. When we sail, the propellers turn and produce electricity that goes into a large battery bank.
CL: What are the biggest challenges involved in the build?
AO: Things have been going fairly well. Right now a big challenge is planking. We have 230 planks going on; they're three inches thick, they're between 14 and 27 feet long, and it just takes a lot to get those planks on. We were hoping we could work a little faster with that and we are picking up speed. So that's been a challenge in terms of amount of time. But they're going on well, and now we need to get some more lumber for the bottom planking, which is coming in next week. The trees were donated to us from a private property north of here.
"I've realised that unless you actually get out on the water, you don't have the same emotional tie."
But these things all take a bunch of time, and a little more than I thought. The good news is we do have a good workforce here, of which 75% are volunteers, and many of them are very skilled. So we have that going for us. We have 15 to 20, sometimes 25 people here each day, and we're breaking into different groups. So right now we're going in a number of different directions – interiors are going in, spars are being made, planks are going on, we're looking at setting our rudder in shortly. We're waiting for the rudder post, which should be here any day.
CL: What's the funding situation for the project? You're relying on public donations to finish the build…
AO: Since we started this, [the money] has come through. We haven't had delays of any significance, once we started construction. We have been down to very low bank accounts at times; I've had to call on myself and a few other friends to write some cheques to make payroll. But we haven't ever had to stop construction because of a lack of money, and I don't see that in the future if we keep after it and continue with our existing donors and continue to build new donors. It's easier to build new donors now that so much is going on with the vessel – they see it and they're pretty excited about the process.
CL: Once the ship is completed, how do you see a typical trip playing out?
AO: We have three basic programmes that we operate right now on Seaward, a 65-foot on-deck schooner. And one is just out there right now; it's been out on the coast out here, going out to a couple of spots – Point Reyes and the Farallon Islands. We have day programmes where classes come out for three hours and we go around the bay, they learn about the ecology and history of the bay. They also learn some navigation and hauling on sails and things like that. They'll all get a chance to steer a compass course.
CL: Have historic ships helped you personally come to a better understanding and appreciation of the sea?
AO: Well, of course as a sailor that is very dear to me, the ocean. I've realised that unless you actually get out on the water, you don't really stand back and look at it, and you don't have the same emotional tie you get when you go out on the water. And it becomes, for a short time, your home base. That makes a huge difference in how you see that from that point.
So few kids get a chance to do that; we've got a million kids in the Bay Area here, and perhaps 5% of them have ever been out on the water. For them to get out there and understand what it means and how important the water is here for the Bay Area and how it connects to the ocean, you've got to be there sometimes. You've got to feel the wind, feel the pressure, feel all that going on around you. You become immersed in it, and that's different than reading a book or looking at a TV.