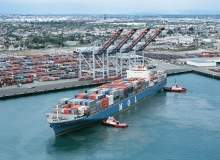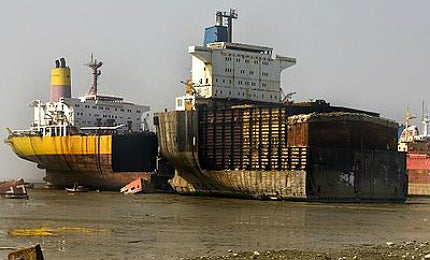 The Port of Los Angeles' ten-year, $370m channel deepening programme came to an end in April, with the US Army Corps of Engineers (USACE) putting the finishing touches to the project. Under the scheme, the port's main channel, west basin and east basin were deepened from 45ft to 53ft.
USACE removed around 15 million cubic yards of material from the channels and relocated it to various sites across the port, with some of the material used to build a 104-acre replacement shallow water habitat for fish and birds in the outer harbour.
With the completion of the project, larger cargo ships will now be able to access all nine shipping container terminals at the port.

Jebel Ali Port in Dubai, meanwhile, completed a major dredging project of its own – the largest dredging project at the port in the last ten years, in fact. Under the project, a total of 477,000m³ of soil has been dredged from 2,900m of quay wall at the ro-ro vehicle carrier terminal, the tanker terminal and three container berths.
The project has seen the draught of the ro-ro and tanker berths deepened from 10.5 to 11.5m, while container berths 14, 16 and 17 were deepened from 14m to 16m. The deepening of the draught will allow the port to handle ten next-generation 18,000teu vessels simultaneously.

After the massive tsunami that hit Japan in 2011, causing untold devastation and damaging a number of ports, Japanese shipping company Nippon Yusen Kabushiki Kaisha (NYK) has developed a new warning system to alert vessels to danger from tsunamis.
Tsunami warnings issued by the Japan Meteorological Agency and other weather service providers will be sent to vessels via NYK's 'e-missions' system, which provides information about the positions of ships in operation, as well as weather and sea conditions for intended routes.
The warnings are intended to allow affected vessels to contact those on shore and make use of the tsunami response guidelines developed and released by NYK in May 2012.

New LNG tanker and containment concepts continue to hit the market as LNG becomes an increasingly valuable commodity. In April, Hyundai Heavy Industries (HHI) introduced a new membrane-based LNG containment system for tankers, with design approval secured from classification societies including Det Norske Veritas (DNV) and the American Bureau of Shipping (ABS).
The containment system incorporates a dual-metal barrier and high-performance insulation systems, and is designed for use in LNG carriers, LNG FPSOs, LNG-fuelled vessels and LNG-bunkering systems. The system's thin STS304L and Invar-alloy barriers, optimised to manage thermal, fatigue and sloshing loads, are designed to prevent LNG leakage at the welded secondary barrier.
Compared to conventional insulation panels, the new panels, which are made up of low-density polyurethane foam and glass fibre composite material, reduce the boil off rate of the stored LNG by more than ten percent, according to HHI.

The first phase of the Port of Rotterdam's Maasvlakte II harbour expansion project was completed in April, bringing the new development's features up to 700 hectares of new industrial sites, 11km of seawall, 3.5km of quay wall, 24km of roads, 14km of rail and 560 hectares of port basin.
The Port of Rotterdam Authority, which manages and operates the port and industrial area in Rotterdam, is currently working on the nautical accessibility of Maasvlakte II, including the installation of lights and buoys so that ships can enter the area by 22 May 2013.
In 2014, a new flyover intersection is expected to be built at the ECT terminal to connect the existing port area with Maasvlakte II.

The European Parliament is attempting to address the problem of shipowners sending old vessels to be improperly scrapped in developing countries with new proposed legislation to force EU-registered ships to be scrapped at EU-approved facilities.
The proposed regulation intends to minimise the adverse effects of careless scrapping of vessels outside of Europe, most often in south-east Asia, in unsafe and unsanitary conditions. Shipowners would face penalties if they send or sell vessels for recycling on a beach or in a scrapping facility not approved by the EU, including vessels sent for scrapping within 12 months of a sale. But the European Parliament rejected a plan proposed by the Environment Committee to create a recycling fund, raised through a recycling levy, to be imposed on any ship using an EU port.

The Stad peninsula has long been a dangerous section of Norway's shipping routes, exposing ships to some of its most perilous waters and contributing to 46 accidents and near-accidents since 1945. Under an unprecedented new plan spearheaded by Nordfjord Vekst, a new tunnel will be built through a mountain to allow even large ships to avoid this treacherous stretch of water.
The Norwegian Government has agreed to provide NOK1.6bn ($274m) for the Stad Ship Tunnel, which will be built to a height of 45m, width of 36m and will span a length of 1.7km. The proposed tunnel would bypass the Stad peninsula in Selje, Norway, linking two fjords near the towns of Teigen and Berstad.