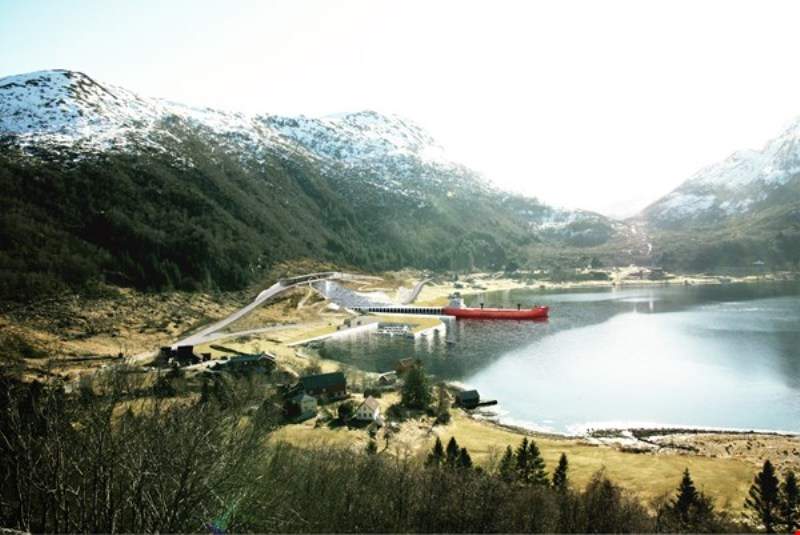 The Norwegian Coastal Administration (NCA) announced its plan to build the world's first ship tunnel with an investment of around NOK2.7bn ($315m).
The proposed tunnel will allow vessels to navigate more safely through the Stad Peninsula mountains, and is set for development as part of the Norwegian National Transport Plan (NTP) for the period of 2018 to 2029.
NOK1.5bn ($174m) of the total NOK2.7bn sum has already been earmarked for use in the first phase of the NTP, which will run through 2018 to 2023.
The National Physical Laboratory (NPL) in the UK introduced a new traceable calibration service to provide improved underwater acoustic data.
The new solution is known as the Underwater Autonomous Acoustic Recorder Calibration Service, and incorporates NPL's expertise in marine acoustic monitoring, offering accurate sensors and traceability data to its users.
Precise monitoring of underwater noise plays an important role in understanding the effect of various human activities on marine wildlife, including offshore windfarms installations, dredging harbours and others.
Vard.jpg" />
Norwegian shipbuilding company Vard Shipyard Group contracted MAN Diesel & Turbo's MAN Cryo unit to provide a fuel-gas supply system (FGSS) for two LNG-fuelled ferries.
MAN Cryo's LNG supply system includes a 175m³ vacuum-insulated storage tank, as well as auxiliary equipment such as an LNG vaporiser, a pressure build-up unit and a bunker station.
The ferries were designed by Norway-based Multi-Maritime and are set to be operated by Torghatten Nord.
The European Investment Bank (EIB) entered an agreement with Dutch bank ABN AMRO to invest €150m to support the development of a sustainable shipping fleet in Europe.
The deal is the first agreement of its kind between the EIB and a Dutch financial institution, and is supported by the European Commission's 'Connecting Europe Facility' initiative.
It is also part of the EIB's wider European Fund for Strategic Investments (EFSI), and is intended to ensure financial benefits to promoters of sustainable maritime transport projects in the Netherlands under EIB's AAA rating.
Unmanned and autonomous marine systems provider ASV Global opened a new mission control centre at its headquarters in Portchester, UK.
The centre has been designed to help ASV Global continue with the creation of its ASView autonomous vessel control system.
It will also allow the company to operate and monitor its worldwide fleet of autonomous surface vehicles (ASVs) via satellite communication.
Japan's Mitsubishi Heavy Industries (Mhi) reached basic agreements with local firms Imabari Shipbuilding and Namura Shipbuilding regarding the formation of new alliances in the commercial shipbuilding business.
The company is also pursuing discussions toward creating a similar alliance with another Japanese company, Oshima Shipbuilding.
MHI aims to obtain sustained growth via the new deals by establishing complementary and synergy-generating alliances that place emphasis on mutual collaboration.
Wärtsilä collaborated with Singapore's Keppel Shipyard (KSL) to ease the process of retrofitting ship ballast water management systems (BWMS) for ship owners and operators.
The deal is expected to facilitate cooperation and communication opportunities between various marine industry partners ahead of the planned implementation of the International Maritime Organisation's (IMO) convention for ballast water management by September.
Both Wärtsilä and KSL seek to offer relevant information and assistance regarding BWMS to the vessel owners and operators as part of the cooperation agreement.
Carnival Cruise Line started upgrade and refurbishment works at Long Beach Cruise Terminal facility in the US, with the aim of facilitating the handling larger ships and improving overall operations at the site.
Carnival's existing occupancy in the terminal will be increased from 66,000ft² to 142,000ft² as part of the upgrade.
The portside 'cold-ironing' will also be expanded to allow larger ships to plug into the local electric grid and reduce exhaust emissions while docked.
China-based Wison Offshore and Marine (Wison) developed a new multi-functional LNG distributor (LNGD) carrier design, which could make regional LNG redistribution cheaper and more efficient.
The new Wison-LNGD concept is designed to carry out LNG loading, bunkering and container delivery services, and features a scalable capacity between 5,000m³ to 20,000m³.
Traditional LNG carriers can load, transfer and unload full cargoes between two terminal points, however the new LNGD will able distribute partial loads to coastal areas in various regions, including the Indian subcontinent, Southeast Asia, Caribbean, and Northern Europe.
Global energy storage provider Corvus Energy was contracted by German ferry operator Scandlines to supply long-term service and maintenance services for its entire fleet of hybrid ferries.
The ten-year deal covers traditional service and maintenance of the fleets' energy storage systems, as well as Corvus' Watchman remote condition-based monitoring service.
Scandlines' current fleet of vessels includes large roll-on / off passenger (ROPAX) hybrid ferries, which operate using both traditional diesel fuel and advanced battery power.