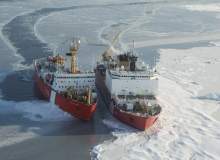 When a group of 74 scientists, journalists, tourists and crew set off from Bluff, New Zealand, in the Russian ice-strengthened research ship Akademik Shokalskiy on 28 November 2013, the hope was to recreate and celebrate the groundbreaking scientific expedition led by Douglas Mawson 100 years previously. In actual fact, the 21st century voyagers were about to catch a glimpse of the unfettered power of Antarctic ice, and gain a new appreciation for the immense achievement of Mawson's original expedition.
On Christmas Eve, the crew of the Akademik Shokalskiy realised they had become trapped. Strong winds had driven thick sheets around the ship, freezing it in place. Thus began a drawn out series of rescue attempts, with foul weather and thick sea ice preventing no less than three icebreaking ships – the Chinese and French research vessels Xue Lóng and L'Astrolabe as well as Australian icebreaker Aurora Australis – from reaching the vessel.
Xue Lóng's onboard helicopter facilitated the transfer of the ship's 52 passengers to Aurora Australis on 2 January, leaving 22 Russian crewmembers onboard the Akademik Shokalskiy to await a ship with enough icebreaking power to cut a path to the stricken vessel. Two days later the US Coast Guard's (USCG) heavy icebreaker Polar Star, which happened to be stationed in Sydney at the time, was dispatched to break a navigational path for both Akademik Shokalskiy and Xue Lóng, which had also become trapped.
As it turned out, improving weather conditions meant the ships were able to free themselves from the ice and beat a path for open water, permitting Polar Star to return to its scheduled duties as part of the ongoing Antarctic resupply mission Operation Deep Freeze.
Lessons from the Akademik Shokalskiy rescue
Nevertheless, the Antarctic incident highlighted a couple of important points about the current state and future role of the world's icebreaking fleet. First, the protracted rescue operation was a perfect demonstration that not all icebreakers are created equal.
---
---
Changing Arctic Sea ice conditions will open new shipping routes through the North Polar region and enable extended summer navigability for current open-water routes by mid-century.
---
The three rescue ships that failed to reach Akademik Shokalskiy could more accurately described as 'ice-capable' ships, with the ability to break through around three feet of ice, whereas the more powerful Polar Star, powered by six diesel engines for open water and three massive 25,000hp gas turbines for icebreaking, is a true icebreaker, capable of crushing through six feet of ice at a continuous speed of three knots.
Considering the fact that, if luck hadn't prevailed, the Polar Star might have been the only nearby icebreaker with the power to free the two trapped ships, it's also important to recognise how close the vessel came to being decommissioned several years earlier. The USCG placed the 37-year-old vessel in caretaker status in 2006, and for a while it looked set to follow its sister ship Polar Sea, which went out of service in 2010.
Fortunately, Polar Star instead underwent an extensive refit at Vigor Industrial shipyard between March 2010 and December 2012 at a cost of $57m. The vessel was reactivated and assigned to the Antarctic in late 2013, just in time to scramble to Akademik Shokalskiy's aid in early January 2014.
Even as the vessel stood down after the stranded ships broke free, the USCG's Pacific area commander Vice Admiral Paul F. Zukunft specifically acknowledged the efforts made to bring Polar Star back to operational readiness. "I am especially proud of the crew of the Polar Star who have toiled these past several years in restoring this great cutter to Semper Paratus – Always Ready status," he said.
Future icebreaking requirements
Polar Star's eleventh-hour reprieve and return to active duty has taken place against a backdrop of urgent discussions about the state of various icebreaker fleets around the world. Although it would be intuitive to assume that climate change and melting polar ice caps would decrease the need for icebreakers in the polar regions, it appears the opposite is true.
"The rescue operation was a demonstration that not all icebreakers are created equal."
"The simplistic question you often get is, 'With global warming, why do you need icebreakers?'" retired USCG rear admiral and maritime consultant Jeffrey M. Garrett told National Geographic in January. "But in the Arctic, you have more thinning and decrease in the ice pack, and that's making ice conditions more unpredictable. It's not like everything's getting easy. In some ways, global warming has increased the need for icebreaking and ice-capable vessels."
As Arctic ice continues to recede, new possibilities are opening up in the worlds of shipping and offshore energy development. On the trade side, shipping routes that have been inaccessible due to Arctic ice, like the Northern Sea Route and the Northwest Passage, are now becoming increasingly viable during the warmest months of the year, offering the prospect of vastly reduced transport distances. According to some estimates, Arctic shipping could account for 25% of cargo trade between Europe and Asia by 2030.
Two Arctic sea routes in particular have been attracting attention over the last few years. The Northern Sea Route is now seen as an ever more attractive option for trade between Northern Europe, Russia and East Asia, as it massively reduces the distance to market when compared with the traditional Europe-Asia trade route through the Suez Canal and across the Indian Ocean, which is also has more than its share of security concerns in the Middle East and along the Somali coast. "The Northern Sea Route has the strong potential to grow into a huge cargo transport market," said the Russian fisheries ministry in October 2013.
South Korea achieved a milestone last year by completing its first commercial freight voyage through the Northern Sea Route. The Swedish icebreaking cargo ship Stena Polaris, bearing 44,000t of naphtha, made the journey between St. Petersburg and Gwangyang terminal in 35 days, reducing the standard travel time by around 10 days.
South Korea was only able to make the voyage by renting the Stena Polaris, highlighting the need for countries to develop domestic icebreaking capacity, or at least gain access to the services of foreign icebreakers, to safely take advantage of the emerging routes. For China's first commercial voyage through the Northern Sea Route in September 2013, the Russian nuclear-powered icebreaker 50 Let Pobedy served as an escort.
Steaming ahead or catching up: global icebreaker fleets
As the need for icebreakers continues to rise as old vessels approach the end of their service lives, countries with icebreaking ambitions find themselves in varying states of readiness. The US and Canada have both acknowledged their need for more icebreakers to support oil and gas operations in Arctic waters and to maintain a consistent presence in the region.
---
---
Shipyard overcapacity has forced the price of new-build projects to their lowest level in nearly a decade, fuelling demand for expensive ship refurbishments and upgrades.
---
The USCG has previously been forced to lease icebreakers from Russia and Sweden as its own icebreaking fleet dwindles – the organisation now only has two icebreakers, including Polar Star, that are able to operate in the Arctic region. Research suggests the USCG will need a further three medium and three heavy icebreakers to effectively meet its strategic obligations in the area.
Although the goal of expanding icebreaker fleets is clear, getting the money together for acquiring or building them is easier said than done. The Coast Guard is responding to pressure to build or procure a new heavy icebreaker in the near future, but costs are proving prohibitive. A new icebreaker could cost up to $1bn, a price tag that USCG says it can't afford on its own. In a meeting of the subcommittee on Coast Guard and maritime transportation, Vice Admiral John P. Currier argued that any public organisation with a stake in the Arctic should chip in to help pay the cost.
The Canadian Coast Guard's icebreaker fleet is better stocked, with 18 icebreakers. Four of these are medium icebreakers and two are heavy. Nevertheless, challenges remain as many of the vessels are extremely old and the medium and heavy icebreakers will gradually be reduced over time as these ships are individually taken off duty for major life-extending refits. Money for a new heavy icebreaker is similarly hard to come by, with the Harper government recently prioritising the purchase of supply ships over the replacement of heavy icebreaker CCGS Louis S. St-Laurent.
While some countries are floundering in the face of new icebreaker requirements, Russia has put itself in a strong position due to its sovereignty over much of the Northern Sea Route and its massive icebreaker fleet, which includes seven powerful nuclear icebreakers.
Many countries already lease Russian icebreakers to cut a path for commercial and research vessels, and this trend is only set to grow as global icebreaker fleets get older and Russia continues to plough billions into Arctic infrastructure and technology. The country plans to spend around $63bn on its Arctic development plan, and is in the process of building the world's largest nuclear-powered icebreaker – likely to be called the Arctic – which will be able to alter its draught to operate in shallow rivers and deep Arctic waters, all year round.
Climate change will probably render icebreakers redundant in the end, with White House estimates stating that icebreaking capabilities may not be required at all by 2050. But until then, countries and companies looking to explore new trade and resource development opportunities in icy Arctic waters will either need to invest in hardy icebreakers or make good friends with Russia.