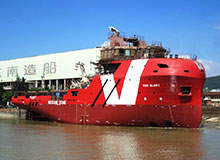 In 2015-16, the Australian cruise sector's economic output reached a record $4.58bn, fuelling a 27% hike in the contribution of cruising to the nation's economy. That's not to be sniffed at.
A report commissioned by the Cruise Lines International Association (CLIA) Australasia also reveals that overall cruise ship visit days to Australian ports grew by 39% in 2015-16, with a 45% increase in homeport visit days. Sydney, Brisbane and Melbourne are the big players here, with 1.75 million passenger visit days.
"If we were to choose one word to sum up the past decade, that word would be growth," says CLIA Australasia commercial director Brett Jardine. "Over the past ten years, we've seen significant growth in the number of ships homeported in Australia both full time and seasonally, as well as the number of visiting cruise ships sailing in our waters."
Up to 18,700 Australians are also now employed, directly and indirectly, in the sector, up from 15,200 last year.
Jardine says the previous decade represents the dawn of a new beginning, adding: "We've averaged a 20% increase in passenger numbers annually [over the decade], and last year the number of Australians taking an ocean cruise broke through the one million mark. Ten years ago, [it was] very much an infant cruise market."
A nation of 'sea-huggers'
Reaching these milestones can be put down to many things.
Figures show that the total number of Australians taking an ocean cruise worldwide grew by almost 15%, hitting a record 1,058,781 passengers in 2015. Dig deeper, however, and an intriguing detail emerges: the rise of the domestic cruiser.
Local passenger numbers hit 269,915, up from 80,000 last year – which, according to the CLIA means "one in four passengers took a domestic ocean cruise last year".
"Australians have an affinity with the water."
In May, CLIA Australasia chairman Steve Odell said "new shorter coastal cruises sailing from Australian homeports" had captured the "imagination of Australians, who see them as a new way to explore their nation".
It's also about the societal and geographic components. "Most Australians live near the coast and as an island nation we have an affinity with the water," says Jardine, who identifies the short breaks as an alternative to the traditional weekend road trip.
David Jones of Carnival Australia – which accounts for seven cruise brands in the region and about 75% of the market – describes the country as a nation of "sea-huggers", adding: "Many are time-poor, making short breaks a popular holiday option. These are often themed cruises such as food and wine or comedy, giving them a special appeal."
New ships and cruise infrastructure
Of course, Australia's cruise sector uptick is also the result of a commitment from cruise liners to port in Australia. In its economic impact report, released in September, the Australian Cruise Association (ACA) revealed that 46 ships visited the country in 2015-16, of which ten were new, including the Azamara Quest, Costa Luminosa, Explorer of the Seas, Golden Princess, Le Soleal and Noordam.
"This increase has delighted us rather than surprised us," says ACA CEO Jill Abel. "The real driving factor has been the amazing enthusiasm shown for cruising around Australian ports and nearby regions."
The ACA expects a further eight new ships to arrive this year, including Royal Caribbean's Ovation of the Seas, which will be, according to the association, the largest ship ever to cruise Australian waters. This scale of change makes it likely that two million Australians a year will be cruising by 2020, says Jones.
In the face of such predictions, plans are being made to build up the country's infrastructure. One such plan is a new cruise ship terminal at the Port of Newcastle, hailed by the Premier of New South Wales (NSW) Mike Baird as the key to securing the future of the local cruise sector.
The $12.7m undertaking – one part of NSW's ten-year cruise development plan – is currently in the design phase and could be completed by 2018, with construction starting in 2017. Looking again at the CLIA report, NSW is considered the "dominant cruise state", accounting for 63% of economic contribution – powerful incentives for a new terminal.
The terminal will be built at Newcastle's Channel Berth, within the Port's Carrington precinct, which "meets current and future [needs], including berthing for vessels up to 320 metres in length", says a port spokesperson. "We have now reached a plateau with our existing facilities," adds the spokesperson.
Meanwhile, in Brisbane, a $100m cruise terminal is planned at the mouth of the Brisbane River to welcome bigger ships, and also potentially lure business away from Sydney. In Tasmania, upgrades have also taken place at the ports of Hobart and Burnie.
Constraining growth?
But what about Sydney? "It continues to be the gateway port for visiting international cruise lines, so we are very conscious of the need to boost capacity in the city," says Jardine.
"As cruise ship numbers grow and the size of ships continues to increase, there's no question that we need to establish another berth in Sydney east of the Harbour Bridge, and that's something we are continuing to work with the government on."
This view is shared by others, who view Sydney as critical to the hopes of even greater progress over the coming years. Speaking in May, CLIA Australasia chairman Steve Odell warned there was "no question" that expansion was needed, adding: "We are, particularly in the summer, at saturation point."
"Port upgrades are critical for the future."
Jones also believes that "the most likely constraint on growth is a lack of port facilities to accommodate an increasing number of larger cruise ships".
"[One] issue we are focused on right now is finding a solution for a third berth in Sydney," says Abel. "Port upgrades are critical for the future, [but] these projects are on the rise as government is now able to see a strong history of success with increased growth year on year and strong economic impact numbers."
Nonetheless, with a relatively small population of approximately 24 million, it will be difficult for Australia to overtake the likes of the US, UK or Germany, says Jardine, who instead believes retaining a position in the top five of source markets would rank as a significant achievement.
And then there's China – the only market to outstrip Australia's recent growth rate. Competition aplenty, but, says Jones: "All in all, there are exciting years ahead."