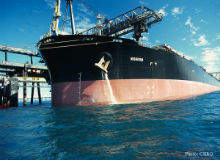 The IMO's Ballast Water Management Convention 2004 will come into force twelve months after it has been ratified by at least 30 states, the combined merchant fleets of which constitute at least 35% of the world's gross tonnage.
As of July, the number of contracting governments stood at 44, representing 32.86% of the world's merchant fleet tonnage.
Once ratified, it is believed up to 60,000 vessels will need to be retrofitted with ballast water treatment systems to become compliant with the convention's requirements.
Ballast water carried by vessels can transfer marine species from one place to another, which can cause ecological, economic and health problems.
Approximately 10 billion tonnes of ballast water are transferred each year and it is estimated that the cost of harmful species is as much as $138bn a year in the US alone.
So, with ship owners rushing to find the right solution, what can they expect to find on the ballast water treatment market?
BalCon: purpose built
Damen's BalCon system is used for capacities ranging from 100m3 to 750m3 per hour, and has been designed to fit in one 20ft equivalent unit. For container vessels, BalCon is purpose-built for the cargo hold.
The containerised system incorporates lamps, filters, and power and control cabinets, as well as a booster pump, when required.
BalCon is powered by Trojan Marinex – a custom-built filtration system without chemicals and UV treatment, packaged in individual units. This uses an automatic backwash and has 32 filter elements specifically designed for ballast water treatment.
Gert Jan Oude Egberink, Damen's ballast water treatment manager, was quoted by MarineLink as saying: "The unique point about this is that pre-fabrication and testing can be carried out onshore, before installation.
---
---
A team of Dutch and German companies and universities known as RoboShip have developed a robot for inspecting ballast water tanks.
---
"That way, when a vessel comes to the yard for repair or survey, the system will be ready to go. It's simply a case of 'plug and play' – connecting the treatment system and then business as usual, with the absolute minimum of downtime for the vessel."
The installation of BalCon can be completed at Damen shipyards worldwide or in customer-specified locations. In addition, Damen has announced that, as an option, it can be designed to be explosion proof for use in tankers.
Meanwhile, Damen's LoFlo solution, powered by BioSea, is designed for smaller vessels, with either 30m3 or 60m3 capacity systems, and can be installed in a modular arrangement. The BioSea filtration process is done by automatic backwash and monitored by a pressure switch.
AQUARIUS: ultra-violet treatment
Wärtsilä's AQUARIUS system uses filtration and ultraviolet (UV) irradiation to treat ballast water. When sea water is collected, it passes through a back washing filter before moving to a UV chamber that uses ultraviolet light to treat the water before it enters the ship's ballast tank. Once this process is completed and the water is ready to be discharged, it goes through the UV chamber one final time.
Type approved according to the IMO convention, AQUARIUS is also ready to use in hazardous environments, with explosion-proof properties, and can be installed phase by phase.
In March, the company announced the first contract to install two AQUARIUS systems on eight new 33,000 deadweight chemical tankers.
Dr Joe Thomas, director of ballast water management systems at Wärtsilä Ship Power, is quoted on the company's website as saying: "Knowing that the entire system module is explosion proof when installed within hazardous areas provides the peace of mind that alternative systems, where only the electrical components are certified, cannot.
"With IMO ratification expected very soon, we anticipate that the Wärtsilä BWMS range will be very much in demand."
As part of the type approval process, AQUARIUS was integrated on the Ro-Ro carrier Anvil Point in June 2011.
Filtersafe: the compact choice
In June, Filtersafe announced the release of a compact range of ballast water treatments.
Designed for flow rates of 50m3/hr to 550m3/hr, the self-cleaning products are suitable for vessels with little space, or when retrofitting is required.
According to Filtersafe, 40% of the service area has been removed , resulting in less maintenance of parts. In addition, the company's EVERCLEAR automatic cleaning cycle technology is claimed to capture and remove 98% of zooplankton.
"In March, the company announced the first contract to install two AQUARIUS systems on eight new 33,000 deadweight chemical tankers."
"The superiority of Filtersafe's technologies and its emphasis on collaborative R&D brings unrivalled value, effectiveness and durability to even the most demanding filtration needs," Etai Dagan, CEO of Filtersafe, told MarineLink.
To increase its potential use, the compact range will also be designed for the shipping of oil and gas applications.
RoboShip: robotic inspection
RoboShip is a project created by Dutch and German firms, including the University of Twente , to independently inspect ballast tanks.
Last year, the collaboration demonstrated a robot that can inspect a tank without requiring the ship to stop its service. It was installed on a set of rails inside the ballast tank.
"Tanks like these are almost inaccessible due to ribs, pipes and cables. Realising that people actually need to go into them to carry out inspection work was what motivated me to develop the robotic arm," Dian Borgerink, a doctoral student at University of Twente , told ship-technology last year.
The robot was fitted with sensors and a video camera to navigate the tank, allowing it to transmit data to a control centre. By emitting a magnetic field, the controller can identify Roboship's location.
Roboship can guide itself by taking measurements and using the magnetic field of the tank.
Thomas Witolla, of the German shipyard Meyer Werft, which worked on the project, has been quoted as saying on the SmartBot website: "In the future, we also want to be able to work on the surface of the ballast water tank autonomously using a laser."
Evoqua: filtration and in-situ production
SeaCURE is a complete ballast water management system, according to Matthew Flatley, product manager at Evoqua Water Technologies.
It combines filtration with in-situ production of biocide from seawater via electrochlorination, and uses 1% of the ballast water flow to generate sodium hypochlorite for the treatment of ballast water.
---
---
The market for ballast water treatment technology is set to soar.
---
In addition, Evoqua recently become the first company to complete low salinity water testing in the US for ballast water management solutions as part of United States Coast Guard (USCG) protocols.
"The SeaCURE system has already attained alternate management systems (AMS) acceptance for fresh, brackish and full saline water and was the first electrochlorination system to receive AMS acceptance for all three salinities," adds Flatley.
"Evoqua's SeaCURE system is believed to be the only side-stream electrochlorination system on the market to be AMS approved for all three types of water."
With ballast water conditions open to change throughout a vessel's voyage, Evoqua aims to design treatments that are suitable for wide variations in the temperature and salinity of water.
As well as this, SeaCURE uses a modular design for the retrofitting of ballast tanks.