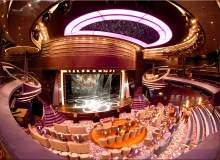 What makes a cruise special? What separates a cruise brand from its competition? While a cruise liner's destination might always be the main draw for potential customers, there's nothing about the radiant Caribbean or the shimmering Mediterranean Sea that is exclusive to any one operator, or even the cruise industry in general. So what are the parameters by which customers choose to spend their hard-earned holiday money for the year?
Value for money is essential, of course. Food and facilities play a significant part. But for the big cruise operators, the range of onboard entertainment on offer has become a key differentiator. And as our home-based entertainment options have swelled over the last decade, so too have our expectations. After all, if we can access movies, music, TV, videogames and streamed live events from our living rooms with the flick of a wrist, why shouldn't we expect a similar variety of diversions on a cruise break that might cost thousands of pounds?
Carnival UK's head of entertainment Paul Wright is well-placed to comment on the evolution of cruise ship entertainment from the traditional pastimes and hokey talent shows of yesteryear to today's bewildering range of amusements, large and small, including full-on Broadway musicals, stand-up comedy, celebrity appearances and state-of-the-art casinos and nightclubs. Wright, the lead co-ordinator of passenger leisure time for Carnival brands P&O Cruises and Cunard Line , discusses entertainment as a differentiator, maintaining relationships with performers and the progression of modern trends.
Chris Lo: How has the concept of onboard entertainment evolved in the cruise industry?
Paul Wright: The variety within the entertainment line-up has changed significantly. Accessibility of entertainment generally means expectations have risen for passengers around what should be offered in an entertainment line-up. We also have to ensure we are up-to-date with what's happening in the entertainment business. Changes in the dining options, for example, can influence changes in entertainment; more freedom dining has meant that the theatre isn't always the primary choice for passengers so we need to ensure that we have options available across multiple venues at the same time. This is much more of a focus than it was previously when planning the line-up, and a cruise holiday is much more accessible now so we have to be in a position to react quickly to our passenger tastes and what they tell us they like to see.
CL: What do today's customers expect from a cruise entertainment package?
PW: Our passengers tell us they expect the same quality they can experience at home; entertainment on a cruise ship is no different from any other theatre or live entertainment space. Passengers expect to see variety in the line-up and maybe something new to them. Having venues that travel around the world can really help turn this into a reality as we work with many international agents and performers. There are differences between P&O Cruises and Cunard; for example Cunard carries international passengers so we look for entertainers who can cross language barriers whereas P&O Cruises passengers are predominantly British.
CL: Do you think entertainment is a key differentiating point when potential customers are deciding between cruise holidays?
---
---
From virtual balconies to real-time ocean viewing portholes, 360° sky-high viewing platforms and smart TV's, we profile the very best cruise-tech.
---
PW: I think entertainment is becoming more of a differentiating point for customers; more and more want to know the line-up before they make the decision of which cruise to take. We have seen this with our Strictly Come Dancing cruises, Music Festivals At Sea and also when we have worked with artistes like Alfie Boe and James Taylor.
CL: Have you found it important to tap into public interest in celebrity through offerings like George Takei's upcoming appearances on Cunard Line's Queen Mary 2, or P&O's ongoing Strictly Come Dancing-themed cruises?
PW: P&O Cruises and Cunard have been working with a wide range of celebrities from all over the world for a long time. It's a unique opportunity to get up close with them on a ship. Due to the nature of what we do, they are mixing with the passengers the whole time they are on board. We've found with the increase in social networking making the experience easy and almost instant to share with family and friends, the fact we have celebrities on board has become much more of a talking point.
CL: When it comes to cruise entertainment, does bigger always mean better?
PW: It's really important to make sure we have a balanced line-up so our passengers are given choice. With so many venues on each ship, all with different seating arrangements and technical capabilities, we plan each element of the line-up by venue and then take an overview of what the passenger can experience so we can see what's on offer each day of the cruise. We have, for example, comedy shows which are predominantly one artiste and production shows which have up to 21 people in the same line-up.
CL: What goes into customising facilities like nightclubs and casinos for the cruise ship environment?
PW: Primarily when customising any onboard venue the overarching consideration is around what the passenger will experience in terms of what the venue will look like and what facilities will be made available. Secondly it's how do we ensure we can support it from a shoreside perspective? When the ships are sailing they don't have the benefit of being able to get someone out to them like land-based venues in the event of problems, so we try and make everything more robust when we are selecting furnishing, technical elements and then lastly any entertainment element we add into the experience.
CL: Do you keep a close eye on competitors' entertainment packages to get an up-to-date view of what works and what doesn't?
"Passengers tell us they expect the same quality they can experience at home."
PW: We keep an eye on what's happening generally in the entertainment business so we ensure we are following the trends for our passengers. We keep a close eye on what our passengers are telling us they like, which is our priority.
CL: In terms of attracting and retaining talent, is it important that performers and guest speakers enjoy their time onboard, as well as the passengers?
PW: It's really important that all our entertainers feel comfortable with their surroundings as it's integral to their performance. They rely on having a solid professional team to support their performance from the sound and light team to the musicians and cruise staff; [performers] might have just come aboard and they go into a sound check in a venue they have never seen before with a team of people they have never met. The back-of-house areas are as important as the on-stage performance that the passengers see.
CL: How much work goes into building and maintaining relationships with potential entertainment providers or partners?
PW: We try where possible to meet everyone face-to-face in order to build strong working relationships. The team regularly attends showcases, auditions and live performances. We visit industry events like PLASA [Professional Lighting and Sound Association], Leisure Industry Week and we also arrange auditions and visits to the ship with potential providers. It's as important to maintain existing relationships as it is to find new ones. The industry moves quickly so it's a vital part of what we do; we attend premiers in London, we are invited up and down the country to see everything from lighting design and choreography to comedy and production shows.
CL: Out of all the entertainment options you provide for P&O and Cunard Line customers, what excites you the most, personally?
PW: I really get excited when I take someone onboard and they see the ship for the first time, especially if it's a new relationship we are trying to build. Cruise ships in general have better technical capabilities available as standard to an entertainer or producer than land-based venues and it's generally at that point the creative ideas start to flow.
CL: How are you looking to expand Carnival UK's entertainment line-up in the future? Is it still possible to innovate in such an established space?
PW: Innovations in the line-up are happening all the time. For example, with [new P&O cruise liner] Britannia joining us next March we have introduced LED technology into the theatre, and we have designed a multi-functional space on the top deck with sports through the day and in the evening it turns into an open-air entertainment space. We introduce new shows into the line-up on average every 18 months. Technology innovations in the way we can deliver entertainment means the experience for the passenger can look and feel very different to what they expect. As far as individual entertainers are concerned we are always looking for new acts to add into our existing line-up.