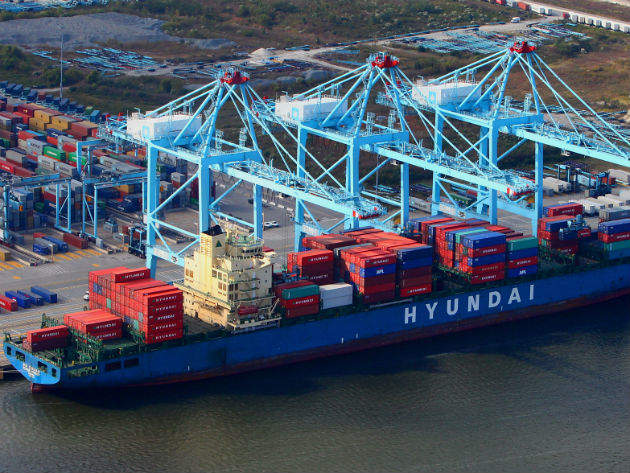 John Reinhart, CEO and executive director of the Virginia Port Authority (VPA), is recalling the impact of the global recession on the harbour situated on the US East Coast.
These were difficult days, he explains, when the port was unable to "adequately reinvest in its cargo handling infrastructure and capability," and faced the real danger of losing its status as one the country's most important shipping hubs.
"Though we were maintaining our customer base and overall cargo numbers were increasing, other USEC [US East Coast] peer ports were showing greater strength," says Reinhart.
In the aftermath of the economic downturn, Reinhart – who took the helm of VPA in February 2014 – noticed that other ports along the eastern seaboard were also "making annual investments that were shaping up to be a long-term competitive advantage."
Yes Governor: Following the mandate to return Virginia to profitability
Governor of Virginia, Terry McAuliffe – who assumed his role a month before Reinhart joined VPA – also had concerns over rival ports stealing a march on his state's own, and issued a clear directive for a return to profitability.
"It became apparent that we needed a significant long-term capital investment and improvement programme to deliver on that mandate," says Reinhart.
Fast forward three years, and the VPA has broken ground on the most ambitious expansion initiative in its history. Comprising of two projects, the port hopes to increase its overall annual container handling capacity by 40% – or one million container lifts – on where it currently stands.
"Fast forward three years, and the VPA has broken ground on the most ambitious expansion initiative in its history."
As of February, work has already commenced on the first section of the project – expansion, to the tune of $320m, of the Virginia International Gateway (VIG) container terminal in Portsmouth, which will roughly double its annual cargo handling ability. The cost of the project will be shouldered by investment funds belonging Alinda Capital Partners and the Universities Superannuation Scheme (USS), VIG's owners since 2014.
Built in 2007, VIG started life as a private terminal belonging to Danish transport and logistics conglomerate Maersk Group, and established itself as the most automated container terminal in the US.
In its new guise, VIG will benefit from an extended wharf designed to accommodate four new, larger Suez-class container vessels. Upon completion, scheduled for the winter of 2018, it hopes to have a capacity to handle 1.2 million containers a year. The current total stands at 650,000 containers per annum.
In July, VPA will then break ground on the second project, which, costing in the region of $350m, will see the container yard at Norfolk International Terminals (NIT) expanded by 400,000 containers. If all goes to plan, the stack yard – to be served by 60 rail-mounted gantry cranes – will be completed by 2020.
Sending a clear message: What VPA's expansion means for the US shipping industry
The two-pronged project sends out a clear message to the shipping industry of VPA's plans for long-term growth, says Reinhart.
"It signifies that the Port of Virginia is a progressive, growing port that is planning for the future," he says. "We want the ocean carriers and cargo owners to understand that they will be able to grow alongside of us without any issues. We will be able to safely handle the biggest vessels in the Atlantic trade and their cargo.
"It signifies that the Port of Virginia is a progressive, growing port that is planning for the future."
"It also signifies that we will continue to be a catalyst for creating jobs, investment and new revenue across the state."
However, such expansion projects are rarely without their challenges. What does Reinhart envisage being some of the biggest hurdles ahead before the ribbon is officially cut on VPA 2.0?
"Maintaining our high levels of service and efficiency during heavy construction will be a challenge," he says. "So will be setting realistic goals and expectations and communicating them to the public. We also need to stick to our timeline and budget."
Eastern promise: Could expansion of the Panama Canal shift cargo volumes from the West Coast?
Reinhart is unequivocal over what's at stake here: being the East Coast's main cargo gateway. In particular, this pertains to being best positioned to capitalising on the planned $5m expansion of the Panama Canal, which is predicted to shift port volumes from the West Coast to the East and Gulf Coasts.
"Through this work we are setting ourselves apart from our USEC peers to make Virginia the East Coast's gateway for cargo," he says. "No other USEC port is making this kind of capital investment."
"Of course, capturing that volume is a function of readiness," says Peter Ulrich, partner and managing director at Boston Consulting Group.
"At Port of Virginia, they have the advantage of already being prepared for larger vessels in terms of the depth of the channel, unlike some other ports that need to do further dredging."
But, in spite of its inherent natural benefits, such long-term benefits, warns Ulrich, need to be weighed against risks of increasing barriers to trade.
Recent political and macroeconomic developments – including Brexit and the possibility of a more insular US trade policy at the hands of the Trump administration – could impact international trade flows. So, too, could the outcomes of general elections taking place this year in Europe in the UK, France and Germany.
"Any of those [developments] potentially influences future global trade and hence would potentially have an impact on international cargo volumes," Ulrich says.
For Reinhart, the main challenge will be "which ports will collect the first-in and last-out vessels, and become true gateways for trade." Nonetheless, he is certain the Port of Virginia is well-positioned to do just that.
"The Port of Virginia will always be an important destination for cargo," he confirms.