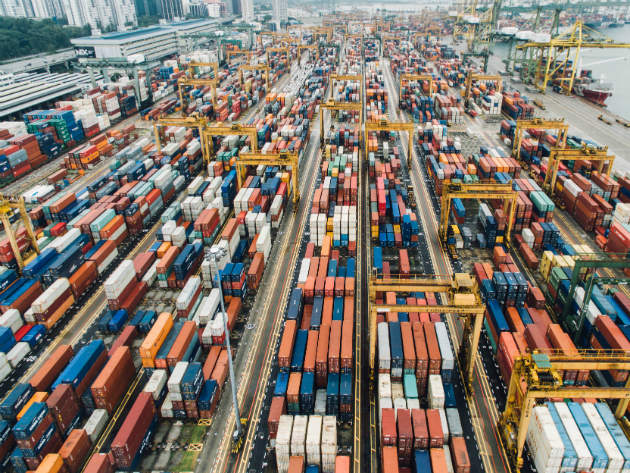 The issue of cargo theft and cargo loss has long been miscalculated, with largely inaccurate assessments of the true financial damages suffered.
Recently, insurance broking and risk management company Marsh brought the problem back into the spotlight in their 'Changing Tide of Risk' report, which argues that the consequences of the major political and economic events of 2016, together with new technological advancements, are creating new risks and opportunities for the global maritime sector.
One of the biggest challenges in this period of uncertainty is the "incredibly disproportionate" loss incurred when cargo is either lost or stolen, estimated to cost the industry $50bn annually, according to the National Cargo Security Council.
Losses can occur in a myriad of ways, from containers being mislaid, mislabelled, or simply failing to arrive at their destination, to instances involving premeditated criminal intent, such as breaking into ports to steal goods, or pirates attacking crews at gunpoint for their valuable cargo.
"Even in this age of sophisticated electronic equipment, the human machine can so easily and discreetly play the system," Captain John Dalby, CEO of Marine Risk Management, writes in the report.
The findings, Dalby explains, should act like "an eye opener on another aspect of the vast reach of the world's illicit economy that passes largely unseen by the majority of the population, benignly ignorant of its impact and importance for the economy at-large."
The unpredictable nature of cargo loss
Although the vast majority of international shipments reach their destination without any trouble, cargo loss is an all too real problem that can heavily impact local, national and global economies.
The latest survey from the World Shipping Council (WSC) estimates that in 2016, the international liner shipping industry transported approximately 130 million containers packed with cargo, with an estimated value of more than $4 trillion.
The report argues that in the past, obtaining an accurate assessment of how many containers are lost at sea was a "highly speculative process," with figures as high as 10,000 containers a year being banded around.
WSC surveyed member companies, which operate 80% of the global containership capacity, and found that over the nine-year period between 2008 and 2016, there were 1,582 containers lost at sea each year, including in catastrophic events.
"Between 2008 and 2016, there were 1,582 containers lost at sea each year."
But these figures can wildly vary each year depending on a variety of factors, such as adverse weather conditions and catastrophic, one of a kind incidents, such as the sinking of El Faro, which was carrying 391 containers and 294 trailers and cars, when it encountered Hurricane Joaquin. The tragedy led to the death of three crew members and accounted for 43% of the containers lost in 2015.
Over the past few years, however, the industry has tightened regulations in order to boost the safety of containers at sea.
In 2014, amendments to the Safety of Life at Sea (SOLAS) Convention required verification of container weights before packed containers may be loaded aboard ships. That same year, the International Maritime Organization (IMO), together with the United Nations Economic Commission for Europe (UNECE), approved a code of practice for the packing of Cargo Transport Units, with the aim of improving safety when handling containers.
3D printing finds its way into the criminal realm
While cargo loss is largely accidental in nature, the issue of cargo theft is a far greater challenge.
According to a definition provided by the FBI, cargo theft refers to "the criminal taking of any cargo including, but not limited to, goods, chattels, money, or baggage that constitutes, in whole or in part, a commercial shipment of freight moving in commerce."
With the advent of new, easily accessible technology, criminals targeting any point of the supply chain are now becoming better organised, bolder and increasingly savvy.
The advent of autonomous ships, seen as the next big thing in the maritime industry, is particularly worrying in this context. While the absence of a crew eliminates the risks associated with traditional pirate attacks, ships carrying valuable cargo could become attractive targets of cyber-piracy.
"Ships carrying valuable cargo could become attractive targets of cyber-piracy."
And, when it comes to new tech, criminals seem to be early adopters.
Last year, security services company G4S pointed out that criminal gangs were resorting to 3D printing to copy security devices to break into containers. Research uncovered that harbour criminals were creating perfect replicas of well-known cable seals, security locks and keys, and using these to cover their tracks and obscure any signs of theft, such as a broken seal.
"For a few hundred dollars, a person can purchase a 3D scanner that eliminates the need to understand computer-aided design and can not only provide the dimensions for any item but also creates the CAD technical specifications needed to produce a near-perfect replica," a G4S spokesperson said at the time.
Piracy still an active threat
Traditionally, cargo theft has been closely linked with piracy at sea, which has particularly plagued Southeast Asia more than any other region since the Cold War.
After the states in the area took steps to crack down on the criminal activity threatening their seas, last year saw a significant decrease in the number of hijackings for cargo theft: only three vessels were targeted specifically for this purpose, compared to 12 in 2015.
According to Oceans Beyond Piracy, the decrease can be partly attributed to the reduction in financial rewards from the resale of stolen petroleum products and better patrols by regional navies and local law enforcement. Sadly, this gave way to an increase in incidents of kidnapping of crew members for ransom in the Sulu and Celebes Seas.
In the first half of this year however, a new survey found a recurrence of hijacking ships for their oil cargo, particularly in Bangladeshi ports and anchorages.
Industry begins to respond to cyber threats
A promising solution to fraudulent shipping, theft and loss of containers comes in the form of blockchain technology, which has gained worldwide cross-industry popularity for its ability to record and keep track of assets or transactions using bitcoins as payment.
The idea is currently being pursued by ocean carrier Maersk and technology company IBM to digitise, manage and track shipping transactions.
"The solution will help manage and track the paper trail of tens of millions of shipping containers across the world by digitising the supply chain process from end-to-end to enhance transparency and the highly secure sharing of information among trading partners," IBM said in a press release.
"When adopted at scale, the solution has the potential to save the industry billions of dollars."
In the age of cyber crime, where attackers can now potentially hack a marine company's systems, and track, board, and take specific cargo ships, offload the cargo, and vanish before the authorities can respond, the industry is slowly waking up to these threats and is looking for appropriate regulation in the matter.
"The solution has the potential to save the industry billions of dollars."
In 2015, a group of companies comprised of the Baltic and International Maritime Council (BIMCO), the International Chamber of Shipping (ICS), Intercargo, and Intertanko released a full guideline on cyber security on board ships.
The IMO also addressed the risks and vulnerabilities during its 96th session in May last year.
The 96th Maritime Safety Committee (MSC 96) meeting discussed proposed amendments to the International Ship and Port Facility Security (ISPS) Code, which prescribes all responsibilities to governments, shipping companies, shipboard personnel, and ports to "detect security threats and take preventative measures against security incidents."
Although a permanent amendment is yet to be made to the code, IMO published a set of interim guidelines to be used while the industry continues to get to grips with the active threats in cyber-piracy and theft.