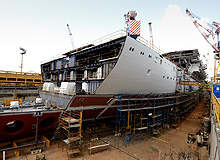 The relationship between ports and busy urban centres is often characterised by an equal mix of tension over land use, pollution and disruptive noise levels, as well as mutually beneficial ties in the form of employment opportunities, transport connections, tourism and of course, trade.
Today, most European ports are located in, or in close proximity to urban areas. ESPO's Trends in EU Ports Governance 2016 report highlighted that "finding the optimal balance between port operations, and city developments and well-being is one of the main challenges of port managers today."
The European Commission believes that a port's economic function can only be sustained if its societal function plays a central part in its long-term development. Sea ports also play a crucial role in the European Union's wider TEN-T initiative, which aims to integrate urban areas and bring them closer via increased connectivity across the continent.
In 2009 the ESPO Award was established as a way to celebrate and promote innovative projects of port authorities that improve societal integration of ports. The Award became thematic in 2011, and has since explored areas such as creative communication, nature in ports, engagement with local schools and universities and heritage.
This year's edition focuses on the Art and Cultural involvement of the port and will go to "the port that succeeds best in societal integration of the port with the city or wider community in which it is located, through involvement in art or culture," according to ESPO. The winner will be announced during a November ceremony in Brussels.
A look at past winners shows the many ways in which a port can maximise its beneficial impact on the city it serves.
Protecting valuable ecosystems
Last year, bremenports in Germany won the "Nature in Ports" award for its Luneplate project, which was praised as an "excellent example of an integrated approach combining economy and ecology".
The port was the first one to implement large and varied tidal habitats behind the main dyke in connection with a special flood barrage, thus protecting the UNESCO World Heritage Area "Wadden Sea".
A lesson in how to make a difference
The port often serves as a springboard for jobs, training and apprenticeships, as the Port of Dublin proved in 2015 with its Communities Educational Support Programme, which helped increase employment options for those in disadvantaged backgrounds.
The programme focused particularly on communities that provided the port with generations of workers in the past and laid out multiple avenues, including the introduction of technology in schools, a scholarship programme and promoting sports as an alternative to anti-social activity.
Innovative recycling
Another environmentally-conscious initiative won the Port of Koper in Slovenia the 2014 award. Koper triumphed with its No Waste, Just Resources project, which found ways to reuse and reprocess waste into environment-friendly materials.
Innovations included the introduction of a heating system that uses recycled wood, the operation of a waste separation centre and composting plant, as well as reusing marine silt as a construction material.
A hub of culture
A port's impact can also extend into the area's history and culture, as Belgium's Antwerp proved in 2013 when it won the accolade for a host of restauration projects that preserve and revive some of its rich history since its origin in the 19th century as a military base for Napoleon Bonaparte.
With the help of volunteers, the port restored its old docks and quays, founded a museum, refurbished a historic bridge to its initial state and made some of its old buildings available for artists' collectives and a writers' society.