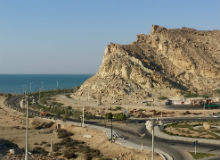 The Chabahar agreement has been called historic, a milestone and, in the words of Iran's President Hassan Rouhani, "a very big symbol of cooperation between the two great countries". Plenty of grand rhetoric then, but what does it actually mean for maritime trade in the region?
Located in south-eastern Iran, Chabahar is the only Iranian port with direct access to the ocean. India now plans to invest $500m (£344m), opening up a trade route to Afghanistan and Central Asia, but crucially bypassing Pakistan.
Sumitha Narayanan Kutty, associate research fellow with the South Asia Programme at the Rajaratnam School of International Studies, believes that first and foremost it elevates the India-Iran relationship to a new level. "This is a cornerstone project," she says, "and will expand India's strategic partnership with Iran beyond a buyer-seller relationship.
"It adds actual substance to a relationship that has, thus far, been oversold through its 'historic, cultural and civilizational' tags."
Bookending this new relationship is a contract for an initial ten years, although The Economic Times reports this can be extended. The next 18 months will focus on phase one of port construction. Early days indeed, but Chabahar has long been deemed to be a strategic game changer, despite difficulty in getting it off the ground: it was first floated in the early 2000s, but got mired in arguments of politics and finance, not to mention sanctions on Iran, which have been scaled back significantly in recent months.
Why Chabahar? Creating new trade links
In an article analysing the project, The Economic Times described how India's enthusiasm for Chabahar is unmatched. Why? Put simply, the port will allow India to bypass Pakistan when trading with Afghanistan. At present India is not able to transport through the Pakistan mainland. That obviously has ramifications for trade, but also the political climate in the region.
Kutty, who has visited Chabahar in a personal capacity, believes there's "huge potential". "For India, this [Chabahar] would be the sole maritime route to access Afghanistan and Central Asian countries given that land access is a no-go via Pakistan," she explains.
"[It means] a great reduction in journey length and costs, too. The reverse also applies since these countries can now expand trade interactions with India. Within the Persian Gulf, Oman has shown definite interest in expanding trade opportunities with Chabahar Port."
"Chabahar is a cornerstone project."
Equally important are the benefits for Iran, continues Kutty. Chabahar, as the country's first deep-water port, rectifies a "key weakness", she says. It also has greater capacity than the port of Bandar Abbas, located in the Hormozgan Province on the southern coast.
Dhruva Jaishankar, fellow for foreign policy at Brookings India, agrees with Kutty, reasoning that a trilateral agreement involving India, Iran and Afghanistan is politically significant, coming as it does with an "explicit leadership commitment to advance connectivity via Chabahar".
He adds: "The India-Iran relationship has long been characterised more by good optics than actual good relations.
"The second is the potential – and there are still many hurdles – to connect India to Afghanistan and Central Asia via Iran, providing those states with access to the Indian Ocean."
Jaishankar does not subscribe to the view that Chabahar is India's way of hurting Pakistan; rather "India doesn't have much choice" but to back the development. "Pakistan has made it clear that India cannot benefit from trade via Pakistan," he says. "This is unfortunate. I don't think it is meant to harm Pakistan in any way, [it] just provides an alternative."
China, Pakistan and Gwadar Port
The Pakistani view is mixed. In May, two former defence secretaries claimed the Chabahar pact – and the alliance it is seeking to create – was a security threat to Pakistan. But Pakistan's adviser on foreign affairs, Sartaj Aziz, has countered that, stating that Chabahar should not been seen as a rival.
Iran has also baulked at the suggestion that the project is designed to harm Pakistan, saying that Chabahar should not be viewed as anything other than cooperation between two friendly countries.
But what about China? "For Narendra Modi [India's Prime Minister], [the project is] important for countering the China-Pakistan Economic Corridor (CPEC), about which India has grave concerns and believes it will not benefit from," explains Jaishankar.
This corridor is intended to deepen and broaden economic and trade links, and includes a raft of different projects, one of which is Gwadar Port, a deep-sea port on the Arabian Sea. It is expected to be fully operational by the end of the year and some have contended that investment in Chabahar is India's way of pushing back against Chinese dominance.
Not so for Kutty: "I'm really not on board with this whole 'India competing with China' angle," she says. "It is ultimately Iran's prerogative as to who uses Chabahar's facilities. Even if India operates it, will it be able to decide unilaterally that China cannot trade via Chabahar, especially when the latter's strategic and economic footprint in Iran is massive in comparison?"
It would be naïve to assume, therefore, that New Delhi would have exclusivity in Chabahar, Kutty adds.
A Hellenic Shipping News report also claims that China does not see the trade agreement as a rival to the CPEC and Gwadar. In fact, The Times of India reports that China has expressed an interest in investing in Chabahar. Jaishankar also dismisses any talk of negative consequences.
"It will not have significant implications for China, except to provide healthy competition for its own infrastructure initiatives," he claims. "Indeed, it could theoretically benefit from greater regional interconnectivity."
Development: a 'wait and see' approach
Leaving regional relationships to one side, the focus now turns to putting the agreement into practice; in effect making up for lost time. In June it was revealed that Indian steel companies are to export $150m worth of rails, as part of the railway development at Chabahar.
The contract has a grace period of two years, reports The Economic Times of India, but as of year three there could be up to 30,000 twenty-foot equivalent units (TEUs) of cargo at the port.
"Chabahar will open up a trade route to Afghanistan and Central Asia."
"The relevant ministers have finally endorsed the commercial contract for the first phase," says Kutty, with two companies – Indian Ports Global and Iran's Arya Bandar – now taking a more active role.
A word of warning, though, from Kutty: "India's track record on implementation of projects isn't the best – we need to adopt a wait and watch approach here. The difference in this particular case is that there is combination of strong pressure from the Iranian side to deliver and great personal interest on the part of Modi."
Politics is often dominated by short-term thinking, so could changes at government level – or the reintroduction of sanctions on Iran – halt progress? "Possibly," admits Jaishankar. "But another way of looking at developments is that if Iran is more invested in the regional and global economy, it may be less reluctant to violate the terms of the nuclear agreement and restart its uranium enrichment." Kutty also expects changes in the "political appetite for the project" to be minimal at best.
Jaishankar's view is that pragmatism will triumph over ideology. "There are tangible material benefits – both commercial and strategic – for Iran, India, and Afghanistan, so there are clear incentives to see things through."