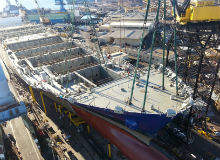 The Marlin class vessels, built by the General Dynamics NASSCO shipyard, are breaking new ground. By using LNG, TOTE hopes to produce the greenest ships of their kind. However, it's not all plain sailing.
The first vessel, Isla Bella, was christened in San Diego, US, in April and will enter service between Jacksonville, Florida and San Juan, Puerto Rico, later this year. The second will also be launched this year but will enter service in early 2016.
"This [has been] a long time in planning. It's not something where we've woken up and thought 'hey, let's do this'," says Peter Keller, executive vice president at TOTE.
"Our programme includes the re-engineering of our ships as well as the new builds – the so-called Marlin class – for our business in Puerto Rico."
As Keller notes, TOTE's use of LNG is not restricted to purely new builds, but also includes a conversion programme that will start in December. Existing fleets, such as the Orca class vessels that operate in the Alaska area of trade, will also run on natural gas.
All about the environment
The reason behind TOTE's decision – which was put into action about six years ago – is an increasing awareness of the sector's role in reducing emissions.
Back in 2009, the Guardian reported that "one giant container ship can emit almost the same amount of cancer and asthma-causing chemicals as 50 million cars".
According to the World Shipping Council, international maritime shipping was responsible for approximately 2.1% of global greenhouse gas emissions in 2012. From this figure, container ships accounted for 25%.
The International Marpol Annex VI maritime standards, introduced in 2005, have also attempted to reduce sulfur dioxide and nitrogen oxide emissions.
As of next year, these restrictions are expected to be tightened within designated emission control areas (ECAs), which incorporate waters surrounding North America.
---
---
Maersk Line plans to reduce CO2 emissions by 60% by 2020 using a combination of smart sailing and technical vessel upgrades.
---
"One of the things, and certainly it is true in Europe and North America, [is that] people and corporations are becoming much more environmentally conscious," says Keller. "It's an environmental issue for us, more than anything.
"Things that were acceptable 20 years ago are no longer acceptable today. Taking a leadership role in maritime environmental issues, as we are doing, is good for our business, our customers, and the people we openly serve, [such as] those in Puerto Rico and Alaska."
As Keller explains, a greater understanding of the environmental impact of shipping is at the core of the concept. But, just how will LNG help solve some of these issues?
According to Keller, the Marlin vessels have a "97% SOx (sufulr) reduction, 98% particulate matter (PM) reduction, 72% reduction in CO2 and a 60% reduction in NOx (nitrogen oxides)".
"That's pretty phenomenal," he adds.
Looking at the air pollution produced from ships, James Corbett , associate professor at the College of Earth, Ocean and Environment at the University of Delaware – who studied ways to reduce emissions on the Puerto Rico trade route nearly 15 years ago, before LNG was on the table for maritime transport – believes those operating in the North American ECA can use LNG to meet emission limits.
Other options include a change in petroleum fuel to meet sulfur requirements and in-engine or after treatments to achieve NOx and PM reductions, adds Corbett.
However, Keller says: "It became an exercise of looking for a compliant fuel long term. Or, do we go with scrubbers? [They] are applicable in certain cases, but what do you do with the material that comes out of the scrubbers? The only fuel that's available, or potentially is available, that would meet those challenges is LNG."
Supply chain headaches
Despite the stated reduction in emissions and usefulness of LNG, one area of concern is the supply chain, which Keller describes as a "real challenge". Currently many ports do not have the necessary infrastructure for pumping LNG fuel into ships, although there are plans in place to change this.
Royal Dutch Shell announced in July that it will be supplying LNG to Saudi Basic Industries Corporation-chartered vessels in the UK via a temporary LNG bunkering facility, while TOTE has a partnership with Peuget Sound Energy to build LNG fuelling facilities in Tacoma to get fuel into Alaskan ships. AGL RESOURCES , meanwhile, is building a liquefaction plant in Jacksonville for TOTE's Puerto Rico ships.
Singapore has launched a request for proposal for a LNG bunker fuel supply licence, with successful applicants expected to start LNG bunkering in 2017. Furthermore, South Korea intends to construct LNG bunkering terminals at some of its ports, with the country's energy ministry claiming that the market for LNG-powered ships could climb to $130bn in a decade.
"Building the ship is one thing. Converting the ship is one thing. But getting the LNG and delivering it to the vessel is a challenge."
"Building the ship is one thing. Converting the ship is one thing. But getting the LNG and delivering it to the vessel is a challenge," adds Keller. "You can a build a ship faster than you can build a liquefaction facility, [therefore], we had to develop interim supply capabilities. The [liquefaction] plant will not be commissioned until late 2016, early 2017. So, for a period of about 15 months we're going to be trucking LNG to Jacksonville and pumping it on to the ship."
This interim process includes truck to barge, barge to ship, truck to ship, and eventually a cryogenic pipeline directly to the ships. All of this results in TOTE being the "beta test" for using LNG in larger ships, says Keller.
Corbett believes the supply chain will need to be "state of the art" to "minimise leakage at the sources, along pipelines, at processing and storage facilities, [as well as] during bunkering and during engine combustion".
"The exciting prospect is that we are at the beginning of a multi-decade fuel transition, not unlike 100 years ago when the maritime sector was transitioning from coal to oil, from steam to diesel propulsion, and from multi-fuelled vessels to unifuel fleets using residual fuel," he explains.
The LNG era?
Even with the current issues around the supply chain, other container ship owners are also moving to LNG.
Crowley, which also operates in Puerto Rico, is building two LNG-powered combination container ships, known as the Commitment class, Jones Act ships. They are expected to be complete in 2017.
In November last year, the United Arab Shipping Company named its LNG-ready, ultra-large container ship as MV Sajir, which is part of a new build programme for 17 eco-efficient vessels.
"[Like] many things in many industries, when there are changes and innovations, a lot of people wait to see what will happen," Keller says. "Once it actually happens and you can see it, feel it and touch it, then there's more of a surge. I think you will see that here [with LNG]."
Looking ahead, Keller believes that those operating in the ECA more than 40% to 50% of the time will have to seriously consider LNG technology.
---
---
Propelled by a mix of wind and LNG, the Vindskip is a new vessel concept already making waves across the shipping industry.
---
However, Corbett, while still optimistic on its future, does sound a note of caution.
"Given the variety of operating conditions and routes among diverse ship designs and markets for goods movement, natural gas is an important option for maritime applications," he argues. "But it may not be 'the solution to green shipping efforts' – not least because green shipping efforts will extend beyond air emissions to include invasive species, underwater noise and other environmental stewardship dimensions."
He also highlights the issue of the availability and cost of fuelling ships with LNG, as well as the rate of fleet modernisation, as factors to consider.
Whatever the future holds for LNG, Keller has a sage piece of advice for those considering its suitability.
"You can't just put your foot in the water and say 'maybe we'll try this'. You have to be all in," he concludes.