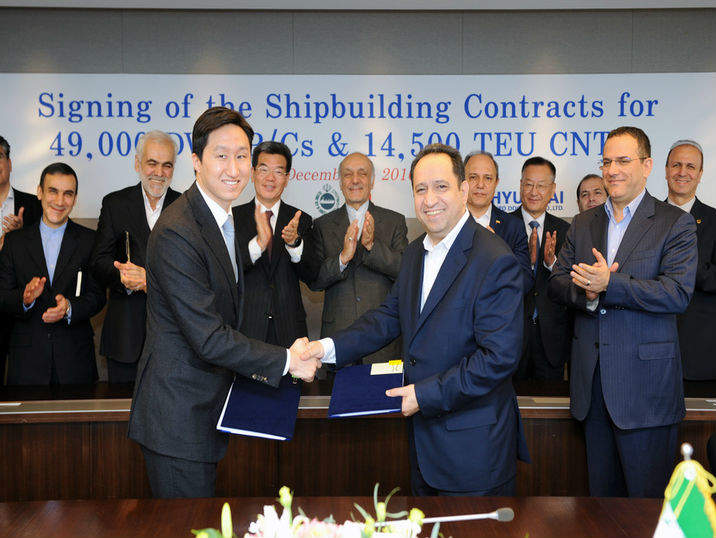 Last week, the Stena Line ropax ferry Trelleborg, now named Sunny, completed a 12-hour overnight trip between the islands of Qeshm and Kis. Such a short journey would not normally command headlines, but this one did; Sunny, which was built in 1982 and can carry 1,600 passengers and 200 vehicles, now has the distinction of being Iran's first cruise ship since the 1979 Islamic Revolution.
"We hope that the first cruise journey between Kish and Qeshm leads to a boost in tourism for these islands, increasing passengers," Pejman Bahrami, director in charge of port affairs of the Qesh Free Trade Zone, told Agence France-Presse.
Initial reports suggest that the vessel will be used primarily between the islands, but there are possibilities that its itinerary could be expanded to include other islands in the region and foreign ports in the Persian Gulf. Ali Asghar Mounesan, chief executive of the Kish Free Zone Organisation, was also quoted by the IRNA as saying: "The cruise will operate a route to Dubai as well."
From a maritime perspective, this maiden voyage is indicative of efforts to bring a sense of normality back to Iran, following years of pariah status and economic sanctions.
A post-sanctions maritime drive
Since the lifting of a portion of those sanctions, Iran has looked to international shipping companies to grow its maritime sector. In January 2016, the Mediterranean Shipping Company returned to the country after a six-year absence. This was quickly followed by news that CMA CGM and the Islamic Republic of Iran Shipping Lines (IRISL), Iran's state shipping carrier, were to share vessel capacity, and jointly operate routes and container terminals.
"The progressive lifting of sanctions should bring strong growth in trade between Iran and the rest of the world. This agreement opens new opportunities for CMA CGM to expand in this region," CMA CGM said in a statement at the time. IRISL chairman Mohammed Saeidi, called it "a new situation" with the West – "we have to develop and increase our facilities and ships", he added.
Then, in December, Daewoo Shipbuilding & Marine Engineering (DSME) signed an agreement with the Industrial Development and Renovation Organization of Iran, concerning the sharing of shipbuilding technology.
More recently, IRISL signed a memorandum of understanding with two Japanese logistic and port service companies, while IRISL has also secured a $650m deal with Hyundai Heavy Industries for ten ships – a mix of 14,500 TEU container ships and 49,000 DWT product/chemical tankers. Deliveries are expected to start next year. According to the shipping database Alphaliner, IRISL is now the 21st largest carrier in the world.
"We have to develop and increase our facilities and ships."
In terms of trade, in 2015 Mehdi Rastegary, head of research and development at Sina Ports & Marine Services, a terminal operator in Bandar Abbas, told of his view that "within the coming five years, Iran can expect to expand its [container] throughput to around 8 million 20-foot-equivalent units per annum, equating to 25% growth on an annual basis".
The Chabahar Port Project, a huge undertaking by Iran and India to open a trade route to Afghanistan and Central Asia, has also been hailed as game-changer. Associate research fellow at the Rajaratnam School of International Studies, Sumitha Narayanan Kutty, said on these pages last year: "This is a cornerstone project. There are tangible material benefits – both commercial and strategic – for Iran, India, and Afghanistan."
As well as this, earlier this month Iranian President Hassan Rouhani visited Amirabad Port to launch a number of development projects, designed to increase port capacity and improve rail connectivity.
It's really only a snapshot of what Iran is trying to achieve, but nevertheless it does showcase the potential of the country's shipping sector in a post-sanctions era.