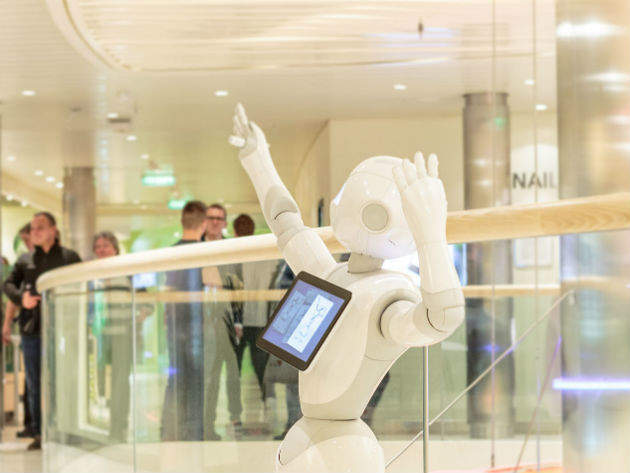 From high-tech wearables to on-board robots and far-flung destinations, cruise companies are transforming the world of travel as we know it. With the future of cruise set to offer the very latest in technology, lifestyle choices and style concepts, here are some of the most significant developments to impact the industry over the coming year.
High-tech bracelets – MSC for Me
In March 2017 MSC Cruises announced its "MSC for Me" concept, part of a €9bn, ten-year investment plan to be rolled out across its twelve-strong fleet, as well as eleven upcoming "mega ships". Described as a "customer-centric technology", interactive bracelets allow passengers to access services via a network of more than 3,000 Bluetooth beacons.
With more and more cruise travellers wishing to customise their experience, over 130 smart features will be offered, including digital wayfinding, a 24/7 concierge service and tailor-made experience recommendations.
Having partnered with Deloitte Digital, Hewlett Packard Enterprise and Samsung, Luca Pronzati, MSC Cruises' chief business innovation officer has compared the future fleet to "smart, connected cities" with the "added complexity of being at sea" and believes that the MSC for Me concept will lead to the ships becoming a "holiday destination in their own right."
MSC for Me debuts on the MSC Meraviglia in June 2017, which will be fitted with 16,000 points of connectivity, 700 digital access points, 358 informative and interactive screens, and 2,244 cabins with RFID/NFC access technology.
"The growth of wearable technology on cruises will streamline elements of the trip and is a significant development in facilitating personalisation at sea."
Adam Coulter, UK managing editor of Cruise Critic, believes that the growth of wearable technology on cruises will streamline elements of the trip and is a significant development in facilitating personalisation at sea.
"While the smaller cruise ships are renowned for offering a tailored and personalised experience to passengers, it's typically been more of a challenge for larger ships to offer this level of personalisation," says Coulter.
"However, wearable technology solutions, which enable cruise lines to obtain information about their passengers' personal preferences, such as dietary restrictions and restaurant preferences, mean that cruise lines can better deliver a holiday to suit individual travel styles."
A new level of personalisation – the Ocean Medallion
Following two years of development with partners including Accenture, Nytech and Xevo, Carnival Cruises will introduce its highly anticipated Ocean Medallion on board the Regal Princess in November 2017, and then the Royal Princess, Caribbean Princess and Island Princess in 2018.
The wearable device contains two microscopic antennas – one using Near-field communication (NFC) and one using Bluetooth low energy (BLE) – which communicate with thousands of readers and sensors.
This allows the Medallion to pair with a digital concierge service called the Ocean Compass through which guests can, for example, place dining orders to be delivered to their location. It also replaces the key card, simplifies embarkation and disembarkation, helps passengers find their way round the ship and improves staff-to-passenger support. The Medallion will also allow Carnival to provide a new level of personalised service to cruise passengers.
"Our mission is to help our guests make the most of every moment of their precious vacation time," says John Padgett, chief experience and innovation officer at Carnival Corporation. "We are doing that by delivering a level of service and personalisation that has never before been considered possible, especially on such a large scale."
Meet the robots
Last year Costa Cruises introduced a humanoid robot called Pepper on to the Costa Diadema. Kitted out with facial features, a high-level interface and the ability to speak three languages (Italian, English and French), Pepper first launched in Tokyo in 2014.
Since then ten Pepper robots have been implemented on four of Carnival Corporation's ships: the AIDAprima, Costa Diadema, Costa Fascinosa and AIDAstella. Each is designed to provide information and create fun, engaging experiences for guests, which include dancing and games.
Whether more Peppers will be rolled out across Carnival's ships remains to be seen; for now the company says it is focusing on improving guest and crew interactions with Pepper, of which there are thousands every hour.
Aspiring to top restaurants and hotel design
Optimising the guest experience, especially capturing the attention of older millennials, is something that cruise companies are more focused on than ever. Operators are aligning their offerings more with the land-based equivalent, so many dining options are now on a par with well-heeled restaurants and offering refined cuisine with wine and food pairings.
Cruise Critic asserted in its recent trends observations that some are moving away from traditional cruise ship decor towards that of the hotel industry. "Nowhere is this more obvious than the cruise line formerly known as Virgin Cruises, which rebranded last year to Virgin Voyages," the report explains. Working towards a 2020 debut, ten companies have united to create what President and CEO Tom McAlpin says will be "a different perspective to space design at sea that will change cruising for good".
"We've created something that will be unique in the cruise industry."
A design development that defines the deliberate move away from traditional cruise accommodation is Celebrity's partnership with Kelly Hoppen, which has seen the British interior designer transform the staterooms on Celebrity Edge. These plush-looking interiors combine luxurious fabrics with clean lines and light natural colours to create a "subtle fusion of East meets West".
"We've created something that will be unique in the cruise industry," says Kelly Hoppen in a recent film about Celebrity Cruises' Edge-class cabin design, explaining that the design concept was to create a luxury home on a cruise ship.
Personalised well-being experiences
Cruises are getting fitter too. To meet growing demand from travellers, MSC Cruises has launched a personal wellness programme with Technogym. Each enrolled guest has an entirely personalised cruise experience, which is customised with shore excursions, gym classes and healthy food options that are specific to their needs.
"The global wellness travel segment is projected to grow by nearly 10% annually over the next five years, as consumers are increasingly seeking out ways to combine being active and healthy with their vacation," says Gianni Onorato, chief executive officer of MSC Cruises.
MSC Divina will also be launching the first Weight Watchers cruise in the Caribbean; and Seaborn is introducing a fleet-wide mindful living programme with American celebrity Dr Andrew Weil, which encompasses physical, social and spiritual well-being. The new programme will be the first of its kind at sea.
Choose your own adventure
According to Cruise Critic, the expedition itineraries are booming and, whether guests prefer luxurious or more basic ships, or hot and cold climates, there is more choice than ever before.
"Travelling by ship can be the best mode of transport to reach some of the more intimate and adventurous destinations, such as Antarctica, Myanmar, and the Arctic – and cruise lines are using this fact to tap into new audiences, such as the mainstream expedition travel market, and even the luxury cruise market," says Coulter.
Cruise Critic reports that there are at least ten new expedition cruise ships that will have entered the market by the end of 2019, with even more to follow. Some are traditional members of the expedition group, such as Hurtigruten, which offers activities like husky sledding and snorkelling in Antarctica. Others cruise companies are also venturing into this area for the first time, such as Crystal Cruises, which sees the luxurious Crystal Serenity sailing from Anchorage to New York for the second time in 2017.
Alaska is getting hotter
One of the most in-demand destinations at the moment for cruise travel is Alaska, with CLIA Alaska estimating that the cruise industry will have a record-breaking 2017 by welcoming 1.06 million cruise passengers.
This year Holland America Line is adding its seventh Alaska-serving ship, MS Oosterdam, and partnering with Oprah Winfrey's O, The Oprah Magazine to offer a seven-day cruise on MS Eurodam. Demand is so great that after 15 years away the Seabourn Sojourn returns to Alaska in 2017 with eleven and 14-day cruises.
Royal Caribbean has also just introduced ten cruise tour options to UK passengers as part of its 2018 Alaska programme. Guests can get up close to Alaskan wildlife, visit ancient landmarks, take guided nature tours and spend a morning white water rafting on the ten-night "cruise tour" on Radiance of the Seas.
As the number of luxurious liners serving far-flung destinations such as the Arctic grows, Coulter believes that it will open up adventurous cruising to a wider market.
"This is fantastic news for travellers, and means that those who love to explore and experience adventure, but may previously not have considered a cruise, may be more likely to do so," he says.