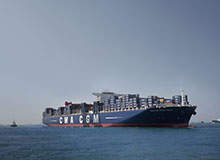 Land Rover BAR lead.jpg" />
Land Rover Ben Ainslie Racing (BAR) was launched in June 2014 with one simple goal: to end Britain's 166-year wait for glory in the America's Cup – the oldest trophy in international sport, dating back to 1851.
Backed by Sir Ben Ainslie, the most successful sailor in Olympic history and himself a winner of the America's Cup in 2013 with the Oracle Team USA, this ambition will soon be put to the test, with the 2017 qualifiers starting on 26 May, before the main event takes place in June in Bermuda.
"What we're trying to showcase through the team is this best of British in design, technology and sailing," Ainslie told reporters in April.
"The history of the cup, it's the last big sporting trophy that Britain has never won. We have a very proud sporting heritage and maritime heritage so it means a lot to us. That is a huge motivation to put that right."
Land Rover BAR will be one of six teams competing, but as a new entrant– albeit one with the experience of Ainslie on board – the challenge of designing, testing and building a potentially winning catamaran should not be underestimated.
Of course, hopes are high that the cup will return to British waters, but as Ainslie explained in March: "It is a really big challenge on all fronts. We have established a new team from scratch. We have the right philosophy and the right design tools and we are catching up with existing teams; yet we are operating under tremendous time pressure. That's the toughest aspect."
The BAR team turned to Siemens , in particular the company's product lifecycle management software, to support the process. The result is the Land Rover BAR R1, also known as 'Rita'. Here Robin Hancock, CEO at Siemens Industry Software , and Andy Claughton, CTO at Land Rover BAR, explain how they used the latest in digital techniques to design the R1.
Gary Peters: Is this Siemens' first foray into the world of ship design?
Robin Hancock: No, we are involved in a variety of military, commercial and recreational marine design and manufacturing around the world. This covers everything from aircraft carriers and submarines through to super yachts and dredgers. Since 2014, Siemens product lifecycle management (PLM) software has formed the digital backbone for the Land Rover BAR design team. PLM ensures that the configuration change cycle is as fast and controlled as possible.
GP: How ambitious was this project?
RH: Extremely ambitious in terms of starting from scratch to design and make new designs and concepts, made from cutting edge materials and all delivered in relatively short timescales and within constraints as defined by the competition [America's Cup] rules.
GP: What were the challenges and how did you overcome them?
RH: Many and varied. The engineering design challenges included balancing performance, weight and strength, but the standout challenge was to build a boat optimised for both aerodynamic and hydrodynamic performance. Siemens' Simcenter and Star CCM products were considered capable of modelling in both dimensions simultaneously.
GP: What is the current status of the catamaran?
RH: The race boat is complete, albeit final iterations will continue until the last possible moment.
Andy Claughton: The design challenges of the new hydrofoiling [a lifting surface, or foil, that operates in water] catamarans are now much more similar to those of an aircraft. Every component must be shaped for minimum drag, while still reliably withstanding the sailing loads.
The control systems are complex and must operate reliably. Sailing yachts used to be an area where you could be quite adventurous with reducing safety factors, but now the risks of structural failure are life threatening so the highest standards of analysis are demanded.
GP: Can you talk me through the technology involved, and how this pushed the project onto the next level?
RH: Engineering breakthroughs come when thousands of digital options can be considered, simulated and optimised, before the most promising of these are manufactured and tested.
For instance, computational fluid dynamics techniques are used to establish the best hull and foil shapes to improve lift and speed. These are then optimised through electronic simulation to ensure performance in different conditions, given the weight and strength constraints. Finally the prototypes are made and tested. The more iterations of this cycle that are possible within budget and time allowed, the better the outcome.
GP: How is this race boat different to others that have competed in the America's Cup?
AC: Until the end of the 32nd America's Cup in 2007, everyone would recognise the racing yachts as 'yachts'; a single hull, a ballast keel and conventional triangular sails. There was no obvious difference between them and the boats that amateur sailors raced.
The new America's Cup Class boats are now the fastest and most complex racing yachts ever seen – a catamaran riding on actively controlled hydrofoils with solid wing sails, and capable of racing at speeds of over 60km/hr. They require a much more diverse tool set to design, which is akin to aerospace design.
GP: How advanced are the simulations used to test the catamaran?
RH: About as advanced as is possible when you consider both air and water flows are involved simultaneously, as well as the variety of conditions given the vagaries of wind, waves and current.
GP: Is digital modelling the future of vessel design?
RH: In this case it is the present and future, as physically testing the R1 in a wave tank is impractical as she is too big and operates at too many different angles and combinations of wave and wind conditions.
So, being able to iterate and improve designs virtually, and to do that many times over, is the only way the team can achieve optimal design in a cost-effective and practical way.
GP: But, how important is it to retain that physical testing of new vessels, alongside the digital aspect?
RH: Physical testing will always be required, but digital techniques ensure it can be minimised and completed earlier in the cycle than otherwise possible.