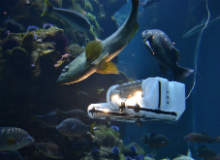 The use of robotics in key areas such as infrastructure development, data gathering, construction and exploration is currently a hot topic at the forefront of many fields.
On 14 March, leading experts from the aerospace, automotive, medical, academic and marine industries gathered at the Royal Institution in London for the Catch the Next Wave conference, where they explored the latest technological advances from their fields, as well as sharing their vision for 2020.
A clear tendency towards automation and use of unmanned vehicles surfaced from the discussions, as robotics take an increasingly prevalent role in helping to navigate, explore, map and ultimately understand our world's oceans.
The Edinburgh Centre for Robotics estimates that by 2025, advanced robotic and autonomous systems could have a worldwide economic impact of $1.7tn to $4.5tn annually, with an emerging market value of €15.5bn.
Ushering in a new era of ocean exploration
When it comes to the world's oceans, just 5% have so far been explored and mapped. Physical and technological barriers, as well as a lack of research and funding have until now stalled advancement in this field.
The XPRIZE Ocean Initiative, profiled as part of the conference, is setting out to break these barriers. Launched in December 2015, the $7m Shell Ocean Discovery XPRIZE is a global competition challenging teams to advance deep-sea technologies for autonomous, fast and high-resolution ocean exploration.
"Teams (will) create an array of underwater technologies, launch them from shore or air with limited human intervention and submerge them between 2,000m and 4,000m underwate."
The three-year contest, set to end in 2018, will see teams create an array of underwater technologies, launch them from shore or air with limited human intervention and submerge them between 2,000m and 4,000m underwater to fully explore and map the ocean floor.
Today's advanced vessels carrying out such operations can cost up to $60,000 per day and require a capital investment of up to $1m, which limits access to specific industries. Furthermore, existing technologies cannot operate on a large enough scale without compromising on resolution, power and weight of sensors mapping out the seabed.
As part of the competition, a bonus $1m prize from the National Oceanographic and Atmospheric Administration will encourage teams to develop technologies to detect the source of chemical and biological signals underwater.
Accessible drones and robotic reasoning
In a Kickstarter project launched in September 2015, Berkeley robotics company OpenROV introduced Trident, an underwater consumer drone, as part of "an ongoing mission to democratize ocean exploration," according a press release.
Back in 2012, OpenROV co-founders Eric Stackpole and David Lang set out to create a device that would find gold lost in an underwater cave, when they discovered a "burgeoning trend" of citizen underwater exploration.
Following the success of their first Kickstarter campaign, which led to the shipment of 1,700 OpenROVs to more than 32 countries around the world, their new underwater drone raised more than half a million dollars within days, more than ten times the company's initial target.
Trident weighs less than 3kg, reaches depths of 100m and is small enough to fit in a backpack or underneath an airplane seat. The drone's creators see multiple applications in marine biology projects, dive site surveys, boat inspections, and underwater exploration.
At the Catch the Next Wave conference, speakers explored the goal of giving such devices almost complete autonomy – and research certainly sides with this trend. A paper in robotic reasoning, co-authored by Mark Moline, director of the School of Marine Science and Policy at the University of Delaware, demonstrated that autonomous underwater vehicles can be pre-programmed to make independent decisions.
This finding, coupled with the rapid technological advancement springing up from both independent creators and multi-million dollar endeavours, is certainly poised to bring exciting discoveries to the surface.
Speaking at a TEDx talk earlier this year, Stackpole said: "I like to picture a world where hundreds of thousands of people have access to these kinds of tools for exploration. What happens when you put this kind of ability to explore the world in the hands of everybody?"