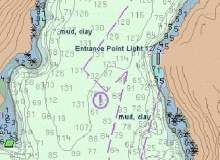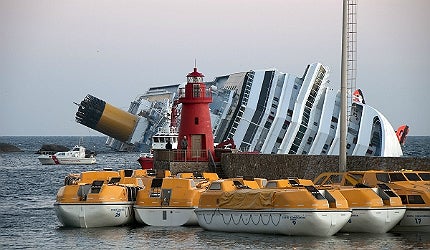 The irresistible march of wireless and communication technologies during the last few decades has brought innumerable advances to the marine and shipping industries. Advances to navigation technologies, onboard emergency systems and other equipment has made the sea a much safer place to be than it was in the era of RMS Titanic's catastrophic collision just more than 100 years ago.
"ECDIS provides an integrated package for planning, plotting and monitoring routes using ENCs."
But the deadly wreck of the Costa Concordia at the beginning of this year proved a potent reminder that, despite the sophistication of modern maritime technology, the sea is not a force to be trifled with. While the disaster off the Italian coast is certainly the most high-profile shipwreck in recent memory, it is hardly an isolated incident. Lloyd's List has calculated that 211 large ships were involved in serious and life-threatening incidents after running aground or becoming stranded in 2010.
One technology that has the potential to make a huge difference to maritime safety is the Electronic Chart Display and Information System (ECDIS), a digital navigation system that replaces paper-based nautical charting processes by overlaying positioning information from global positioning system (GPS), radar and automatic identification systems (AIS) on to electronic navigational charts (ENCs).
A 2008 technical report by Rolf Skjong of Norwegian risk management organisation Det Norske Veritas (DNV) judged that full implementation of ECDIS should reduce the incidence of grounding by between 19 and 38%.
ECDIS: a mandatory requirement
Although ECDIS is not a brand new invention, its impact on safety at sea has been limited by a relatively slow uptake from the typically conservative commercial shipping industry. However, a 2009 ruling by the International Maritime Organisation (IMO) has forced the industry's hand, as the technology is to be made a requirement under the organisation's International Convention for the Safety of Life at Sea (SOLAS), a treaty that has been updating safety requirements for merchant ships through multiple amendments since 1914.
"A lack of global coverage of ENC data has been a major stumbling block for ECDIS uptake."
ECDIS is now mandatory for all ships being built from the middle of 2012, and existing ships are expected to upgrade on a rolling basis, based on tonnage and classification, with all commercial vessels expected to be ECDIS-capable in 2018.
As Malcolm Instone, director of operations and standards at ECDIS consultancy and training provider ECDIS Ltd., put it in a 2011 article: "The comfort blanket of the much loved and respected paper chart is fast disappearing and being replaced by a digital equivalent."
The on-paper safety advantages of ECDIS are clear. The system provides an integrated package for planning, plotting and monitoring routes using ENCs (which, unlike paper charts, can be regularly updated in real-time), and pools navigational information in one place, including radar image overlay, AIS and Navigational Telex.
Proponents of the technology note that this convenient concentration of information allows operators more time to get their visual bearings, and provides more accurate data on the location of threats in dangerous conditions and circumstances.
ECDIS implementation: why has it taken so long?
"More than 210 large ships were involved in serious and life-threatening incidents after running aground or becoming stranded in 2010."
The delay in making ECDIS a standard component of commercial vessels is not only down to the technological conservatism of the industry. Other justified concerns about technological, financial and personnel-related obstacles have made ECDIS a potentially risky investment up until relatively recently. Financially, the move from paper-based navigation to ECDIS requires a high degree of certainty because of the redundancy which is required for safe computer-based positioning, meaning that double or triple systems are generally a necessity.
The development of ECDIS is intimately tied into the expansion of electronic navigational chart coverage, as this ENC data provides the foundation for all of technology's benefits. The comparative lack of global coverage of ENC data, even as recently as 2006, has been a major stumbling block for ECDIS uptake, as vessel operators have often decided to delay fully investing in the upgrade because of the complication of having to simultaneously use ENC and traditional paper charts.
But evidence shows that ENC coverage rapidly expanded during the second half of last decade and up until today. DNV's 2008 report noted that "a notable increase in worldwide coverage of ENC has been observed" between 2006 and 2008. The International Hydrographic Bureau stated that ENC coverage in the coastal, approach, harbour and berthing usage bands increased by more than 30% in that time, with 88% of the 800 largest global ports covered adequately.
The report predicted that ENC coverage for SOLAS traffic operating within 20 nautical miles of the coastline would increase to between 88 and 97% by the end of 2012. "Gaps remain, but shipowners now recognize that ENCs have reached a critical mass and that ECDIS is the preferred alternative to paper or raster charts," Tor Svanes, of ENC developer Jeppesen Marine, told Maritime Reporter in 2009.
Expanding ECDIS training
Of course, several well-documented maritime mishaps involving the use of ECDIS have done the technology no favours in the eyes of ship operators. These incidents tend to unearth old fears that abandoning time-honoured navigation methods in favour of GPS technologies will make bridge watch-keepers too reliant on software, over and above their own expertise.
---
Related project
---
Costa Concordia was a Concordia-Class cruise ship, owned and operated by the Carnival Corporation's subsidiary Costa Cruises.
---
Most of these incidents have not been attributed to any failure of the technology, but a lack of training among bridge personnel as to its use. Two non-fatal ECDIS-related emergencies in UK waters in 2008 illustrated the kinds of problems that can be caused by a lack of understanding about the technology.
In January 2008, P&O passenger ferry Pride of Canterbury had to be towed back to Dover when its port propeller was mangled when the vessel struck a charted sunken wreck in the English Channel. The wreck should have been accounted for on the ECDIS display, but an officer of the watch who had not received ECDIS training had not configured the system correctly, meaning the wreck was not shown.
A few months later, the cargo ship CFL Performer ran aground with six thousand tons of bauxite on the east coast of England. The Marine Accident Investigation Branch's report on this incident explained that the ship's crew were not familiar enough with ECDIS to use features that could have prevented the incident: "ECDIS was the primary means of navigation, but none of the vessel's bridge watch-keeping officers had been trained in its use. Consequently, many of the system's features which could have prevented this accident were not utilised. Similar factors have been contributory to a number of recent groundings in UK waters."
The IMO has now stated its intention to introduce mandatory ECDIS training to complement its compulsory use across commercial vessels so that incidents such as these can be minimised and eventually eliminated. In March 2012, ECDIS Ltd announced the opening of a new, advanced ECDIS training facility in Southampton, UK, marking another step forward for the transition from paper charts to GPS and ENC-based technology.
As ECDIS technology becomes more familiar to vessel operators through training and reduced costs, the fears of shipowners concerning its mandatory implementation should be laid to rest for good. Although the technology has suffered some hiccups and obstacles along the way, the next few years will likely see ECDIS fulfil its potential as the most important maritime safety development in recent memory.