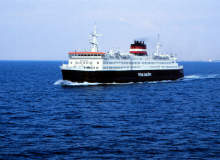 In May, the EU awarded $11m in funding towards EfficienSea2, a Danish-led maritime project which assembles 32 partners from twelve EU countries in a concerted effort to implement next-generation navigation devices. Over the next three years, the Danish Maritime Authority (DMA ) will lead the initiative, which is hoped to open up a fully automated, more efficient and user-friendly future for seafarers around the world.
The project is one of the first substantial steps towards fulfilling the vision of e-navigation, an ambitious concept first conceived ten years ago by Brian Wadsworth of the UK Department for Transport . While the e-navigation vision has been studied, analysed and discussed at length both in and outside the maritime industry, it currently only exists in its conceptual form.
Through EfficienSea2, the EU has one priority: to lift the e-navigation concept from its prototype level to real-life implementation in the Baltic Sea and Arctic waters. To achieve this, the programme will develop the Maritime Cloud, a digital communication tool that will create new – and strengthen already existent – information pathways within the maritime sector. The cloud stands as the project's innovation centrepiece, among a cohort of other efficiency-boosting services in ship monitoring and reporting.
To mark its launch, the EU member states involved with EfficienSea2 released a joint declaration of support: "There's no doubt that this project is ground-breaking and holds a high potential for innovation. This will pave the way to, and fast track to, the introduction and use of modern communication, navigation and administrative systems that better match the companies' requirements for efficiency and increased safety as well as improved usability."
But what are some of the core components of EfficienSea2 and where does the initiative fall within the long-standing e-navigation model?
E-navigation: refining the definition
At present, maritime operations rely on manual processes and fragmented data systems. As a result, human error accounts for as much as 75% of incidents and accidents at sea, according to a Norway-based testbed set up in 2014 to probe the possibilities of "building the Internet of Things at sea".
---
---
Used for centuries, maritime pilots are charged with the tricky task of manoeuvring ships through dangerous and congested passages.
---
The concept of e-navigation stems from the agreement that maritime systems are in need of a digital upgrade to bridge the gap between our current state of technological development and antiquated navigational standards of operation.
The International Maritime Organisation (IMO) provides a comprehensive, if convoluted, definition for e-navigation: "The harmonized collection, integration, exchange, presentation and analysis of marine information onboard and ashore by electronic means to enhance berth to berth navigation and related services for safety and security at sea and protection of the marine environment."
In simpler terms, e-navigation is a broad concept which aims to create a seamless, enhanced method of communication between seafarers, vessels, shipping organisations and maritime bodies.
Rolling out EfficienSea2 is possibly the closest step to achieving that vision.
The project's role is to "take e-navigation services from a prototype stage through standardisation all the way to implementation," says EfficienSea2 communication manager Bjørn Borbye Pedersen. "E-navigation will make it easier for the seafarer to get and extract the information they need for navigation and reporting."
Despite members' palpable optimism about the project's potential, the International Chamber of Shipping (ICS ) has expressed some concerns about turning e-navigation into a reality at this point in time.
ICS marine director John Murray feels that initiatives such as EfficiencySea2 resemble "solutions looking for problems".
"We're not against e-navigation as a concept, which would improve the integration and communication between equipment and systems using a digital approach," he says. "That seems to be a very sensible and practical way of reflecting where we are with the development of technology."
"E-navigation will make it easier for the seafarer to get and extract the information they need for navigation and reporting."
"But we do have some concerns with the definition that IMO has adopted for e-navigation, which is a very long, very wordy definition and that opens the possibility for different organisations perhaps interpreting it almost to be what they want. If it was a very short definition, there would be less opportunity to interpret it differently."
The Maritime Cloud: a natural progression?
One of the main pillars and indeed the revolutionary aspect of EffcienSea2 is the rollout of the Maritime Cloud, an intelligent, automated communications framework. According to a video presentation of the system, the cloud is "just like the operating system of a computer", and it represents "a unique but natural progression for the maritime industry into the digital age".
The framework is built around three main components: a maritime identity registry, a maritime service registry, and a maritime messaging service, each introducing a new digital dimension to how maritime stakeholders interact, navigate and identify themselves at sea.
"The Maritime Cloud will create a global framework for information sharing in the maritime domain," says Pedersen.
One of the most touted services of the Maritime Cloud is the vessel route exchange function, which "enables vessels to broadcast their intended route in order to increase situational awareness of other vessels in the area", according to the DMA presentation.
In February 2015, the concept of route exchange was discussed at length at the annual International e-Navigation Underway conference. This year's edition, entitled "The Implementation Phase?" speculated on the creation of a "more user-friendly form of text messaging" that would enable real-time route exchange. While its implementation was explored during past EU projects such as Monalisa and ACCSEAS, the service hasn't had any field testing so far.
---
---
BlackBerry has launched a cloud-based Internet of Things (IoT) platform aimed at the lucrative freight shipping market.
---
But route exchange is possibly Murray's primary concern: "We have yet to be convinced that it will achieve what its proponents say: that it will improve the safety of navigation," he says. "We fear quite the opposite – we fear unintended consequences that can have an adverse effect on the safety of navigation and we feel that it has not been thought through sufficiently."
"We have excellent systems in place and it's not following the system, it's not following the rule of the road that's causing accidents. An accident is not caused by not having route exchange, which is arguably another layer which could potentially add to doubt and confusion."
To mitigate risks, route exchange could be deployed as an additional, complementary tool to seafarers, rather than an essential requirement.
Full automation set for "global rollout"
Nevertheless, full integration and automation of services and communication channels is the ultimate goal, and rapid steps are being taken to achieve it. Pedersen says DMA's ambition is to have a Maritime Cloud prototype done halfway through the project, while the full system should be "ready for global rollout" in three years' time.
Speaking at the conference, president of the International Marine Pilots Association (IMPA) Simon Pelletier tackled e-navigation implementation from a practitioner's perspective. Pelletier highlighted some of the difficulties with the current integration process: "Existing technology is certainly not integrated in an optimal way and new technologies are still being developed in an uncoordinated manner," he said.
"Mariners still have to deal with equipment that is not integrated with other tools, and which provides information that does not necessarily meet their needs."
"So there are a number of questions about automation just as a holy grail in its own right, such as how the human reacts to automated systems."
Murray echoes some of these concerns, particularly when it comes to a rather sudden transition to a digital system: "The caveat is that other industries, as well as the shipping industry, have got genuine concerns about the relationship between increased automation and how navigators, watchkeepers and technicians interact with that technology."
"So there are a number of questions about automation just as a holy grail in its own right, such as how the human reacts to automated systems. I don't think we have fully understood that yet."
E-navigation is a sprawling operation, as Pelletier pointed out, involving 169 member states, 61 intergovernmental organisations and 80 international non-governmental organisations working towards perfecting and implementing the system. He stressed that if such a global operation was to be successfully implemented within the near future, e-navigation should not be seen as a "new paradigm" in shipping. "The intention was to control technology, not to change or control the way ships are navigated," Pelletier said in his speech.
Co-ordinating such an international endeavour is no small task, and it risks leaving regional shippers exposed, especially at the beginning, when a clear operational framework for the new system is not yet in place.
"One of the great concerns is that, as the definition of e-navigation stands as an integrated and harmonised service, if the regional developments of e-navigation are uncontrolled, un-harmonised and non-integrated, the shipping industry risks facing different systems that are incompatible in different parts of the world," Murray says.
"So e-navigation would risk having the exact opposite [effect] that what the definition is aiming to achieve. And it's only by a very strong leadership by IMO that would ensure that that doesn't happen."
At the moment, there is a lack of clear focus how to put e-navigation to use, or what a fully integrated system would mean in practice. "Much work" is done to make communication systems "as intuitive as possible", Pedersen explains, and the next three years are expected to bring the system to a high level of operability.
In September, the second e-Navigation Underway (North America) Conference will further explore present challenges, in close co-operation with EfficienSea2 leader DMA and the International Association of Lighthouse Authorities.
Despite his reservations, Murray is also optimistic about the final potential of the EU project: "I am sure that if properly applied and carefully carried out, there can be many beneficial outcomes from well-funded projects such as EfficienSea2."