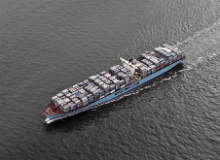 The Maersk Sustainability report for 2014 makes for compelling reading. Instead of simply paying lip service to the concept of fuel efficiency and emissions reduction, the Danish conglomerate outlines its long-term business strategy aimed at decoupling economic growth from resource consumption.
Through a combination of intelligent network design, speed optimisation, technical upgrades and an embedded culture of accountability, Maersk Line, the world's largest container shipping company, cut fuel usage by 13% between 2012 and 2014, while increasing the amount of cargo it transported by 11%.
For Niels H Bruus, the company's head of fleet performance, the statistics offer further proof that energy optimisation and environmental responsibility are business fundamentals that operators must commit to if they hope to survive in a fiercely competitive global freight shipping market.
"Maersk Line is not just investing in new technology to be responsible – we can make a positive business case for energy efficiency and see it as an important contribution to our bottom line," he states. "You can have the best intentions, but you have to remain competitive in this industry, and there's no question that environmental performance and the economy will grow hand in hand."
"You can easily be tempted to switch to commercial concerns but, while enhancing the customer experience, Maersk Line maintains a constant focus on cost leadership to drive improvement year on year, regardless of the rate environment and market growth. We set a strict target to reduce CO2 emissions by 20% by 2020, and then increased that to 40% compared to the 2007 baseline, a goal we achieved earlier this year.
"The new target is a 60% reduction in emissions by 2020 compared to the 2007 baseline. To achieve that we need to operate the full fleet at the same efficiency level as we currently manage with our most efficient vessels."
Pump up the volume: more container vessels, less carbon emissions
Maersk Line predicts an 80% growth in traded volume by 2020 – that's an additional twelve million 20ft containers travelling the globe annually – while emitting 14 million fewer tons of CO2 equivalents.
To achieve this, the company has invested in a fleet of $185m TRIPLE-E container vessels designed with energy efficiency, economies of scale and the environment in mind, combined with a retrofit programme to equip existing ships with advanced waste heat recovery systems.
---
---
Advanced technology turbochargers have been fitted on the world's two largest containerships.
---
"The biggest impact on fuel consumption is vessel efficiency – how big your vessels are and how they are designed," Bruus explains. "There's no doubt that we are seeing a move towards bigger, more efficient ships and that our retrofits – combined with new vessels – are having a huge impact, allowing us to transport more containers while burning less fuel.
"Our retrofit strategy involves looking at everything available in the market and combining it in the most cost effective way to reduce per unit costs, whether that be intake or technical optimisation.
"Maersk Line employs TRIPLE-E vessels with ultra-long stroke engines and a very efficient hull shape designed for fuel-efficient 'slow steaming', combined with an advanced waste recovery systems that save up to 10% on the main engine power. Combined, these factors make the TRIPLE-E the most energy efficient ship in the world.
"They allow us to carry 2,500 containers more compared with regular E-Class ships, which relates to the economy of scale benefits. We also save 20% on fuel bills, so that's the energy efficiency side, and of course we also reduce our CO2 emissions by 20%.
"Transporting more containers while spending less per unit; that is our main driver. We are especially focused on consumption per transport container – it is critical that we keep that low."
Bruus is also quick to flag up the importance of investment in human capital. At Maersk Line, that means empowering personnel to take responsibility for improving the company's green credentials.
"There are three things that have to be in place to drive optimisation," he enthuses. "The ship's crew and the analysts on shore must be able to see the same data. You need people who are empowered to enact change. Finally, you need staff to be accountable for the consequences of their actions.
"Having the right people – empowered and accountable people – in order to drive these changes is a massive advantage for us. It's in our culture."
Better by design: intelligent networks and the Global Vessel Performance Centre
Ensuring crews and analysts have access to the same real-time data is a key differentiator for Maersk Line, and is the responsibility of its Global Vessel Performance Centre (GVPC) in Mumbai, India.
In 2014, the company's ships completed 37,000 voyages, calling at 335 ports and using 472 terminals in 115 countries. Armed with satellite positioning information, analysts compare each ship's voyage plan to the best-in-class in their database, ensuring 'smart sailing' and improved fuel efficiency.
"Sharing that forensic information with the captain and crew is crucial, because they will mainly have data related to their performance; they can't see the bigger picture."
Big Data clearly equates to big business for Maersk Line. According the Maersk Sustainability Report, the GVPC was integral to reducing the company's overall CO2 emissions by 530,000t in 2014.
"The GVPC specialises in both technical and nautical optimisation – everything related to vessel performance – and was established so we could have a real-time connection with the fleet," explains Bruus. "We advise on speed, change departure and arrival times to ensure ships are optimised to the active environment, and give crews the best data so they can improve the voyage as it happens.
"Sharing that forensic information with the captain and crew is crucial, because they will mainly have data related to their performance; they can't see the bigger picture. The GVPC provides vessels with real-time information on everything from the most optimal ocean currents depending on seasonality to how sister vessels with the same engine types are performing on the same routes.
"The freight shipping industry is increasingly moving towards more and more live, reliable data. Much of the current technology is outdated and there's a great opportunity to improve further."
Mind the cap: CO2 reduction targets and the Global Sulphur Cap
Slated for 2020, an updated global sulphur cap is expected to limit sulphur content in marine fuel to 0.5%, potentially adding an additional $50-100bn to the shipping industry's annual fuel bills.
I ask Bruus for his take on the proposed legislation and whether Maersk Line's target of a 60% reduction in carbon emissions by 2020 is realistic in light of increased competition in the global freight market.
"I'm not sure we'll make it but we are going to give it a go," he states. "It is important to remember that these are internal targets – we are already well within the official guidelines.
"The next major landmark for the industry in terms of regulation is the 2020-2025 global sulphur caps. Right now, the biggest issue relates to enforcement. If the new rules are rolled out with limited enforcement, then that may constitute a significant issue for the competitive environment.
"Assuming that we have a level playing field, the biggest question is how do we react to the sulphur challenge and how will it be handled? Whether it takes the form of scrubbing technology or new products from the refineries remains to be seen. It's the next big challenge and one that we need to find a solution to."