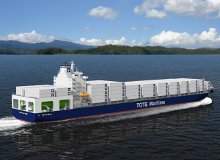 The Blue Ocean development team of Rolls Royce Marine Power Operations is designing unmanned cargo ships, to deliver safe, affordable and lower-pollution vessels to the shipping industry.
Rolls Royce displayed a virtual reality prototype, which is equipped with a camera in place of a bridge and is capable of simulating 360 degree views from a vessel's bridge, reported Bloomberg.
The prototype is being showcased at the company's facility in Alesund, Norway.
Kongsberg Underwater Technology (KUTI) commenced production on the Konsberg Seaglider autonomous underwater vehicle (AUV) at its facility in Lynnwood, Washington, US.
The development came after the company received an exclusive licence from the University of Washington to develop, manufacture and market the Seaglider system, in May 2013.
In addition to manufacturing, the Lynnwood plant will also refurbish or upgrade the existing systems.
A new firm from Jersey-based Saltchuk group TOTE and General Dynamics NASSCO started construction works on a new Marlin class at Nassco's shipyard in San Diego, California.
The vessel will be the first liquefied natural gas (LNG)-powered containership in the world.
The new Marlin class will reduce sulphur dioxide emissions by 98%, particulate matter by 99% and nitrous oxide and carbon dioxide by 71%, compared with TOTE's other ships operating in Puerto Rico.
TOTE partnered with Pivotal LNG and WesPac Midstream to provide LNG to the ships.
The Canadian Government doubled spending to increase the number of flights to conduct aerial surveillance operations for pollution from ships off coasts.
Transport Minister Lisa Raitt said that over the next five years $47.6m would be invested on increasing the surveillance fleet, which currently consists of three modernised aircraft strategically placed across the country.
Raitt said: "Our government has zero tolerance towards polluting Canada's marine environment.
"That is why we have doubled the funding for surveillance and monitoring of ships to detect pollution in Canada's waters."
Jensen Maritime secured a contract from Houston-based LNG America to design liquefied natural gas (LNG) bunker barges.
The LNG bunker barges will be the first to be developed in the US, claims the company.
The company first produced prototype designs for LNG vessels in 2008 and has since designed a 100ft by 40ft LNG tugboat and several other prototypes for LNG bunker vessels, harbour tugs, articulated tug barges (ATBs), container ships and tankers.
Stena Weco, a shipping firm equally-owned by Stena Bulk and Danish Dannebrog, purchased six chemical tankers each with a deadweight of 17,000t, for $100m.
The tankers will be commercially managed by Golden Stena Weco (GSW), a joint-venture between Stena Weco and Indonesian palm oil producer Golden-Agri Resources (GAR).
The purchase of the tankers will ensure that GSW has the resources to meet its transport needs and to make shipments profitable.
GVA, a subsidiary of KBR and a member of its Hydrocarbons Business Group, secured a contract from Heerema Offshore Services to design a new heavy lift semi-submersible vessel (NSCV).
GVA performed feasibility and conceptual studies on the NSCV for seven months in 2013 and the basic design phase will be completed this year.
The 200m-long and 97m-wide vessel will have a lifting capacity of 10,000t.
Offshore Japan selected ABS to class its newly-ordered anchor handling tug supply (AHTS) vessel.
The vessel will be the first Japan-flag vessel built to ABS class, claims the company.
The AHTS vessel, which will be constructed by Japan Marine United (JMU), will have a bollard pull of 150t and dynamic positioning-2 certification.
The vessel will be constructed as per the 2013 ABS rules for building and classing offshore support vessels.