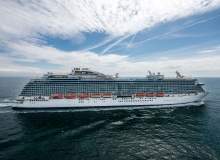 World-renowned Italian shipbuilding company Fincantieri recently launched an initiative aimed at developing new technological innovations for the industry. With 200 years' experience and having built more than 7,000 vessels – from cruise ships to naval vessels to mega yachts – Fincantieri is ideally placed to put itself at the forefront of industry innovation.
The first of its kind in Italy, the 'Innovation Challenge' is currently developing six projects from a wide selection of ideas submitted by professionals at the Polytechnic School of Genoa University. Fincantieri is investing more than €500,000 to see six projects developed, two of which will be brought to the industrialisation stage next year.
Fincantieri's director for research and innovation Massimo Debenedetti is leading the programme. He has also been a professor in materials science and engineering at the University and Polytechnic of Torino, and held various positions at several industrialist associations.
Frances Marcellin: Why has Fincantieri launched the Innovation Challenge?
Massimo Debenedetti: The general objective is to find a way to introduce technological breakthroughs to the industry by reaping out-of-the-box ideas incubated at the university. Shipbuilding is renowned for being a very mature and traditional industry; ships have mainly been built in the same way for decades so the basic question for us is to increase the rate of technological discontinuities that we can bring on board.
FM: Why is the Innovation Challenge being run in collaboration with the Polytechnic School of Genoa University?
---
---
An EU-funded project aims to improve global port safety and efficiency using a wireless network, differential satellite systems and enhanced navigational tools.
---
MD: It is the oldest naval school in Italy and one of the leading centres of higher education and research in the naval and nautical sector in Italy and Europe. It recently celebrated its 140th anniversary, but putting the history aside, the university is a long-term partner of ours with whom we have a good roster of fruitful cooperation, from naval ships to marine systems.
FM: What are the major areas where you are hoping to discover significant technological innovation?
MD: Major areas of interest include cost reduction, energy efficiency, reduced lifecycle costs, weight reduction and payload maximisation. We gave the university some drivers, but without any constraints, in fact we were very general in our specifications.
FM: How many ideas did you receive and who were they from?
MD: We received 40 ideas (involving ten different departments) that were defined and supplied by 138 researchers and teachers belonging to the polytechnic school (25% of the people involved in these proposals were women). Twenty six of the 40 ideas were developed by more than one department, so they were co-operative proposals, and three of them were developed in cooperation with other universities.
FM: How were the original 40 ideas assessed and what stage is the Innovation Challenge at now?
"Major areas of interest include cost reduction, energy efficiency, reduced lifecycle costs, weight reduction and payload maximisation."
MD: Cetena , Fincantieri's research company, acted as a "bridge" by collecting all the different proposals and collaborating in the evaluation of the projects. An evaluation committee, chaired by me, was established which involved six colleagues, representing each business unit, such as naval, cruise, mega-yachts, and so on. Six projects were chosen and each has €15,000 to turn the idea into an industrial project during a feasibility stage in the next three months. CETENA has allocated one tutor for each proposal and the deadline for this stage is March 15 2014. At the end of this phase we will select two and fund them with €200,000 each.
FM: Can you briefly describe the six projects?
MD: We have a project where the objective is to develop an integrated hybrid propulsion system, with a dual fuel engine, which can burn diesel and liquefied natural gas, and a fuel cell. The main driver of this project was energy efficiency.
The second project deals with the optimisation of the different elements of the propulsion and governing system (propellers, rudders, stabilising fins and bow thrusters) in order to improve and optimise the hydrodynamic efficiency of these devices. The third project revolves around the usage of the Software Defined Networks in order to have an infrastructure on board that benefits from reduced cost. The fourth will develop a paint product that will reduce drag through the use of nanotechnologies and bio-mimetic materials. The fifth one addresses the development of predictive diagnosis based on artificial intelligence. The final project deals with the development on new technologies surrounding waste treatment on board.
FM: How will the six projects be monitored during the feasibility stage?
MD: As a tutor has been assigned to each project team, we will have a monthly progress meeting to monitor how they are progressing. After 15 March 2014, we will have two weeks to evaluate the six projects, which will involve internal discussions, so the industrialisation process, where two projects will be selected and given €200,000, will begin no later than the middle of April. At that point, we will use the same process for monitoring that we use for our internal projects as they will be treated like a Fincantieri project.
FM: What are the Fincantieri's major drivers for development?
MD: One of the first issues is to help our customers to have more efficient ships, as, particularly in the cruise industry, the current impact of fuel costs is huge. Over the last few years the impact of the fuel price on the bottom line of the cruise companies tripled, so one of our most important drivers is to develop more efficient ships and reduce fuel consumption and emissions. It's not just a matter of reducing costs, but also creating a more sustainable cruise industry with a reduced environmental footprint. Then we have other important drivers, such as safety and security, weight reduction, lifecycle costs, and being able to maximise payload.