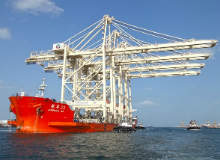 T he Gulf's maritime sector has experienced strong expansion over the past few years, and the region is pushing to maintain the trend. T hanks to huge infrastructure investments, new shipping terminals are opening at some of the area's largest ports, in preparation for the mammoth containership of the near future. T he expansion is mainly triggered by the international growth in cargo volumes and container vessels, forcing ports to handle more capacity at greater speeds.
Ahead of this year's Seatrade Middle East Maritime conference, Seatrade chairman Chris Hayman predicted that expansions at ports within the Gulf Cooperation Council (GCC ) will increase regional capacity to more than 65m T EU by 2016. GCC is a regional intergovernmental political and economic union consisting of all Arab states of the Persian Gulf.
"T he GCC has at least 35 major ports and is pursuing an ambitious expansion strategy […] in its key ports, as a global hub for trade between Europe, Africa and Asia," Hayman said.
One of the challenges of keeping the lead in cargo transportation is having adequate port infrastructure. A report titled 'Berth productivity: the trends, outlook and market forces impacting ship turnaround times', published in 2014 by the Journal of Commerce (JOC), highlights the need for ports to invest in the inevitable arrival of bigger ships.
"If there's an issue in the container shipping world that's hotter than port productivity, I'm not aware of it," said executive vice president of the JOC Group Peter T irschwell in the report's introduction.
Asia's container terminals are already far more productive than their US or European counterparts, JOC Port Productivity data shows. Nonetheless, Asia's ports had little choice but to invest in infrastructure as they prepare for progressively increasing vessel sizes. Currently, there are ships over 18,000 T EU in operation, with plans for 20,000 and 22,000 T EU on the drawing board.
---
---
A group of Southeast Asian countries are rapidly surfacing as new production hubs.
---
Market analyst and author of the report 'Container terminal foresight 2020' Daniel Schaefer expects that in the coming years, container throughput in the Middle East will "more or less be in-line with around 5% annual growth".
"Global growth of throughput has been 5.3%," he said. "T he Middle East region used to outperform global growth historically, but it did not in the past years".
His predictions are substantiated by new shipping terminals opening in countries such as Oman, Saudi Arabia, Qatar, and the impressively growing United Arab Emirates (UAE). T heir ports currently have a transhipment share of over 50% and both ongoing and planned projects between now and 2020 target to attract more transhipment traffic. Schaefer points out that "effectively, [these countries] will also challenge the position of Dubai ports."
"Especially for Qatar, Kuwait and Abu Dhabi, partially also Saudi Arabia – one has to note that motives are not only to get a return on investment in the medium term."
Oman
Oman is planning for the long run. Its overall container port traffic increased steadily between 2010 and 2012, when it peaked at 4.1 m T EU, followed by a slight decrease to 3.9m T EU in 2013.
In 2012, the Omani Ministry of T ransport offered a $143m contract to build a general cargo and liquid bulk terminal at Port Salalah, Oman's largest port. T he expansion aimed to double the port's general handling capacity and add 1,200 metres of multi-purpose berth to the general cargo terminal.
Over that year, Salalah increased its berth productivity by 24% and was ranked by JOC as the 15th most productive port worldwide, based on the 2013 average container moves per ship. In the Middle East region, Salalah ranked third most productive. Overall, it handled less container volumes, from 3.6m T EU in 2012 down to 3.3m in 2013. At the start of this year, it reported a further 24% decrease in transhipment volumes at its container terminal, compared to the same period of 2014.
"Oman is planning for the long run."
Current expansion works already underway aim to raise the port's general cargo handling capacity to around 18m tonnes in dry bulk and more than 5.4m tonnes of liquid products.
Meanwhile, the third expansion phase as part of Salalah's 20-year master plan up to 2030 is currently being prepared. At the beginning of July, the Ministry of T ransport and Communications opened a tender for a consultant to conduct the necessary studies for further expansion.
T he port, which already specialises in transhipment cargo, envisions setting up multi-modal operations with the creation of railway connections, a sea-air-road hub and strong links to distribution, commercial and population centres within the wider GCC region.
Saudi Arabia
Saudi Arabia is growing with a series of expansions, including a recently opened $530m second terminal at King Abdulaziz Port in Dammam, the capital of Eastern Province.
T he terminal, which opened in April this year, is operated by Saudi Global Ports Company (SGP ), a joint venture of PSA International and the Saudi Public Investment Fund . Once fully completed, the terminal is expected to transform Dammam into the "key gateway port on the Gulf", as described by PSA International, and will be able to handle about 30% of the kingdom's cargo. Its capacity is estimated at 1.5m T EU, rising the port's total storage capacity to over 4m T EU.
Saudi Arabia's container port traffic has seen a steady but remarkable increase since 2010 according to T he World Bank statistics, from 5.3m T EU to 6.7m last year, ranking the second busiest port in the Gulf after UAE.
---
---
.T he Marshall Islands' unsuccessful call for a global shipping emissions target has reignited the debate.
---
SGP has reasons to be optimistic, judging from its competitor's performance. Gulftainer , part of the Crescent Enterprises group, is the second-largest ports operator in the UAE and the fastest-growing in trade volumes. According to the operator's statistics from 2013-14, "in global markets, Gulftainer 's Saudi terminals recorded impressive growth" with Northern Container T erminal at Jeddah Port accounting for 1.9m T EU, while Jubail Container T erminalnoted a growth of 22%. T he total volume at the Saudi terminals was over 2.29m T EU.
Saudi's Dammam port expansion is a much welcomed development, after in 2012 it struggled with severe congestion due to lack of space to accommodate the incoming traffic.
On the west coast, the country registered further growth, with King Abdullah Port , the kingdom's first privately owned facility, reporting 16% more container throughout compared to last year.
United Arab Emirates
Ports in the UAE dominate the region's traffic. According to Schaefer, the UAE operated 21.2 m T EU in 2014 – the only country to report double-digit volumes. Since 2010, its container port traffic surged from 15.1m T EU to 19.3m T EU in 2013, figures from T he World Bank show.
Its Abu Dhabi T erminals (ADT ) announced a significant milestone in July this year when it handled 3m T EU for the first time, after registering 36% throughput volume at the start of 2015, compared to last year. Its second milestone came a few days later, when ADT broke the productivity record of over 2,000 berth moves per hour, registered at Khalifa Port Container T erminal.
T he UAE's ports and terminals consistently rank among the most productive and most active in the world. In terms of its ports, Khor al Fakkan and Jebel Ali ranked second and third respectively, based on average international container moves per ship, per hour on 8,000 T EU vessels and larger. Similarly, Khorfakkan Container T erminal came in first globally, followed by DP World -Jebel Ali T erminal in the fourth position.
"
T
he UAE's ports and terminals consistently rank among the most productive and most active in the world."
Gulftainer , which operates the UAE's Khorfakkan, Sharjah and Ruwais ports, tripled its trade volumes in the past decade. A company press release from April states: "Gulftainer 's UAE terminals recorded a total volume of 3.8m T EU in line with the all-round growth in business. T he company marked another significant milestone, with the Sharjah Container T erminal surpassing 400,000 T EU in annual throughput for the very first time."
At the time of writing, DP World , the largest port operator in the UAE, announced the construction of a fourth terminal at its Jebel Ali Port. T he $1.6bn enhancement will bring an additional 3.1m T EU capacity by 2018, or a 16% boost, taking Jebel Ali's overall capacity to 22m T EU.
DP World 's chairman Sultan Ahmed Bin Sulayem said at the time: "Our flagship Jebel Ali Port continues to respond to market demand, and we are on track to deliver an additional 2m T EU of capacity in T erminal 3 in the second half of 2015. Despite the new capacity additions, Jebel Ali continues to operate at high levels of utilisation."
T he trend for bigger ships is here to stay
T he JOC report points out that higher port productivity must be something the entire industry should strive for. But while there is scope for upping productivity in Europe and Asia, Subhangshu Dutt, executive director at Krishnapatnam port in Southeast India, suggested that in Asia, productivity levels seem to have reached their limit for the time being: "It appears that productivity levels have plateaued, and unless there is a totally new innovative concept with regard to yard design, management and flows, there may not be any significant improvement," he said.
In 2014, when the report came out, more than 53% of the 3.8m T EU vessel capacity on order was for 10,000 T EU ships or larger, "keeping the pressure on ports to lift productivity and vessel turnaround times."
"Whatever happens with container trade in Asia, the trend toward bigger ships is here to stay, and ports must work out the most efficient ways to handle them," the report concluded.