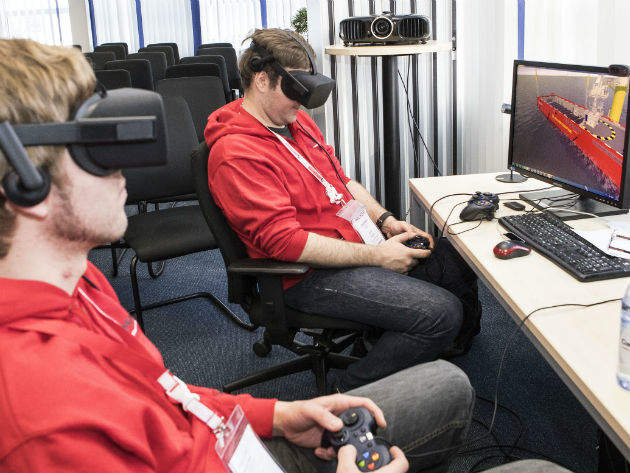 In November, ten teams, consisting of 33 hackers, arrived at the Interschalt Maritime Education and Training Centre in Schenefeld, Germany, for Hack the Sea, a two-day hackathon organised by MacGregor, an engineering company in the maritime and offshore industries.
A vast majority of the 33 hackers had no maritime background, instead relying on software, cyber security and data analytics training to guide them in creating the next generation of disruptive technology.
"Hackathons are of great value when looking for new and radical ideas and concepts," Michel van Roozendaal, MacGregor president, said after the event. "Being open to external views in the early phase of development brings fresh thinking."
Opening the gates to outsiders is nothing new when it comes to hackathons; fresh blood and a younger generation acting as the main drivers.
"I guess you could say we were [one of the] first, but yes, I believe we will see more coming from the industry," says Alexander Nürnberg, senior vice president of technology and R&D at MacGregor. And he's correct. The Maritime Hackathon 2016, also held in Germany for a duration of 48 hours, followed a very similar pattern to Hack the Sea.
Here, Nürnberg explains why MacGregor chose a hackathon and their plans for more in the future.
Gary Peters: Can you explain the reasoning for the Hack the Sea event – why choose a hackathon?
Alexander Nürnberg: The shipping business is not overly technical right now, but we think there is a stage where there will be change.
We thought: why not invite guys who know how to work with data, who are not part of our industry.
The crucial part is giving them the data [for the hackathon], whether that's publicly available data, like weather, but also our own, private data. It was amazing to see how everyone worked in a much different way to us traditional engineers.
[Hackathons] are a new way, and many people are trying it.
In a way, it's a game changer, because traditionally in our industry new developments took a long time – having to consider this and that.
The [challenges of a hackathon] depend a little bit on the idea, but of course if you are coming from outside the industry with a new idea, you need to make sure – as an outsider – that the acceptance is there.
There's also another challenge in the fact that we are going out with our own data. Some have concerns with that, but in the world we live in now, it's becoming more and more common to be more open with data.
GP: What challenges were the teams set?
AN: We had safety, as compared to other industries there are still a number of incidents [in maritime].
We also had efficiency, so how can things be done in a quicker or more organised way? And thirdly, how can we minimise our environmental impact?
GP: How diverse were the teams?
AN: I think only three of those involved had a maritime background.
The others came from [various] backgrounds, including traffic logistics, cyber security, data analytics, and so on.
We introduced them to the business of maritime and gave them an insight that was as good as it could be in such a short amount of time
The biggest advantage, in my opinion, is that they are totally unrestricted in their minds.
So, this doesn't work because of this or that, but this might work. It was an amazing experience to think, 'why not?'
GP: Can you provide some examples of what the teams produced?
AN: A simple example is… today when a vessel is loaded or unloaded with containers, there is still someone standing there, monitoring it, writing down, that this container has been put in this or that position.
And then later on in the office, this information is put into the computer, so it's all very manual.
One very young team developed a device – an app on the iPad – that made the process paperless.
GP: What are some of the key challenges that hackathons can help solve?
AN: Hackathons – and certainly this was the case with ours – produce ideas in a short amount of time, in our case two and a half days, which otherwise might have taken four months to create.
We also asked our teams if they wanted to continue working with us on their ideas, and ten have said yes. We have selected four, to study whether or not they can really make a useful product [from their idea].
We think we will have the first product ready in three to four months. This will be around tracking and identifying vessels.
GP: Does the maritime industry need to be more radical in how it uses technology?
AN: Yes, I think so. For too long we have been too conservative.
[The industry is] traditional in the way it does business because it's quite fragmented. If you think, for example, about how many steps a container goes through from production to end consumer.
There's not been [that moment] to say, 'this can be done much faster'.
GP: Do you expect to hold more hackathons in the future?
AN: I think so, yes. My personal target would be one per year, which gives us time to develop ideas and find the resources.